This article was originally published in May, 2012.
The Washington Capitals were blessed at the defenceman position. Among their rank are Hall of Famers, a two-time Norris Trophy winner, record setters and men who have made an impact upon the D.C. community. In grading this list I took into account each players tenure with the Caps, their impact on the team, their overall skill level and their career accomplishments. Let's begin.
Capitals Defenseman #10- Brendan Witt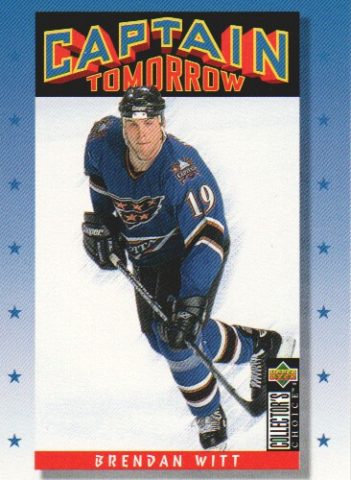 Known for his wildly flowing blond locks and extensive tattoos, Witt was a bruiser. Drafted in '93, he began regular NHL play in '96. He was a solidly stay at home defender who delivered crunching hits and sent messages with his fists. His imposing presence kept opposing toughs from taking liberties with Bondra and other offensive specialists. Brendan was named team captain for the 2001-02 season, a real accomplishment for him as he often had trouble controlling his emotions. When the team experienced their post-lockout meltdown he demanded out and played a similar role on Long Island for several years. As a fan watching games on a regular basis, it appeared that he had perpetually bruised knuckles. In his time as a Cap he skated in 626 games, netted 20 goals, assisted on another 63 and put up a dazzling 1035 PIM.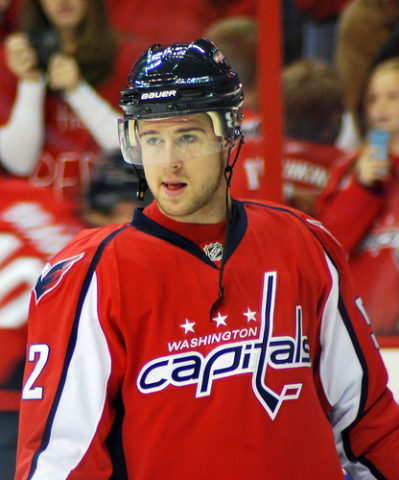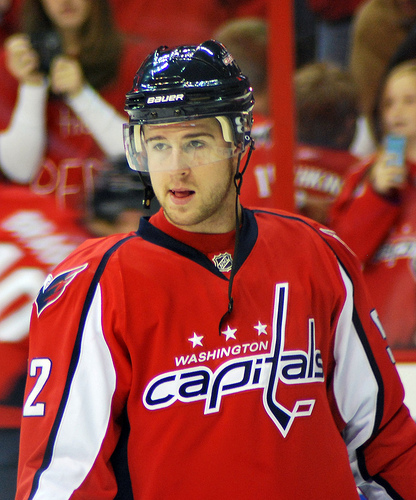 Capitals Defenseman #9- Mike Green
It wasn't so long ago that Mike Green was mentioned among Norris Trophy contenders. Injuries have hampered his young career, concussions and lower body strains forcing him to sit out for long stretches. When he is healthy and his game is on he is incredible, earning the nickname "One Man Breakout." Green takes long, fluid strides through the neutral zone and side steps forecheckers with ease. He also has a knack for knowing just when to sneak in from the point and pot a backdoor wrister. Slap shot, offensive awareness, passing: he has all the tools of an offensive defenceman. In the past couple of seasons he has focused on improving his defensive awareness in an effort to make himself into a more complete player.
During the 2008-09 season he broke the record for scoring goals in consecutive games by a defenceman. He netted one in his eighth game in a row during a road trip to Florida. His father was in attendance, along with other Cap's players fathers. It was a special moment. Green seemed unstoppable. So far in his short career he has scored 79 goals and tallied 165 assists in 366 games. At 26 years of age, I hope he has a long and fruitful career.
Check this goal from a few weeks ago:
Capitals Defenseman #8- Yvon Labre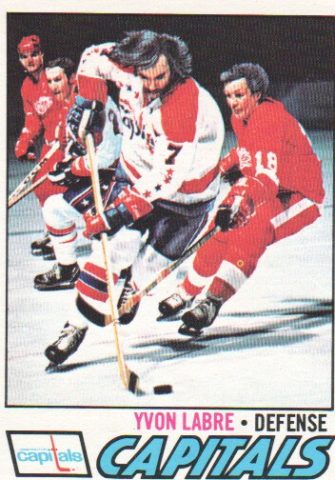 Labre was one of the original Caps taken in the expansion draft of 1974. He would be the last of the original Caps to relinquish his sweater. His gritty style of defensive play earned him many fans in those early, dreary days. Yvon scored the first home goal for Washington. He led blue liners in points in that first year as well. While the roster seemed like a revolving door, Labre was a constant. He was named team captain for the 1976-77 and 1977-78 seasons.
Injuries shortened his career. When he retired his number was almost immediately retired as well. No other Cap has ever worn number seven. Over 334 games he scored 96 points and sat out 756 PIM. He has had continued involvement in many facets of the organization and is still one of the most popular former players to this day. Now much as then he is heavily involved in community events.  In many ways he is the public face of the franchise.
Capitals Defenseman #7- Sylvain Cote
Cote was a mainstay on the blue line during the nineties. A product of the Quebec Major Junior league, he spent the first few years in the NHL as a Hartford Whaler. He arrived in Washington in 91 and played alongside the likes of Kevin Hatcher and Al Iafrate. Combined, the trio racked up an astonishing 195 points in the 1992-93 season, setting an NHL team record for points from defencemen. Each player scored at least 20 goals. The next year he set his career high with 51 points.
Sylvain was a quiet, responsible defenceman. He was rarely out of position and he kept a level head. Cote utilized the hip check to devastating effect. He lined up opponents with precision and ground them into the boards; knees bent, butt low. During the shortened lockout season he volunteered at D.C. area prep schools with hockey programs and shared tips on his checking technique. Near the end of his career he bounced around with a couple of teams before playing two more in Washington. He scored 75 goals and added 195 assists in 622 games. For having played that many games so well and so efficiently, many may have forgotten his name. Not I.
Here is a classic Cote hip check from his time with the Whalers:
Capitals Defenseman #6- Larry Murphy
Larry Murphy is proof that staying healthy is what separates great careers from Hall of Fame careers. He was also involved in a couple of the more infamous trades in Caps history. Murphy came to D.C. in 1983 from the Kings for Brian Engblom and Ken Houston. In the Kings defense, it seemed like a good idea at the time. Larry became an integral part of the famed defensive core of the early eighties Caps. While in the red, white and blue he netted 85 goals and piled up 259 assists in 453 games.
Murphy left the team along with fellow offensive weapon Mike Gartner in 1989, both traded to Minnesota. In return the Caps received Dino Ciccarelli and Bob Rouse. Owner Abe Pollin was unwilling to invest in the salaries required to retain budding superstars in a market that had yet proved wholly receptive to the sport. More's the pity. Two Hall of Fame players lost forever. Larry went on to play in three All-Star games, win four Stanley Cups and entered the Hall in 2004. He scored 1,216 points in 1,615 NHL games.
Here he is on route to one of his Cup wins:
Capitals Defenseman #5- Kevin Hatcher
Kevin Hatcher  came into the league as the Caps first round pick in the 84 draft. His first several seasons were spent skating behind the likes of Rod Langway, Larry Murphy and Scott Stevens. Hatcher was an imposing figure on the ice and had no issues with mixing it up when the situation arose. He also had keen offensive awareness and a sharp shot.
Hatcher was Washington's franchise player in the early nineties and was named captain for the 1993-94 season. The future Hall of Famers were gone. When it was his time to take over first line duties he made no mistake. He used what he had learned and executed with his trademark grit.  He appeared in the NHL All-Star game in the 1990, 1991 and 1992 seasons. He led the defensive corp to the aforementioned record-setting point scoring season in 1992-93.
As a Cap he scored 149 goals, added 277 assists and stewed for an incredible 999 PIM in 685 games. He went on to appear in another two All-Star games for subsequent teams.
Capitals Defenseman #4- Sergei Gonchar
Gonchar was another first round draft pick for D.C. He played his first game in the 1994-95 season after spending time with the storied Dynamo Moscow franchise of the Russian league and the Portland Pirates of the AHL. He was a purely offensive defenceman from the European school. He had soft hands and the perfect slap shot: elevating the puck about two inches off the ice at high velocity. His skill on the power play was an important weapon during his tenure.
Sergei is a polarizing figure in Washington. He was just as well known for his mastery with the puck as he was for defensive breakdowns. When he left he joined the hated rival Pittsburgh Penguin franchise. As a Cap he scored 144 goals and assisted on 272 more over the course of 654 games. He played in four All-Star games representing Washington. In 2009 he won a Stanley Cup with Pittsburgh.
Here he is doing what he does best:
Capitals Defenseman #3- Scott Stevens
The New Jersey Devils icon began his career as the Caps first round pick in the 1982 draft. He went on to earn nine team records for defenceman before he departed. Most of you already know of Stevens legacy as captain of the Devils: three Stanley Cup wins, Conn Smythe Trophy recipient, Hall of Fame inductee in 07. But there was a time before all of that.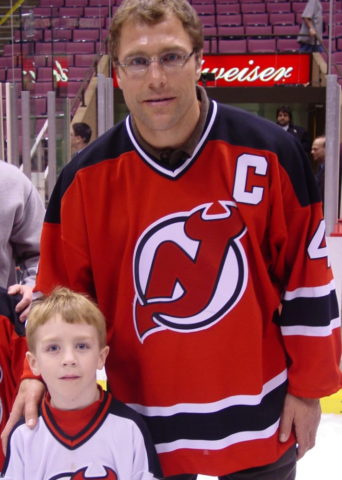 As a fledgling blueliner in D.C. he was a member of a cadre of defensive talent the likes of which is rarely seen. He played alongside Larry Murphy, Rod Langway and Kevin Hatcher. Scott was a devastating checker. He was like a submarine, picking off prey when they least expected an attack. Early on his temper got the best of him and he spent a disproportionate amount of time in the penalty box. Guidance by veterans such as line mate Brian Engblom was helpful in taming his talent.
Stevens scored 98 goals, assisted on a staggering 331 more and sat for a whopping 1,628 PIM in 601 games played in the red, white and blue. He represented the Caps in the All-Star game twice. He left as a restricted free agent, as Abe Pollin was unwilling to match the hefty offer from St. Louis. Luckily, the draft picks the team received in return became two other players on this list: Witt and Gonchar. In Pollin's defense, the Redskins were on a decade long run of success and Washington was solidly an NFL town. Who is to say if he had invested in payroll and put a Cup champion on the ice that interest would have been there when there was so much competition? Remember, this is in a time before cable and satelitte TV had fully saturated the market. Oh, but to wonder what might have been.
Capitals Defenseman #2- Calle Johansson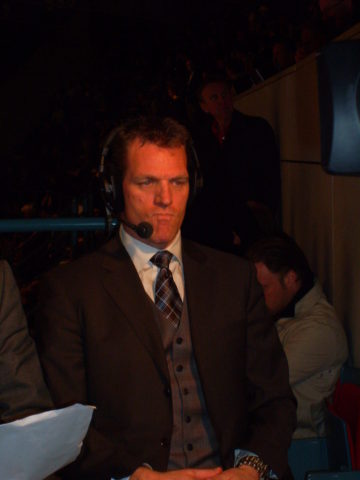 Do you have anybody in your life that you can trust implicitly? The Caps did. Calle (pronounced Kally) was the anchor of the defence for a decade. Johansson came to D.C. via trade from the Sabres during the 1988-89 season. A promising rookie, Buffalo didn't truly understand what sort of franchise player they were letting go. Once Kevin Hatcher had departed it became incumbent upon Calle to step into the number one defenceman role. He did not waver. Never an offensive threat like teammate Gonchar, he focused on protecting "home plate" and clearing the zone or making safe passes in an era when you couldn't go beyond two lines.
Johansson was the epitome of the hard-working, quiet D-man. He maintained his position and rarely made an errant pass. His solid play was so automatic that it became expected. Only when he was gone did fans realize what a real asset he had been. He was regularly undervalued by the national press, but those in the know understood his role and how his play was a foundation upon which a team could be built.
Calle finished his career in D.C. as the all time leader in games played with 984 hard-fought contests under his belt. Over that span he scored 113 goals and tallied 361 assists. He remains a fan favorite.
Capitals Defenseman #1- Rod Langway
"The Secretary of Defense" they called him. Rod Langway came to Washington in the 1982-83 season from Montreal in a multi player deal, but none was more important that Langway. He immediately took over the captaincy. The Caps, who had struggled since their inception, made the playoffs every year he wore the C. And he wore the C for all eleven years of his career. His defensive prowess and the demands he made of his teammates to achieve defensive excellence signifigantly lowered the Caps goals against average.
Before Rod arrived the franchise was floundering. Rumors were that the team would relocate. Langway is credited by many as a savior. His superlative play was recognized. He won the Norris Trophy in back-to-back seasons, in 1982-83 and 1983-84. Langway also appeared in six All-Star games. He set the defence-first tone that was Caps hockey for the next 25 years. Simply put: without Langway, there may be no Caps and there certainly would be no Caps as we know them.
Rod Langway scored 25 goals and racked up 177 assists over 726 games. He won the Stanley Cup as a Canadien in 1979 and was inducted into the Hall of Fame in 2002. He remains a fan favorite and constant presence for the Capitals at community events, much as Yvon Labre.
His most infamous goal:
Joe Wilson is a published writer and an avid Capitals fan. He has been following the team since 1993. When not writing and working he is studying to complete his history degree.