Brent Burns has won the 2017 Norris Trophy – awarded annually to the NHL's best defenseman. In a tight competition that could have been won by any of the three finalists, Burns, Erik Karlsson or Victor Hedman, the San Jose Sharks blueliner ultimately came out on top following a season that was unlike any seen in decades.
Brent Burns is the League's top defenseman! #NHLAwards pic.twitter.com/RPcRRzDwdM

— NHL (@NHL) June 22, 2017
With an incredible 29 goals and 76 points in 82 games, Burns simply dominated the league from the blue line. A big part of the Sharks lineup over the last few years, Burns has consistently gotten better as time has gone on. Recording three seasons of over 20 goals, three of over 60 points and two consecutive seasons with over 25 goals and 75 points, Burns has made a name for himself as one of the elite blueliners in all of hockey. Though the competition was fierce, Burns playing such a quality game from the backend while contributing the most goals and points from a defenseman this past season simply put him ahead of the pack.
Ted Lindsay Finalist
Not only was Burns a finalist for the Vezina Trophy, but he was also a finalist for the Ted Lindsay Award, given annually to the NHL's most outstanding player as voted on by the NHL Players Association. Similar to the Hart Trophy that is described as being awarded annually to the "player judged most valuable to his team," the Ted Lindsay Award is voted on by players – an honor that shouldn't be taken lightly.
With Burns name in consideration for that award, it's clear that he did something right. He was the first defender since Chris Pronger to be named a finalist for the Ted Lindsay Award in 2000, and the only defenseman in history to win it was Bobby Orr in 1975.
Looking at the Runner-Ups
Everybody knows that Karlsson is one of the best hockey players on the planet, regardless of position. The fact that he can impact the game at such a high level, regardless of the opposing team or player, shows that Karlsson deserves consideration for awards every single season. Winning the Norris Trophy in 2012 and 2015, Karlsson could have easily become a three-time winner this year if it wasn't for Burns incredible play all season long. While the playoffs don't garner consideration for voting, Karlsson's postseason performance alone was enough to prove that he is as elite as elite gets.
Though Hedman has never won a Norris Trophy before in his career, it wouldn't be surprising to hear his name called one day as the winner of the award. Arguably a top-five defender in the NHL and potentially in competition for the best alongside Karlsson, Hedman doesn't garner the same attention that some of his teammates or fellow defenders do such as Kucherov and Stamkos in Tampa Bay, or Karlsson, Burns and the like around the league. Still, what Hedman does on the ice is simply magnificent.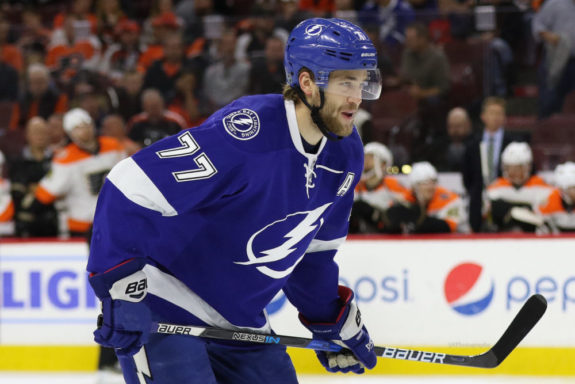 Though his point production isn't quite at the level of Karlsson's on a consistent basis, the fact that he has scored double-digit goals in four consecutive seasons shows consistency. His 72 points were second among defenders this past season and he was once again a rock on the defensive side of the puck. If looking more at defensive play than point production, Hedman would have likely garnered more votes every year. The fact that he broke out offensively in a big way in 2016-17 forced people to take notice.