On Tuesday the Detroit Red Wings signed the first of three prospects they're expected to come to terms with this week, agreeing to a 3-year entry-level deal with 2010 4th round draft pick Teemu Pulkkinen.
The Red Wings have signed Teemu Pulkkinen to a three-year entry level contract. He was a 4th round pick (111th overall) in the 2010 Draft.

— Detroit Red Wings (@DetroitRedWings) May 29, 2012
At just 20 years of age, Pulkkinen has already proven himself a more than capable forward, demonstrating an uncanny knack for finding the back of the net.
From Bill Roose of DetroitRedWings.com:
"Pulkkinen […] is a solid offensive and creative winger with good hands and is a natural goal scorer. He spent parts of four seasons, including the past two full campaigns, with the Helsinki Jokers in the SM-liiga, which is considered the top league in Finland. There, Pulkkinen, a 5-foot-10, 198-pound right wing, collected 35 goals and 59 assists in 126 games."
Pulkkinen's play was even more impressive during the 2012 World Junior Hockey Championships. There the Finnish winger notched 6 goals and 4 assists in 7 games, placing him 5th in the tournament in scoring, and 4 of those goals came in a single period against Denmark–a mark that tied a tournament record.
His stellar numbers and keen sense for goal-scoring even earned him the extraordinary compliment of being compared to Hall of Fame legend Brett Hull by Red Wings' assistant general manager Jim Nill.
"You don't like to make comparisons, but his game is a lot like Brett Hull's. He's got a quick release, he's a pure goal-scorer."
Pure goal-scorer he may be, but the Red Wings demand a 2-way game from their forwards, and defense is a big question mark when it comes to Pulkkinen. His lack of defensive ability has been noted in prospect reports across the web, and was the lone weakness listed in an article here on THW prior to the 2010 draft.
"TWO WAY PLAY:

This is a sore spot for the 18 year old.  He doesn't take many penalties, he's not very big (5'10, 171lbs) and does struggle in the defensive zone, especially 5 on 5, which is going to have to be addressed by any team that makes a roster spot for him."
In addition to defensive weakness, many have speculated that Pulkkinen's game won't translate well to North American hockey. Hockey's Future, who still ranked Pulkkinen 6th on their list of the Top 10 Finnish Forward Prospects in May, offers some evidence for that:
"In the WJC tournament, Pulkkinen was one of Finland's leading scorers but was kept in check by the tougher squads from Canada and Sweden, giving fuel to those who feel his big junior numbers may not necessarily translate to pro hockey."
Those seem like pretty significant drawbacks, but the Red Wings, or at least Jim Nill, don't seem to be too concerned.
"That stuff can be taught."
That teaching will take time. Growing accustomed to a smaller rink, becoming more responsible defensively, bulking up, and learning North American hockey don't happen overnight, or even in one training camp. Yet according to Jokerit GM Jarmo Kekalainen, Pulkkinen hopes to make the Red Wings roster for 2012-13.
From Ilta Sanomat via George Malik:
"Teemu's hoping to go to training camp and earn a spot with Detroit's NHL team…"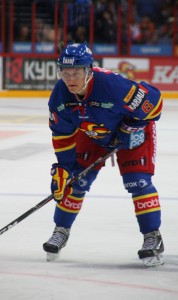 Those hopes are incredibly unrealistic. Excluding Pulkkinen's obvious deficiencies, there simply won't be room for him on the NHL roster. With the Red Wings expected to sign a top 6 forward, a bottom 6 grinder, and promote prospect Gustav Nyquist to full-time duty there's simply no way he fits into the mix. That's not to mention the pool of talented prospect forwards (Jarnkrok, Jurco, Tatar, Andersson) Pulkkinen would have to miraculously rise above in just a few weeks.
Thanks to an agreement between the NHL and the SM-liiga, Pulkkinen isn't eligible to play for the Grand Rapids Griffins until 2013-14, meaning he'll spend another season playing in Finland when he doesn't make the Red Wings roster this fall. That will likely compound into Teemu not being NHL ready until at least 2014-15 (after a full season in the AHL), perhaps getting to test the waters and prove himself before then in much the same way Nyquist did this season.
Pulkkinen has a lot to learn, just like all 20-year-old forwards, and it will be awhile before we see him consistently wearing the Winged Wheel across his chest, but if he can augment his fantastic scoring ability with a more well-rounded game in the coming years he could become a Detroit Red Wings staple down the road.