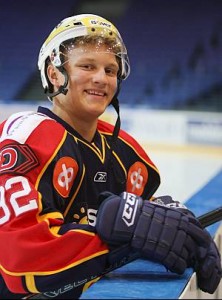 Teemu Pulkkinen has received a lot of buzz on draft lists despite not knowing all that much of the Finnish player.
Born in 1992, the forward has played in the SM-Liiga league in Finland, which is ranked as the second strongest in Europe by the IIHF.  Of the 14 teams that make up the league, Pulkkinen is a right winger for Jokerit, since 2008, and has impressed many with his offensive skills across the board.
With Sid Crosby-like ability, Pulkkinen is drawing comparisons to other top NHLers that originated in the SM-Liiga such as Jere Lehtinen, Joni Pitkanen, Teemu Selame and Tuomo Ruutu.
During the U18 Championships, Pulkkinen scored the security goal needed to win the bronze medal game against Canada.  Teemu was the third leading scorer in the tournament with 7 goals and 6 assists. Afterwards many agreed that Pulkkinen could be, and maybe should be, playing with the under 20 team because of how well developed of a player he is.
That tournament was essential to validate his scouting-worthiness because, despite playing in the Finland league since 2007-08, he has only played a career total of 36 games, 32 coming in his rookie season. He suffered a foot injury three games into last season which sidelined him for the remainder of  2008-09.  However, during those 32 games he did tally 36 goals, 24 assists; good for 60 points, which earns him a second look by all NHL teams.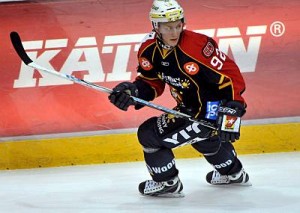 SKATING ABILITY:
It's like Teemu Pulkkinen was born  with ice skates on.  He's been described as "deceptively fast" and dictates the pace of the game with his speed.
SHOOTING ABILITY:
Teemu scored 36 goals in 32 games his first year for Jokerit, at the young age of 16. In the medal-round game of the U18 Championships he didn't even have to make a move to distract the Canadian goalie.  His release is like rapid fire with a hard, accurate shot that finds the back of nets regularly.
STICK/PUCK HANDELING:
Teemu is strong to the puck and comfortable with possession, which combined with his skating ability can make even the best defenders look foolish.  With his head always up and skates constantly in motion, he can carry a play and visualize the ice like a chess board.
PASSING ABILITY:
The winger has no problem playing keep-away while he waits for an opportunity to pass or shoot.  His 24 assists proves he doesn't mind being a setup man, either.  He can deliver the puck to an open man with accuracy and timeliness, which is essential in the NHL.
TWO WAY PLAY:
This is a sore spot for the 18 year old.  He doesn't take many penalties, he's not very big (5'10, 171lbs) and does struggle in the defensive zone, especially 5 on 5, which is going to have to be addressed by any team that makes a roster spot for him.
STUDENT OF THE GAME:
It's clear that Teemu love to play hockey.  He cheers with enthusiasm after every goal.  His passion for the game will drive him and he will learn the ins and outs of the NHL game, and be an impact player eventually.
NHL READY:
He's young and fun to watch.  He need to put on some weight and get a full injury-free season of experience – like in an AHL level – before he hits the NHL ice.  Pulkkinen will make an NHL impact, but not till a healthy season behind him.  Pulkkinen is not NHL ready immediately.