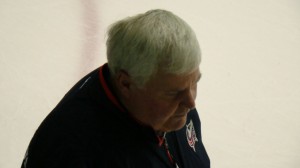 By Rick Gethin
     "Today, we made the difficult decision to relieve Ken Hitchcock of his coaching duties with the Columbus Blue Jackets" – GM Scott Howson
     The inevitable has happened in Columbus as the Blue Jackets terminated Ken Hitchcocks' tenure with the club on Wednesday afternoon. What's surprising to most is that it took this long. The team has been in a tailspin for 37 games, with their most recent loss coming at the hands of the youngest team in the league, the Colorado Avalanche.
     By all accounts, he had lost the room. Whether his coaching style fits in the NHL since the 2004/2005 lockout remains up for debate. The players tried to implement his system, but could never seem to get everyone firing on all cylinders at the same time. Consequently, the team started to slowly tune him out.
     "We're all responsible for the performance of this team," said Howson. "This decision has been made in the best, long-term interests of our hockey team. It has become clear that despite the efforts of Hitch, the coaches and the players to find a solution, it wasn't working. The team was not responding to the message and this was a change we felt was necessary to move forward in the right direction."
     This club seems to have been put together by Scott Howson as more of a skill-type team. The players seemed stifled under Hitch, many times playing too tight and tryng to force the puck. There have been flashes in the last few weeks of the team playing a looser, more relaxed game. It just so happened that when they played that way, they managed to win games. This is the very antithesis of "Hitch Hockey".
     "This change was made after careful thought and deliberation. It does not change the fact that Hitch is an excellent coach. He came to an organization in disarray and he's leaving it in much better shape," Howson said. "He brought structure, credibility and legitimacy to our franchise. He played a huge role in getting us to our playoff berth last season and we've all learned a great deal from him in terms of commitment, preparation and attention to detail. And for that, we're grateful."
     Ken Hitchcock was the right coach for this team at the right time. No one ever doubted, myself included, that he helped this team to forge their own identity. The problem was that the identity has been lost this season. He didn't help his case when the players were given optional skates at a maddening pace while most other teams conducted full practices. He was vilified by the fan base for doing this. That's not to say that non-optional practices would've given this team a better record.
     "We all felt that Hitch deserved the opportunity to try and work out of this, the last 37 games where we've taken a downturn," said Howson. "We wanted to be patient. We felt that we owed that to him. We know he's an excellent coach and we kept hoping that he'd find the solution, that he'd find the right way to turn this team around. But as time wore on, it just didn't seem like that was going to happen."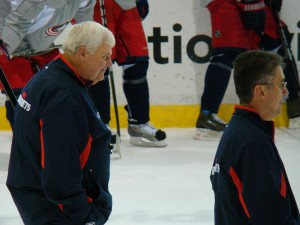 Taking Hitchcocks' place behind the bench for the balance of the season is former Blue Jackets assistant coach Claude Noel. He was hired in 2007 as an assistant in Columbus after being the head coach for the AHL Milwaukee Admirals. In his first year as head coach (2003), he won the Calder Cup and was named the Coach of the Year. GM Scott Howson said that the coaching position will looked at thoroughly at the end of the season to find a suitable, long-term replacement, to include Noel and the other assistant coaches.
     "I have confidence in my abilities to coach," Claude Noel said during the press conference announcing him as the interim head coach. "I'm hopeful that the players are going to listen and pay attention and we're going to get it done. At the end of the day, you've got to be able to sell your product to the players; they've got to be able to buy it. I know how I coach; I know I'm demanding and fair, I deal alot with honesty. It's very black and white what I want from players and it's very black and white what I want from the team. I don't make things really complex; I like to play aggressive. I'm not going to re-invent the game and I'm not going to have us play a way that we're not capable of playing."
     Judging by what Noel said during his press conference, it looks as if the Blue Jackets might play more to the strengths of their skill players. While he is sure to use much of what Hitchcock taught him, he will also bring the coaching philosophy that won him the Coach of the Year honors and his team the Calder Cup in 2004.
     So begins another chapter in the story of the Columbus Blue Jackets. While they still are mathematically in the hunt for a playoff spot this year, I think Noel was brought in to help set this team up going into the future. Remember that Claude Noels' name was brought up more than once when Pittsburgh fired their head coach last season.
     Ken Hitchcock is a future Hall of Fame coach that turned around a lost Columbus club. And for that, fans should be grateful. But tomorrow is a new day in Blue Jackets history. As Greg May from Full Mental Jackets said, "Tomorrow night is the first Noel".