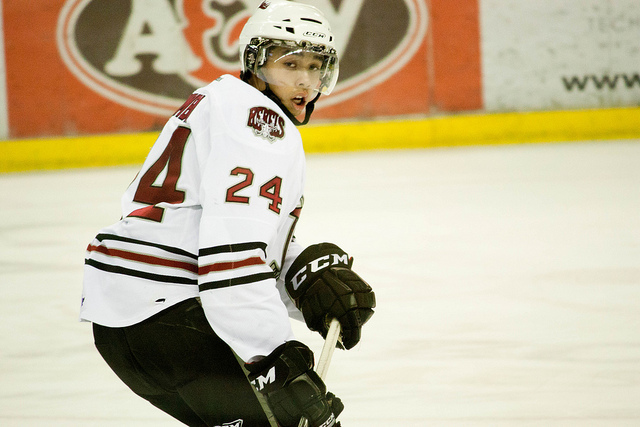 The New York Islanders have fallen 11 points behind the Washington Capitals for the 8th and final playoff spot.  With just the 12 games remaining and sitting 14th in the Conference, it looks like Islanders fans can start turning their focus to the offseason once again.  As it stands, the Islanders would be in position for the 4th overall pick in this summer's draft which would be the 5th consecutive season the Isles held a top 5 draft spot (they traded down from 5th to 9th in 2008).  There are many changes that will need to be made to this roster if the Islanders hope to compete for a playoff spot next season.  Given the Islanders recent inability to sign impact free agents or make an upgrade through trade, fans will have to look towards the draft as a source for an upgrade.  Below are a couple of candidates who could be donning the Islanders sweater come June and how they would fit with this club.
1. Nail Yakupov – The Russian winger has set the OHL on fire all season with the Sarnia Sting.  He also has one of the coolest Russian names in recent history.  Most experts have Yakupov as the top prospect in the draft and he is more than likely going to be the top selection.  This would mean the Isles would have to remain in the bottom 4 and hope to win the lottery to pick up the first overall selection.  It would be a long shot if they did, but rest assured they would take Yakupov if they have the chance.  The speedy winger would be deadly on a wing with John Tavares.  He is not big, but his skating and sniping ability more than make up for lack of size.  He also plays a physical style of hockey somewhat similar to fellow countryman Alex Ovechkin.  A line of Tavares-Moulson-Yakupov would like very nice next season but a lot of chips would have to fall in place for this to happen.  For more on Yakupov check out THW's prospect profile.
2. Mikhail Grigorenko – The big Russian center has found himself in several different positions on expert's prospect rankings.  Most recently TSN has him dropped to 7th.  However, some experts have considered Grigorenko a better prospect than Yakupov.  He is having a great season with the Quebec Remparts in his first season in North America which is a comforting factor when considering Russian prospects.  The big playmaker has a unique style to his game and some people have even gone as far to say he is Malkin-esq.  If that's the case, than sign me up!  The Isles are deep at center (Tavares, Nielsen, Bailey, Strome), but it would be tempting to take a guy with as much potential as Grigorenko.
3. Mathew Dumba – The Red Deer Rebels defenseman would be my ideal choice for the Islanders.  And he would probably make the most sense to fit a need for the Isles.  Which of course will probably mean they will have a chance to draft him, but instead trade down for a much softer blue liner.  So we shall see.  Dumba, despite being just 5'11" 183lbs, is being dubbed the next Dion Pfaneuf for his bone crushing open ice hits.  I'm sure he will pack on a few more pounds as he gets older too.  Dumba can also add offense to his game as he currently has 20 goals in 66 games.  With the exception of Travis Hamonic, the Islanders lack any grit or toughness on the blue line.  And despite Dumba's smallish frame, he would certainly provide the team with the physical presence they need on defense.   In the latest mock draft by THW writer David O'Connor, he also has the Isles taking Dumba.
4. Ryan Murray – Murray is another defenseman in a draft loaded with talent at that position.  The draft experts have gone back and forth with Dumba and Murray on who should be ranked higher.  Murray is only 6'0″ 205lbs and is more of a steady defenseman than Dumba.  You probably won't see any bone jarring hits from Murray, but his solid defensive play and offensive potential is what makes him a great all-around defensive prospect.  With Mark Eaton, Milan Jurcina and Steve Staios all most likely gone next season, the Isles blue line will certainly be thin.  Murray likes to compare himself to Scott Niedermeyer, so if it is Murray whose name is called in June, I don't think too many fans will complain.
5. Griffin Reinhart – Yet another defenseman, and another one from the WHL at that.  Reinhart is certainly the biggest of the bunch too, weighing in at 6'3″ 202lbs.  Reinhart has a great shot from the point and is also a strong skater for a big man.  With the Islanders lack of size on the blue, Reinart could easily slide right into a top 4 role.  And with his shot and offensive ability, he could also become an anchor on the power play.  Reinhart most likely would be picked 5-10 in this year's draft so if the Isles do pick in the top 4, it could be a reach to see them take the Edmonton Oil King.
6. Filip Forsberg – No relation to the great Peter Forsberg, Filip is a super talented Swede playing left-wing for Leksands in the Swedish Elite League.  Playing with men, he has performed well with 17 points in 43 games thus far.  Forsberg is an extremely skilled forward with good size who should only fill out as he matures.  The Islanders could use some more skill on the wings and Forsberg could fit the bill.  Playing in the Swedish Elite League, his transition to the NHL might not be as tough as some other prospects.  Not to mentions Swedes always seem to become great NHL players, which is something the Islanders certainly need some more of.