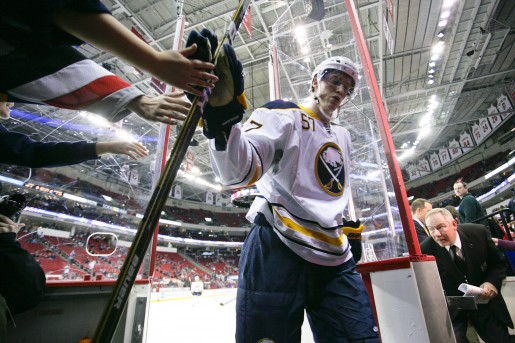 I was beginning to wonder if Brendan Shanahan was taking a hiatus.  Let's face it; he hasn't been very busy lately.  On Tuesday, I was reassured that he was just sitting idly by, waiting for the next bonehead play to be made.   That play came on Monday night, in a tight game between Northeast division rivals and it was a normally very smart Tyler Myers that made that play.
At the time of said bonehead play, The Sabres were up on the Canadiens by a score of 2-1 in an absolute must win game.  The Habs won the faceoff and were pressing on offense; the puck sprung loose and Scott Gomez headed into the area between the corner and the back of the net after it.  With his back to Myers, Gomez poked the puck back to behind the net where his teammate Lars Eller lay in wait, but little could he have expected what would happen next. To take a page from the old batman TV show, it probably felt something like 'BAM, BANG, and BOOM'.  Although Gomez didn't see it coming, we all did.  Big, Lanky #57 of the Buffalo Sabres, screaming in like a Mack truck, took Scott Gomez violently into the boards and knocked him silly.
In Myers' defense, he is not a dirty player.  Not that he's a lady bing trophy candidate, but Myers has just 103 total minutes in penalties in 212 total games.  But this play was dirty.  Ugly even.  You just don't hit another player from behind.  You just don't do it.  End of story.  But, You have to wonder what was going through the mind of the young Buffalo blueliner.  On the hit, Myers saw nothing but Gomez' name patch and #11 and yet he continued to follow through with the hit.  How exactly do you spell bonehead? on this night, it is M-Y-E-R-S.
Not that this makes it right, but what you don't really notice until you watch the replay is that Myers is clearly upset over getting a high stick in the face from Chris Campoli.  Shaking it off, Myers simply went after the next available victim.  Enter Scott Gomez.  But what really separates the elite players in the league from the dirty player/Matt Cookes of the world is the ability to keep your cool and beat them with your play.  Tyler Myers still needs to learn this lesson.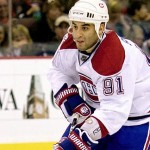 The on ice officials would call Myers for a 2 minute boarding minor on the play and Scott Gomez would go to the dressing room with an injury.   Myers meanwhile would serve his 2 minutes and go on to 21:05 of total time on the ice.  He would also be on the ice in overtime where he would score the game winner to complete a 3 way passing play from Derek Roy and captain Jason Pominville.
A day later, Myers would get called onto the carpet and told that Brendan Shanahan, Vice President of Player Safety and Hockey operations wanted a word with him.  Shortly thereafter he would find out about the 3 game banishment.  This couldn't have been a good piece of news for a defenseman whose team definitely needs him on this playoff drive.  Fans and team officials alike know that he'll be sorely missed.
In his video summary to the league, Brendan Shanahan explained why Myers was getting held out of action.  He talked about this play being a clear violation of the boarding rule.
"A boarding penalty shall be imposed on any player who checks or pushes a defenseless opponent in such a manner that causes the opponent to hit or impact the boards violently or dangerously.  The onus is on the player applying the check to ensure his opponent is not in a defenseless position and if so, he must avoid or minimize contact."
The 3 factors that Shanahan outlined as taken into consideration were:
1)      This was a clear violation of the boarding rule
2)      Scott Gomez was injured on the play
3)      Tyler Myers has not been fined or suspended in his 3 year playing career.
See the full Brendan Shanahan video here:
http://video.nhl.com/videocenter/console?catid=60&id=164475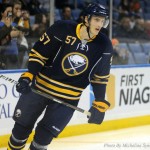 So with the suspension handed down today, Tyler Myers is out of action for a week while his Sabres try to keep pace with the Washington Capitals and Winnipeg Jets. In last night's game, the Sabres suffered just their 4th loss in 13 games via the shootout.  They did  secure 1 point.  Now they take to the road to face Florida on Saturday and Tampa Bay on Monday for 4 points they absolutely need.  And they will be even more difficult to attain for the Blue and Gold without their 6 foot 7, overtime goal scoring, and normally legal hitting superstar defenseman.   Let's just hope that for Myers sake, the only cost is the $14,189.19 in forfeited earnings and not a spot in the first round of the playoffs.
Twitter: @StonemanStephen | Email: stoneford@yahoo.com | Stephen's archive
For every Sabres article on THW, follow @THW_Sabres on Twitter.