Mike Winther THW Close-Up:
Date of birth: 9 January 1994
Place of birth: Trochu, AB, CAN
Ht: 5′ 11″ Wt: 172
Shoots: Left
Position: Left Wing / Center
NHL Entry Draft Eligibility: 1st time eligible 2012
*Click Here for "Notes Up Front" and the "Legend" for various topics covered below in the "Live Updated" THW's NHL 2012 Entry Draft Guide – The Next Ones home page.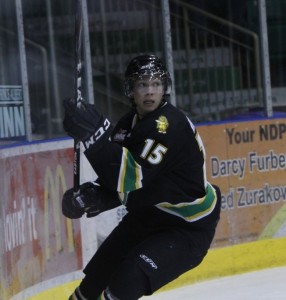 What do you do when you're a top talent on a team mired in the league's basement? You pull on your jersey, you shoulder added responsibility, and you say give me the puck.
Enter Prince Albert Raiders forward Mike Winther (pronounced Win-thur), a #6 overall pick in the 2009 WHL bantam draft whose inconsistent and disappointing rookie campaign in 2010-2011 kept the gate open for his emergence this season as an elite WHL forward–if he wanted it badly enough.
Winther did. And he proved it.
Although various sites have him listed as a center, he spent far more time on the left wing this season, and while he plays both positions well, he excelled on the wing and finished the season with 32-24-56 in 71 games.
He tallied an eye-opening 16 power play goals, good for 10th overall in the WHL and first overall among draft-eligible WHL players. More incredibly though, Prince Albert had one of the WHL's worst power plays, ranking 18th out of 22, and Winther's 16 PPG accounted for an astonishing 30 percent of the Raiders' entire power play production (54/279). He definitely has a knack for drifting into the open abyss behind defenders, finding open spaces, and finishing plays with a lightning release before the opposition can even begin to react.
His special teams prowess was not isolated to the man advantage; Winther spent a lot of time on the PK this season, and even tallied four shorties to go with four game-winning goals.
Winther was a fairly consistent scorer this season, but nothing can match his December; in a seven-game points streak, he tallied 16 points (10g, 6a), punctuated by a 5 point night against Regina (3g, 2a), his first career WHL hat trick. Around this time, he earned WHL Player of the Week honors.
Little surprise then that he was invited to the CHL Top Prospects Game in Kelowna (even if he was an injury replacement). And little surprise he is generating a substantial buzz among NHL scouts in the run-up to the 2012 Draft.
Scout's Honor:
TSN's Craig Button sees Winther as the best draft-eligible forward in the WHL, ranking him at #35.  NHL Central Scouting ranks him #21 amidst North American skaters, second only to Colton Sissons among WHL forwards; ISS ranks him #36 overall, also behind Sissons.
At the NHL scouting combine, Winthur displayed some serious upper body strength, placing first among all invitees in the number of reps he could achieve bench pressing 150 lbs (17), and in the ratio of lbs/lbs body weight (14.8) for the bench press.
"Mike has great speed and offensive instincts. He is a solid two-way player who is reliable in his own zone and in all situations." — Prince Albert Head Coach Steve Young.
"Winther is the kind of competitor that every coach loves to have. With an excellent shot, second to-none work ethic, and excellent two-way play, Winther certainly has all of the tools to be a very strong player at the next level … [He] plays a fearless kind of game as he goes into the hard areas and competes with players much larger than him. As the season has worn on, he has seemingly only gotten better and been a shining star on a generally poor team." — The Scouting Report: 2012 Midterm Rankings.
"To go along with his game breaking speed, he's got great puck skills and an excellent release on his shot. He's showing more improvement in his decision making, hockey smarts and play away from the puck, but those are all areas of his game that he still needs to work on." — Cody Nickolet, WHL From Above.
"I really like how he is a very smart player in the offensive zone and is always on the right side of the puck around the net. He also has a very quick release, his skating is very good, and he is hard to knock off the puck when he gains control." — Rick Jackson, Central Scouting.
"[He]  has pretty solid hockey sense from an instinctual and vision standpoint. His positional play is fine, and while he can make plays he shows a bit of a sniper's instincts in terms of finding open space in the high percentage areas … He combined that with a solid shot and can finish from outside the blue paint." — Corey Pronman, Hockey Prospectus.
"Winther is more of a perimeter player that likes to strike with a quick shot. He gets into a good shooting position and quickly snaps them home when given the opportunity. He needs to improve his play along the boards and be a more physical presence to be a more effective player." — Charles An, HockeyProspect.com.
Statistics:
Bio/Interview(s)/Link(s):
International Tournaments:
Very recently, Winther earned 2 points (1-1-2) and a Bronze medal for Team Canada at the World Under-18 hockey championships in the Czech Republic in the spring of 2012.
ETA = 5 yr
Risk-Reward Analysis:
Risk = 4/5   Reward = 4/5
NHL Potential:
If a growth spurt is in the future he could be a true power forward. According to more than one scout, his skill set is best on display around other skilled players (as it was in the CHL Top Prospects game) so it remains to be seen what he can accomplish surrounded by a stronger team.
Strengths:
*See "THW Close-Up" section above.
Solid penalty killer
Two-way game
Quick release
Fast, excellent skater
Good hands
Excels at finding open spaces
Gritty, dedicated physical game despite smaller size
Flaws/Aspects He Needs To Work On:
Sometimes too easily knocked off the puck
Size; geared up he looks even smaller than he is.
Fantasy Hockey Potential:
Offensive = 8/10   Defensive = 5/10
NHL Player(s) Comparison:
The Scouting Report's Daniel Lizee says Todd Marchant. Winther himself says he tries to model his game on former Prince Albert Raider Mike Modano. The two players aren't quite as far apart as they might seem.
THW's The Next Ones prospect profile template design architect: Chris Ralph
Ross Bonander is a freelance health writer and book editor. He is the editor of 13 quotation collections– six of them hockey-related, including his most recent, Modern Hockey Quotations. His homepage is RossBonander.com.