Colton Sissons THW Close-Up:
Date of birth: 5 November 1993
Place of birth: North Vancouver, BC
Ht: 6′ 1″ Wt: 190
Shoots: Right
Position: C/RW
NHL Entry Draft Eligibility: 1st time eligible 2012
*Click Here for "Notes Up Front" and the "Legend" for various topics covered below in the "Live Updated" THW's NHL 2012 Entry Draft Guide – The Next Ones home page.
After scoring 30-24-54 in 39 games with the Vancouver Northwest Giants of the BC Major Midget League in 2008-09, Canadian-born power forward Colton Sissons (pronounced Sizz-ens) began his junior hockey career the following season at age 15, joining the BCHL's Westside Warriors (Junior A) and scoring 6-16-22 in 58 games. During his time with the Warriors, Sissons became a Kelowna Rocket after the team acquired his rights from the Saskatoon Blades in a 2010 trade deadline deal.
As a WHL rookie with Kelowna in 2010-2011, Sissons was impressive, scoring 17-24-41 in 63 games, including a pair of fights and his only WHL hat trick to date, a four point night (3g, 1a) that saw him figuring in all of his team's goals in an improbable 4-2 win over the Vancouver Giants (improbable because they were outshot 44-22). He finished the season with a team-best +15.
This past season, Sissons took his game up a notch and became "the heart and soul" of a young Rockets team, according to assistant coach Dan Lambert. He matched his previous year's point total in five fewer games but transposed his goals and assists, scoring 26-15-41 in 58 games. Most importantly in terms of development and draft appeal, at the start of the season he was named team Captain. Wearing the 'C' likely earned him tougher assignments, because his plus/minus rating flip-flopped and he finished with a -14 rating, among the worst on the team. However, his 13 power play goals led Kelowna, and his 4 game-winning goals matched the total from his rookie year.
His numbers don't jump off the page, but Sissons brings a complete, well-rounded game to the rink every night. He was invited to the CHL Top Prospects Game in February, where he was named Captain of Team Orr and picked up an assist on the game's first goal. He was also named the Rockets' top defensive forward at the year-end awards ceremony. The overall effort has not gone unnoticed by scouts, many of whom see him as one of the brightest offensive prospects in an otherwise defense-heavy draft pool.
Scout's Honor:
NHL Central Scouting's Final Ranking of North American skaters puts Sissons at #14, making him the highest ranking forward from the Western Hockey League and sixth-highest across the entire CHL. ISS, meanwhile, has him at #23 overall. Finally, after attending the CHL Prospects game, TSN scout Craig Button predicted Sissons would be a first-round pick, despite never having ranked him higher overall than #48 and leaving him off his latest rankings entirely.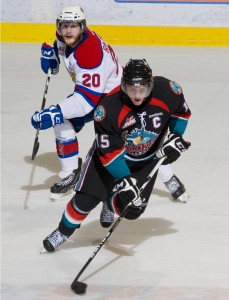 "Despite his large frame, he doesn't get held back by his skating. He has a good first few steps and has good mobility and edgework. He skates hard and also plays with an edge. He loves to lay the body and is very strong at creating room for his linemates … Along with his size and strength, he features a very sharp hockey mind and knows where to be at what times on the ice." — Cody Nickolet, WHL From Above.
"Has high hockey IQ, and a great three-zone game. Relentless in puck pursuit, and a wing who can project up and down the lines due to his high-energy play, slick passes, and big-time shot." — Bill Placzek, Draftsite.
"He's very strong at both ends of the rink, pays attention to detail defensively, a real good, solid, all-around two-way player … He's [also] a very good leader—a quality teams really look for." — BJ MacDonald, NHL Central Scouting.
"With good size and a lethal shot, Sissons undoubtedly projects on the high end as a top-6 winger in the NHL … Look for [him] to continue to put up impressive goal scoring numbers, while also continuing to improve his all-around game leading up to the draft." — The Scouting Report: Midterm Rankings.
Statistics:
Bio/Interview(s)/Link(s):
Rockets Awards Interview: Colton Sissons
ETA =4 yrs

Risk-Reward Analysis:
Risk = 3/5   Reward = 4/5
NHL Potential:
Top 6 Forward
Strengths:
*See "THW Close-Up" section above.
Quietly leads by example, on and off the ice
Good hockey sense
Great shot
Plays a solid two-way game
Strong along the boards
Highly coachable. By some accounts, Sissons spots flaws in his own game and works on them without any prodding from the coaching staff—something attributed to Sidney Crosby as well.
Flaws/Aspects He Needs To Work On:
Fantasy Hockey Potential:
Offensive = 7/10   Defensive = 6/10
NHL Player(s) Comparison:
Sissons says he models his game on Ryan Kesler and Mike Richards.
Video(s):
Sissons shows some nifty hand-eye coordination in a goal against Victoria on 2 December 2011 in this clip:
http://youtu.be/HALtIU_nmSw
In this clip he displays some speed and his ability to protect the puck in a shorthanded goal against Vancouver from12 November 2011.
http://youtu.be/2u-R7nmf8v8
THW's The Next Ones prospect profile template design architect: Chris Ralph