It was announced earlier this morning that, Marc Bergevin, assistant GM for the Chicago Blackhawks, will finally be the Montreal Canadiens' new GM after weeks of speculation by the fans and the media.
Bergevin, is a former NHL defenseman who played 1,191 games in the NHL with the Blues, the Penguins, the Lightning and the Blackhawks among others. The 46 year-old native of Montreal is bilingual, an essential condition for the general position in Montreal.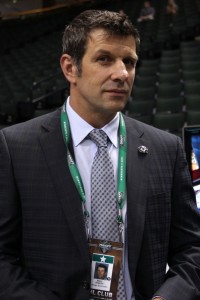 After his retirement, Bergevin was named a pro scout with the Blackhawks' organization. Three years later in 2008, Bergevin was named an assistant coach with the organization before accepting a job as director of player personnel in 2009. Last summer, Bergevin was promoted to the position of assistant general manager of the Chicago Blackhawks replacing Kevin Cheveldayoff who had accepted the General Manager position with the new Winnipeg Jets team. While Bergevin certainly has some knowledge as how to manage an NHL team, he doesn't boast a lot of experience, having worked only one season as assistant to Hawks' GM Stan Bowman.
The other potential candidates were Julien BriseBois, Luc Robitaille, Francois Giguere, Pierre McGuire, Pat Brisson, Claude Loiselle, Vincent Damphousse, Patrick Roy, Jim Nill, Blair Mackasey and Doug Risebrough.
Bergevin has excellent people skills and he developed a large network of contacts during his years with the Blackhawks and as a player. He has a wife, Ruth,  and three children: Wes, Rhett and Elle.
The problem with Bergevin is that he only one year of experience as an assistant GM and doesn't quite grasp of financial numbers and the salary cap. Bergevin stopped attending school in grade-11 because of his junior team's travelling schedule.
However, Bergevin will not be alone in this new adventure as former Habs GM Serge Savard will stay with the team as a special advisor after leading the interview process.
Bergevin will have a lot on his plate this summer as he will need to hire a new head coach, as it is very unlikely that Randy Cunneyworth will be back. He will also have to re-sign all-star goaltender Carey Price and flashy defenseman PK Subban to long-term deals. Bergevin will also have to decide the fate of Scott Gomez, whose hefty contract and lack of production on the ice have became a burden for the team.
***Update*** According to Sportsnet Louis Jean, the Canadiens will buy-out Scott Gomez this summer. While that's a possibility, I believe the organization will wait for the new CBA before making a decision about Gomez, as there might be an amnesty period to buy-out one player without any financial penalty.
It is rumored that the Canadiens also want to hire Rick Dudley to help Bergevin. Dudley, who is currently an assistant GM to Brian Burke with the Toronto Maple Leafs, worked with Bergevin in Chicago.
The Habs will hold a press conference at 2PM this afternoon to announce the official nomination.