With the actual 2012 NHL Entry Draft taking place on June 22nd-23rd in Pittsburgh Pennsylvania, mock draft madness sweeps the hockey universe as the NHL's regular season and battle to get into the playoffs come to a close.
Notes: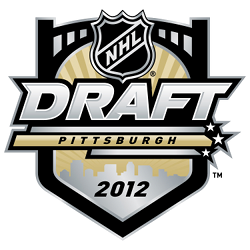 This is not an attempt to rank prospects – rankings will follow similar to preceding years. This is mere a "guesstimate" at what teams might choose if they were to draft today based on weighing out best player available with team need and past experiences at the draft table, with an obvious dose of influence from my personal thoughts.
The order used in the first round of the mock draft is based on Stanley Cup odds as used by colleague David O'Connor when he completed his March mock draft to allow one to compare the two directly. Standings and thus team drafting positions will obviously fluctuate on a day-to-day basis from here on end.
The order used in the second round of the mock draft is based on standings of of March 29th , 2012
No trades will be completed during the mock, but may be presented as a desirable option for the respective NHL franchise being discussed. 
For much more information on the NHL entry draft, be sure to check out our live updated draft home page: 2012 NHL Entry Draft Guide – The Next Ones.
Since the majority of mocks only cover the first round and with so many second round picks trading hands on and before the NHL trade deadline, I will conclude the March Madness mock draft edition with part 3 – the second round. The second round comes as NCAA college basketball's magnificent tournament March Madness comes to a close, even if its officially April.
Part 3: 2012 NHL Mock Draft – The 2nd Round
31 – Columbus: Malcolm Subban, G, Belleville, Bulls, OHL
Blue Jackets land the elite of the elite of players in Yakupov, and Subban, with patience, may just be the elite netminder they desparately need.
32 – Edmonton: Oscar Dansk, G, Brynas Jr. (SWE-JR)
Oilers hope there are two Kings of Goaltending from Sweden.
33 – Montréal: Tom Wilson, RW, Plymouth Whalers, OHL
Wilson will be ranked lower in my rankings, but Habs need an injection of size to the forward ranks. Wilson brings grit, physicality, and size; however, the offensive upside is questionable.
34 – Tampa Bay (from Minnesota via San Jose): Andrei Vasilievski, G, Tolpar Ufa, MHL, Russia
GM Yzerman will still be looking for answers between the Lightnings pipes, but the future looks set with Vasilevski. I'm not a fan of drafting goalies in the first round, but the elite three goalies in this draft are quickly snapped up here in the second round.
35 – Toronto: Nicolas Kerdiles, F, USA NTDP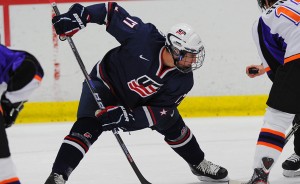 In an interview with The Hockey Writers' own Shawn Reznik, Kerdiles said, "I think that I'm a power forward who has good speed and skill. I like to use my size and speed to get around defenders on rushes and I tend to use my body in the corners in order to protect the puck. I pride myself on being a two-way player who can not only score in the offensive zone, but also play strong defense down low in the defensive zone."
36 – New York Islanders: Tanner Pearson, LW, Barrie Colts, OHL
Pearson makes his third venture through the draft a charm. Islanders get a mature forward with offensive prowess.
37 – Anaheim: Gemel Smith, C, Owen Sound Attack, OHL
The Ducks continue their great drafting and uncover a gem of a forward who, despite his size, is a guy you want to go into battle on the ice with.
38 – Carolina: Phillip Di Giuseppe, LW, Michigan Wolverines, CCHA
Di Giuseppe is likely destined for the first round, but the 'Canes get him as a steal in second. Phillip has impressed in the NCAA ranks and projects as a second line winger.
39 – Tampa Bay: Damon Severson, D, Kelowna Rockets, WHL
Stevie Y continues to weave his magic off the ice and lands Severson, who is very good two-way blueliner wth projectable size. He's somewhat unheralded compared with the other defensemen in this d-men deep draft.
40 – Winnipeg: Colton Sissons, RW, Kelowna Rockets, WHL
The Jets hope Sissons skating will improve and allow him to fly in the NHL. Sissons is a goal-scoring winger with great attitude.
41 – Minnesota (from Washington via New Jersey): Jarrod Maidens,  F,  Owen Sound Attack, OHL
"Iron" Maidens just seems tailor made to fit a desperate need for the Wild. The budding power forward who can play left wing or center has a NHL calibre shot and patterns his game after Jarome Iginla. He brings a lot of passion to the rink and has a propensity to score big goals. He displays maturity beyond his years, exhibits leadership qualities, and is committed to work on his defensive game. Minnesota just hopes he can stay healthy.
42 – Buffalo (from Calgary): Martin Frk,  F, Halifax Mooseheads, QMJHL
The Flames will likely come to regret trading this pick. As THW colleague David O'Connor summed up Frk: "Frk's season was really derailed early on due to a lingering concussion that kept him out of action for 97 days. As a result, he's only played 36 games with the Mooseheads this season. Though the concussion might scare some teams away from drafting him, there's no denying that Frk has the potential and talent to be a star in the NHL someday. His hand-eye coordination and the power he generates on his shot are great, and his powerful legs give him tremendous balance on the ice."
43 – Colorado: Andreas Athanasiou F, London Knights, OHL
I'll also let O'Connor tell you about Athanasiou: "…he has an amazing amount of potential. He just doesn't always show it. His hands are out of this world, his skill with the puck is ridiculous, plus he's quick, and a great skater. Picked in the fourth round by the Knights in the 2010 OHL Priority Selection, Athanasiou has played way above the typical  expectations for a fourth rounder. He'll be hoping a similar pattern follows him to the next level. Make sure to check out his moves on YouTube, because there are some pretty good ones."
44 – Buffalo: Mike Matheson D, Dubuque, USHL
Matheson is another two-way blueliner in this season's outstanding crop of defensemen. He's a candidate to go in the first round as well. The Sabres snap the smooth skating and physical defender up quickly as he falls to middle of this round.
45 – Phoenix: Ville Pokka D (Karpat) (FIN)
Pokka was an impressive two-way defender for Finland at the World Juniors. Along with Oliver Ekman-Larsson and David Rundblad, the Coyotes defense will have a Scandanavian flare to go along with the dynamic Bostonian Keith Yandle.
46 – Carolina (from San Jose): Nick Ebert, D, Windsor Spitfires, OHL
Ebert has had his game almost over-analyzed over the past few seasons. His most recent campaign has been a tough one for him, but 'Canes still like his potential.
47 – Dallas (from Los Angeles via Philadelphia): Hampus Lindholm, D, Rogle Jr. (SWE-JR)
Lindholm has sky-rocketed in several draft rankings this season. He's an offensive defenseman with fantastic skating ability; his defensive zone coverage is another story.
48 – Columbus (from Ottawa via Phoenix): Adam Pelech, D, Erie Otters, OHL
Adam's older brothers Michael (Kings – 6th round '09) and Matt (Flames – 1st round in '05) were both NHL draftees, but Adam may end up being the best of the three. He's a good-sized, mobile blueliner who can play in all three zones.
49 – Dallas: Scott Kosmachuk, RW, Guelph Storm, OHL
Kosmachuk may very well be the OHL's best kept secret. He could be a big time draft day riser.
50 – Tampa Bay (from Florida via Philadelphia): Daniil Zharkov, LW, Belleville Bulls, OHL
Zharkov is an enticing combination of size (6'3″), speed and goal-scoring ability. Of course, he needs work on his defense and there is the Russian Roulette Factor, but at least he's already in North America. Lightning ecstatic to land a first round talent in the latter part of the second round.
(Tampa Bay will receive a second-round pick in either 2012 or 2013 at Florida's choice. Tampa Bay acquired this pick as the result of a trade on February 18, 2012 that sent Pavel Kubina to Philadelphia in exchange for a fourth-round pick in 2013 and this pick. Philadelphia previously acquired this pick as the result of a trade on July 1, 2011 that sent Kris Versteeg to Florida in exchange for a third-round pick in 2012 and this conditional pick.)
51 – New Jersey: Coda Gordon, LW, Swift Current Broncos, WHL
Coda knows goal-scoring. Gordon exhibits really good hockey sense. He'll need to continue to work on skating.
52 – Chicago: Cristoval Nieves, LW
Blackhawks roll the dice on "Boo". The prep school standout, who is an intriguing combination of speed and offensive creativity, has recently made a relatively reasonable transition to the Indiana Ice of the USHL averaging almost a PPG thus far.
53 – Colorado (from Boston via Toronto): Brady Vail, LW, Windsor Spitfires, OHL
Vail goes to Colorado! It just seems appropriate, but the Avalanche don't draft him becuase of the ski resport of the same name. Vail was already a forward with a very good defensive acumen, but has also displayed his offensive upside this season. He projects to be an excellent third line forward who can chip in offensively at the next level.
(Washington will receive either Boston's second-round pick in 2012 or Colorado's second–round pick in 2013 at their own choice)
54 – Montréal (from Nashville): Dylan Blujus, D, Brampton Battalion, OHL
Blujus is another draft day wildcard. He's an effective 6'3″ defenseman on both sides of the rink, possessing a heavy point shot. While his hockey sense saves him at this level, he'll have to work on mobility to be an effective NHL blueliner.
55 – Compensatory Pick – San Jose: Brian Hart, F, Phillips Exeter Academy (New England Prep School)
The Sharks literally make a smart pick in Brian Hart. One of the draft's best athletes is off to Harvard to compete in the NCAA next season.
(Sharks awarded 25th pick in second round on 2011-08-16 as compensation for not signing 2007 first round pick Patrick White)
56 – Tampa Bay (from Philadelphia): Charles Hudon, F, Chicoutimi Saguenéens (QMJHL)
Hudon is a diminiutive forward who is a shifty skater and possesses superior puckhandling and offensive skills. GM Yzerman hopes the influence of Marty St. Louis rubs off on Hudon.
57 – Detroit: Cody Corbett, D, Edmonton Oil Kings, WHL
Red Wings grab the Minnesota native, yet another two-way blueliner in the draft who is somewhat under the radar. Corbett has decent size, is an efficient breakout passer, has leadership qualities and exhibits puck poise.
58 – Pittsburgh: Devin Shore, C, Whitby Fury, OJHL
The Penguins drafted Beau Bennett out of the BCHL in the 1st round in 2010 and go back to a tier 2 Canadian junior hockey league. This time they go after centreman Devin Shore, whose biggest assets are  his hockey vision and playmaking ability.
59 – Vancouver: Dominik Volek, LW, Regina Pats, WHL
The son of former NHLer, David, Dominik is a slightly off the board pick, but the Canucks like the potential of the younger Volek. He can play in all situations and there is some upside to his offensive game.
60 – St. Louis: Anton Slepyshev, LW, Metallurg Novokuznetsk, KHL
The crafty offensive forward was the 1st pick overall in KHL's 2011 draft mainly because of superior puckhandling ability and a great set of hands.
61 – New York Rangers: Matia Marcantuoni, C, Kitchener Rangers, OHL
From the Kitchener to New York Rangers; the Big Apple's version of the Rangers draft Matia for his speed demon skating skills and his potential – not for his lacklustre play this season and the injury plagued campaign that was.
Honorable Mentions:
(Players who garnered plenty of 2nd round interest)
Dillon Fournier, D, Rouyn-Noranda Huskies, LHJMQ
Dane Fox, C, London Knights, OHL
Jesse Graham, D, Niagara IceDogs, OHL
Jon Gillies, G, Indianna Ice, USHL
Nikita Gusev, LW, CSKA-Krasnaja Armija Moskva, MHL (Russia)
Andrei Makarov, G, Saskatoon Blades, WHL
Jake McCabe, D, Wisconsin Badgers, WCHA
Chandler Stephenson, LW, Regina Pats, WHL
Lukas Sutter, C, Saskatoon Blades, WHL
Branden Troock, RW, Seattle Thunderbirds, WHL
Mike Winther, C, Prince Albert Raiders, WHL