In the midst of pandemonium at the Consol Energy Center between the Philadelphia Flyers and Pittsburgh Penguins, Flyers forward Scott Hartnell's legend continued to grow after he acknowledged one of the Penguins' biggest fans – in quite an interesting fashion.
Super-fan Cy Clark has earned a reputation – and a bit of a local celebrity status – as somewhat of a Hulk Hogan look-alike who can often be spotted in the stands performing many of the professional wrestler's antics during Penguins home games.  After being diagnosed with cancer, Clark and the Penguins shared a close relationship especially after he got the opportunity last fall to meet with the team during practice.  Clark will try just about anything to get under the skin of the Penguins' opposition and give his beloved black and gold a home-ice advantage.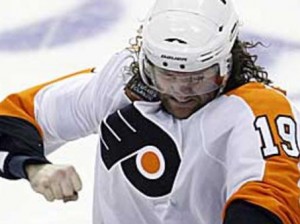 And on Sunday afternoon he gained national attention.
Late in the third period – after Brayden Schenn crossed checked Penguins captain Sidney Crosby in the back – Pittsburgh forward Joe Vitale laid out a crushing, clean hit on Flyers forward Danny Briere.  The Flyers and coach Peter Laviolette didn't take too kindly to the fact that Pittsburgh coach Dan Bylsma sent out his fourth line while trailing 6-3 with just over a minute left in the contest and all hell broke lose.  As the referees were sorting out the mess, the Pittsburgh fans – led by Clark – behind the Flyers' bench were letting the visiting team have it.  Getting heckled is nothing new for any professional team and it becomes second nature to just tune it out – and the Flyers did.  Well except for Hartnell.
After bothering NBC analyst Pierre McGuire in search of his mouth piece that he misplaced during the chaos, Hartnell spotted Clark – who was donning a white Evgeni Malkin jersey, white sunglasses and a Hulkamania bandanna – behind the bench and put his hand to his ear, imitating one of Hulk Hogan's most famous mannerisms right in front of Clark.
It almost seemed to be the highlight of the afternoon for No. 19.  After the game Hartnell tweeted:
"Almost had to give someone Hulksters classic finishing move #Thelegdrop hahahahaahahah.  Just kidding."
It's just another reason for Penguins fans to hate Hartnell, well maybe not every Pittsburgh fan, as he has made friends in the Steel City in the past.  The Flyers head back to Pittsburgh on Saturday for the last game of the season and if Clark is in sight, there is no telling what tricks Hartnell might have up his sleeve.  After all the success of #HartnellDown this season, he might have found another gimmick to embrace as the playoffs approach.
But don't expect to see any of the other Flyers imitate infamous wrestling legends.  Though Wayne Simmonds does tend to act like the Junkyard Dog while in front of the net, not to mention Zac Rinaldo is sometimes more riled up then Ultimate Warrior.  Whatever the case may be, it is building up to becoming one of the best series of the entire Stanley Cup playoffs.
Ed is a die hard sports fan from Philadelphia who follows all of the city's local teams. He has written for a number of print and internet media sources and is a hockey junky. When he is not watching a game, he is spitting out useless trivia knowledge, or upholding his title as movie quote extraordinaire. You can follow Ed on Twitter @PhillyEdMiller.