The
Blackhawks
are looking strong! After going 11-2-3 in their last 16 games, Chicago has earned their fourth straight playoff appearance, despite being without Jonathan Toews for the last 20 games. Now, the Hawks' fortunes have gotten even better, as Toews has been cleared for contact with two games still to play in the regular season.
With Toews ready to go, and the Hawks not playing their next game until Thursday, there is a possibility that Toews will be able to return before their regular season ends in Detroit on Saturday. Another plus for Chicago is that Dunkan Keith is also back after serving a five-game suspension. Keith will be back on the ice against the Wild on Thursday.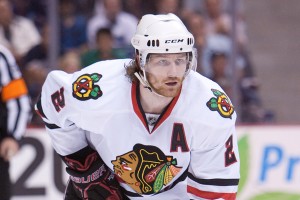 Chicago, guaranteed at least a 6th seed in the playoffs, will benefit greatly with Toews' return. Ranking second on the team in goals with 29 despite his long absence, he obviously brings the Hawks offense to a different level, a great benefit for a team already on an upswing heading into the playoffs.
On top of Toews' soon return; Kane, Sharp, Hossa, and Stalberg are all on point streaks; a great way to end a regular season with a very tough playoff road ahead of them. They still have a long way to go, but if Toews can make an immediate impact, do not be surprised if the Blackhawks make some noise during their quest for the cup.