Folks wearing Toronto Maple Leafs sweaters when the Buds arrive in town is a common hockey phenomenon – particularly in the NHL's so-called Sunbelt arenas.
And Tampa was no different this year.
Although with all the new Lightning jerseys in the stands this season, one had to work a little harder to pick out the Leaf fans (assuming they're not wearing bags over their heads), especially with the convergence of the teams' color schemes.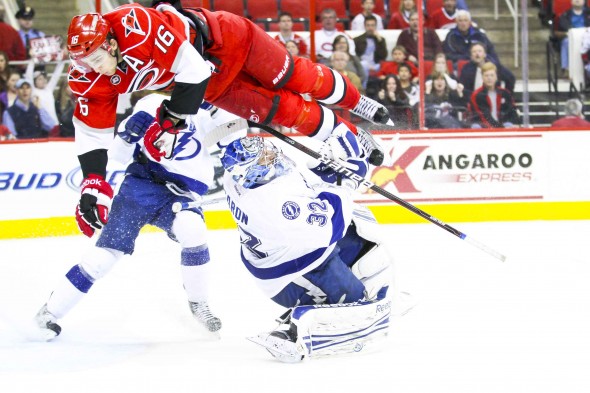 Looking more closely however, it's clear that the teams' sweaters were only the most visible of the similarities between the two franchises this year. And no, this isn't about how both teams are located in cities that start with "T", or how both teams have nicknames that start with "B" (although that is cool).
And it goes beyond the simple fact that neither team is headed to the post-season this year.
So before the stalls are cleaned out and the goal lights go dark 'till September, here are some striking similarities to ponder.
Skating Snipers
Both the Lightning and the Leafs ice an outstanding goal-scoring sniper that can terrorize opponents.
For fans of the Lightning, no team with a player like 22-year-old Steven Stamkos under contract until 2016 has cause for complaint.
There's just too much to look forward to with Stamkos, and a team like the Leafs (or at least some of its fans) would kill for a player like the Markham, Ontario native.
With four games left on the books, the 60-goal watch for Stamkos is still very much alive. But even if he finishes with the 56 goals currently in the books, he's already established the new Lightning scoring record (and done it with the amazing shooting percentage of almost 20% – 3rd in the league), and he's a lock for the Rocket Richard Trophy as the NHL's highest goal-scorer.
"When you think of how long the NHL has been around, to have a record to call my own, at least for now, is amazing." – Steven Stamkos on his fifth OT winner
And speaking of goals – in case you missed it – his fifth overtime game-winning goal of year is a new NHL record. How'd it go down? One timer from his office in the left hand faceoff circle. The kid's a killer.
"When you think of how long the NHL has been around, to have a record to call my own, at least for now, is amazing," said Stamkos after sinking division rival Winnipeg Jets in OT on Saturday. "Obviously, I'd have loved to do this in a season where we were competing for a Stanley Cup."
That's not to say Phil Kessel isn't also a quality scorer, but beyond the goal-scoring disparity, the Leaf's sniper is also a minus-12 (while Stamkos boasts a healthy plus-five), and his defensive play (and heart) is seemingly constantly questioned.
Worse, Kessel still seems overshadowed by the controversial trade that brought him to T.O., and the arrival of Randy Carlyle as Toronto 's new head coach has injected more uncertainty in Kessel's game.
Offense? Yes! Defense? No!
Both the Bolts and the Buds own some horrible stats this year, particularly defensively.
Currently, Tampa has allowed an average of 3.40 goals-against per game this season – worst in the league. They're also worst in league when it came to allowing short-handed goals (although the Philadelphia Flyers are the only team so far to suffer the humiliation of allowing a goal while playing with a two-man advantage). These numbers won't surprise those who followed the team this year, defense has been its downfall, and desperate help in net is required.
The Leafs aren't much better, with an average of 3.13 goals-allowed per game, 28th in the league, and they come with goaltending troubles of their own.
Conversely, both teams lit the lamp consistently against their opponents.
After 78 games-played, the Lightning have 220 goals and are the 9th highest scoring team in the NHL. The Bolts are a dangerous team, particularly at even strength; sitting 5th in the league for both goals score in 5-on-5 and 4-on-4 situations.
While Stamkos is clearly a key cog in the lamp-lighting machine, players like Martin St. Louis were important producers. In fact, the Lightning will have at least five 20-goal scorers this season.
Contrast that with the Conference-leading New York Rangers who have three, or the league-leading Vancouver Canucks who also only have three.
While they have played one more game, Toronto sits just behind Tampa with 218 goals scored (10th in the league).
The Leafs can only boast three 20-goals scorers, but in fairness to Clarke MacArthur, if he scores one more in the next three games, then he'll bring that total to four for the team.
Strong AHL Affiliates
Minor-league success does not directly translate to NHL dominance, but its hard not to be excited by the truly extraordinary run the Norfolk Admirals have put together. At 22 wins and counting, the Admirals have set new records for consecutive wins, not only in their own American Hockey League, but for all of North American professional hockey. They have locked up the AHL's Eastern Conference with 101 points after 70 games.
The Toronto Marlies also are AHL dynamos. With 89 points after 71 games, they sit second in the Western Conference.
Both fan bases can likely look forward to deep AHL playoff runs as consolidation prizes for not making the NHL playoffs. Assuming their loyalty extends beyond the bigs.
New Comers
There will be new faces in the Lightning's locker room next fall. And with more than $16 million in cap-space for next season, GM Steve Yzerman has some room to work with when it comes to signing free-agents.
Toronto 's GM, Brian Burke, currently has space with only $6.5 million currently to be freed up for wheeling and dealing.
Both teams are flirting with Entry Draft lottery picks.
Similar, But Different
The teams achieved very similar and disappointing records this year, and they certainly have some similar aspects to their game currently, but there seems to be an important difference in the bedrock of the teams.
The Leafs seem mired in a peculiar, pressure-filled spiral that leaves casual observers wondering if they can ever live up to expectations. On top of the recent firing of head coach Ron Wilson and the less than spectacular record of his more cantankerous replacement, the Toronto media are also questioning the suitability of Dion Phaneuf as team captain.
The situation in Tampa seems different. Lighter. More optimistic. And it's at least partly to do with the enthusiasm that Bolt's owner Jeff Vinik has injected into the franchise.
And it's tempting to cast an eye to the near future and conclude that the Leafs will still be struggling to live up to past ghosts, while the Lightning will be returning to the playoffs, led by Stamkos and looking to improve on their recent visit Eastern Conference finals.
The situation just feels more afflicted in Toronto.
Both sets of fans will have one more opportunity to judge the similarities and differences for themselves as the teams face each other on April 5 at the Air Canada Centre in Toronto.
In one final similarity, as the playoffs begin fans in Tampa and Toronto could swallow their pride and cheer on the surprisingly playoff-bound Florida Panthers or Ottawa Senators – two cross-state/province rivals who both oddly favor red.
Weird.