For five years Philadelphia Flyers left-winger Scott Hartnell has been trying to prove that he is worth the $4.2 million salary cap hit, playing hard each and every shift.  He has shown that he has a knack for scoring goals, while proving that he's not the best player when it comes to skating ability.  Flyers fans have become quite aware of his poor skating, thanks to what started out as an underground social media joke that has gained a cult-like following around the Philadelphia area, with the leader now Hartnell himself.
The 29-year-old has had all types of nicknames and phrases – some good, some bad – surrounding him during his tenure in Philadelphia but nothing quite like "Hartnell Down."  It all began with the social media site Twitter as it was there Seth Hastings had the idea to start Hartnell Down by using it as a hashtag and asking his friends to guess how many times the Flyers forward would fall during any given game.
So what exactly is Hartnell Down?
Well according to DownGoesSpezza.com, a site that has helped Hastings spread the word about the phrase, Hartnell Down can be defined as:
 "A moment where something other than Scott's skates or stick are on the ice and attached to his body… if Scott puts a glove hand on the ice, he's down but if Scott tosses his gloves to fight, he is not down until he inevitably ends up flat on his back during said fight."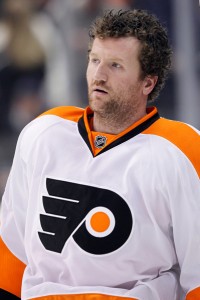 The idea is not to be taken too literally but instead to be something to have fun with.  It's just another reason for fans to enjoy their hockey team and make light of an otherwise tense game.
"I got the idea during the cup run two years ago," said Hastings.  "It was more or less a joke between a few folks on Twitter."
The hashtag continued to have a strong cult following by orange and black diehards but it wasn't until Nov. 15 – when Hartnell joined the site with the handle @Hartsy19 – that it began to soar.  It didn't take him long to become abreast to the up-and-coming phrase and within two days Hartnell made his first tweet containing the hashtag.
"#HartnellDown I think 3 times.  Correct me if I'm wrong!!!!!  Hahahahaha.  Love it.  'Going to Winnipeg!!!!'" he tweeted.
He would continue to use the phrase here and there for quite some time but it was a TV interview with Flyers sideline reporter Steve Coates after a 3-2 win over the Pittsburgh Penguins on Dec. 8 that gained the attention of many, more mainstream, Flyers fans.  When asked about a goal he had scored during the contest, Hartnell responded saying, "He [Meszaros] did a great job, a nice little nifty move at the blue line and I was just yelling 'go back post', he made a great pass and uh, I finished with a Hartnell Down at the end."
Hartnell enjoyed the phrase so much that he decided to create hartnelldown.com, a site that is dedicated to keeping an accurate track of when the Flyers forward falls to the ice.  The site is made up of a large Hartnell Down-O-Meter which is currently at 130 for the 2011-12 season and right below the meter there are tee shirts Hartnell had made up.  The shirts – which have "#hartnelldown" on the front and "Down&  Dirty 19 – @Hartsy19" on the back – can be purchased for $15, with all proceeds going to a charity of Hartnell's choice.
"Scott Hartnell and his agent contacted me about the birth of HartnellDown.com and the charity work they're doing with it, " Hastings said.
Hartnell was so pleased with what Hastings started, he arranged to meet him after tomorrow afternoon's tilt with the Boston Bruins.  Hastings is still in shock from how far everything has come in just under two years and is quite happy about it!
"It's still a shock to me.  It's pretty surreal.  I'm glad it gained popularity, but I'm even more excited that it's going to raise money for charity."
At 130 spills so far in 30 games this season, it might not be too much of a stretch to see him at least double that before the end Flyers' last game of the season – whenever that might be. But can he beat the 241 he finished with a year ago?  Who knows, but it's always interesting to watch a player take a fan's idea and mold it to take a life of its own.  For Hartnell to be able to poke fun at himself and do so for charity is something that shouldn't get overlooked.
So the next time he is laying on the ice, remember that someone somewhere is keeping count.