On Friday night, New Jersey Devils center Travis Zajac will make his 2011-12 season debut against the Dallas Stars. Zajac suffered an Achilles tendon injury while working out in the off-season and is finally ready to go after surgery and rehabilitation.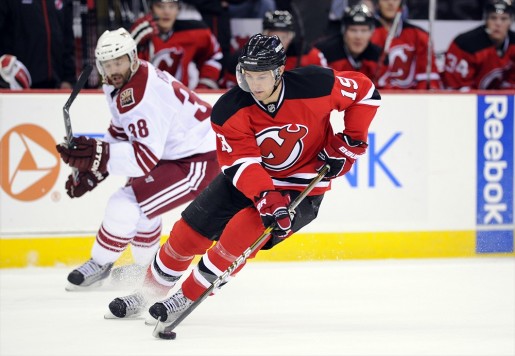 This is big news for a Devils team who is slowly beginning to find their way in December. They have started the month 4-3 and have wins over quality opponents such as the Toronto Maple Leafs and the Florida Panthers. Although they come into Friday's game having won four of their last five games, they are still on the Eastern Conference playoff bubble. They currently have a record of 16-13-1 for 33 points and ninth in the conference.
Zajac was the team's ironman prior to going down. He had played 82 games in the last four seasons and had at least 40 points in four out of his five seasons with the Devils. In 2009 and 2010, he had 60-point campaigns, with 62 points in 2009 and a career-high 67 points in 2010.
Last year, he finished third on the Devils in scoring with 44 points behind Patrik Elias and Ilya Kovalchuk. However, his contributions are often overlooked on an offense that boasts Zach Parise beside last year's top two scorers.
Despite the fact that the Devils have been winning, their offense is still ranked 26th in the NHL, as they are scoring just 2.40 goals per game. With Zajac back, that total could slowly be on the rise.
Zajac will also benefit the Devils in the faceoff circle. Last season, he was fourth on the team with a 55.3 percent faceoff win percentage.
One of the team's top faceoff specialists this season, center Jacob Josefson (second with a 60.3 percent win percentage), is currently on the injured reserve. As a result, New Jersey currently sits in 29th in the league with a 46.8 percent faceoff win percentage.
The Devils will be happy to get Zajac back so they can win more draws and increase their puck possession time. This will help them continue winning games in a mostly tough schedule for the remainder of the month, as they take on teams in playoff position such as the New York Rangers and the Pittsburgh Penguins.
Finally, he will be able to bring some life to the Devils' 27th-ranked power play (12.7 percent). In four of the last five seasons, Zajac has scored at least five power-play goals. While he only had two last season, he is in a good position to ride the momentum of returning and go back to producing on the man advantage again.
With New Jersey remaining on the outside of the Eastern Conference playoff picture, they need all the help they can get. Zajac's return will take some of the offensive load off Elias and Kovalchuk, and they will have an additional weapon as players such as Adam Henrique continue to step up.
Hopefully, this will help the Devils gain some additional confidence as they try to get back into the postseason after going home in April last year.