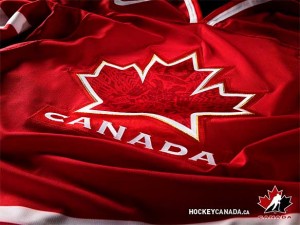 At first glance, Team Canada's World Junior roster for this year's World Junior Championships may not look like one realistically capable of winning gold. There are no real big superstars, there are no returning players on defense, and two of the key forwards on the roster are currently injured. People are already questioning the coaching staff's decisions when it came to making the final cuts, and Team Canada hasn't even played a game together yet.
Coach Don Hay and Head Scout Kevin Prendergast didn't have as many easy choices to make this year as they may have had in past years, as this year's camp was about as wide open as you're ever going to see in a Canadian selection camp. If you look at the roster, you could say that only about five players were locks to make this team. Using the 22-man roster we have now, that means that there were 17 spots up for grabs. For a Canadian national hockey team, that is an extremely high amount of open slots. Just to show how wide open it was, Coach Hay said afterwards that Tanner Pearson – the Ontario Hockey League's points leader by a mile – was one of the last players to make the team. Before this season, most people had never even heard of Tanner Pearson. When a Canadian hockey fan thought of the Barrie Colts, they immediately thought of fellow Team Canada forward Mark Scheifele, and that was it. There would have been no mention of Pearson, not even a thought. Well, that's all changed pretty quickly hasn't it? Some analysts are saying that Canada could be considered an underdog in this years tournament in Alberta, on home ice. The Americans may have the more "visually appealing" roster, so that must make them the favourite, right? Oh, if only life were that simple.
Forwards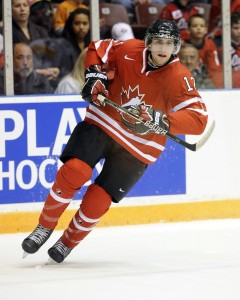 Up front, Team Canada is expected to be led by the trio of Brett Connolly, Mark Scheifele, and Jaden Schwartz. Connolly and Schwartz are returning members of last year's silver-medal winning group, and they'll no doubt be looking for revenge. Scheifele is already the favourite to lead the team in scoring, and he's penciled in on the number one line at centre. Schwartz, who plays at Colorado College, is Canada's lone NCAA representative, and he's looking like the leading candidate for team captain. At the moment, the Quinton Howden situation isn't looking very good, and Jonathan Huberdeau is still a question mark for Canada's opener against Finland. If they're both able to play in at least one pre-tournament game, Canadian hockey fans will be able to relax a little bit. Those two will be huge parts of the team, as Howden can provide great veteran leadership, and Huberdeau is arguably the most talented player on the team.
Behind those five top players, you find another great crop of young forwards. Brendan Gallagher, Devante Smith-Pelly, Mark Stone, and Ryan Strome will be key components of the second and third lines. Gallagher, a Montreal Canadiens prospect, is a rising star in Canadian hockey. He's really been making a name for himself this season, especially with his performance at the Habs' training camp. Like Brett Connolly, Smith-Pelly was loaned from his NHL team (the Anaheim Ducks) to play in the WJC. He'll bring some much-needed physicality, and he's more than able to chip in a few goals as well. Stone, an Ottawa Senators prospect, and Strome a fifth-overall selection of the New York Islanders, will likely start the tournament on the second line. Stone was a force in the summer camp, and though Strome wasn't dynamic offensively in the selection camp, he should be playing just fine come Boxing Day. Behind them, keep an eye on Freddie Hamilton. He'll provide solid leadership, plus he's been a point-producing machine for the Niagara IceDogs this season.
Defense
For those who always need to find a glaring weakness in every team, you'll probably point at this year's defense. The lack of returning blueliners is your easy reason. Overall though, all three pairings are pretty solid. Team Canada's top pairing will likely consist of Brandon Gormley and Dougie Hamilton. Gormley's missed out on Team Canada two times in the past. In 2009, he was straight up cut. In 2010, it looked like he would make the team, but an unfortunate knee injury blew apart that dream. Earlier this week, Gormley said this about those experiences:
"I watched every game last year, yeah, it wasn't fun at all," the Phoenix Coyotes prospect said. "You know most of the guys out there and you see what they went through and you want to be out there helping them, and you feel pretty hopeless and pretty useless sitting at home. It was heartbreaking."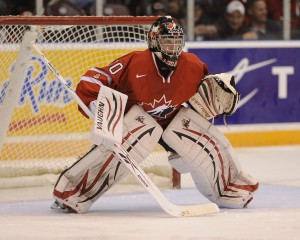 This year he's finally getting his shot, so expect an intense Brandon Gormley on the ice for Team Canada. There's no way he's letting this chance slip away. Dougie Hamilton is one of the top defensemen in the CHL right now, and the Boston Bruins first-rounder has been playing great with his brother Freddie in Niagara. They will become the first brother combination to suit up for the Canadians in 30 years. Ryan Murray will be a top-five pick in the 2012 NHL Draft, and after nearly making the team last year, he was pretty much a lock this time around. He's nursing an ankle injury, but has been on the ice playing full-contact for around a week now. Jamie Oleksiak is a towering blueliner, and he may remind you of Keith Aulie or Tyler Myers from the 2009 tournament. His play with the Saginaw Spirit hasn't exactly been fantastic so far, but he's still adjusting to the league. Oleksiak should be able to provide some intimidation on the Canadian blueline. One of the biggest surprises was Scott Harrington making the team over Ryan Murphy. Harrington's a steady, stay-at-home defenseman from the number one major junior team in Canada, the London Knights. He may not be flashy, but he'll be someone Coach Hay will rely on more often than you think. Team Canada's other blueliners are Nathan Beaulieu and Mark Pysyk.
Goaltenders
The kings of the corded castles for Canada this year are Mark Visentin and Scott Wedgewood. Both of them play in the OHL, with Visentin on the IceDogs, and Wedgewood on the Plymouth Whalers. Visentin, who was in net for Canada during last year's disastrous gold medal final in Buffalo, is expected to be the starting goalie. But Wedgewood has no interest in settling for second place as the backup. Shortly after making the team, Wedgewood said this:
"[Visentin's] got the No. 1 spot right now, it's definitely going to be a battle for him to keep that," he said. "I'm not going to sit back and just watch. I definitely want to play. I'm sure he's going to want to keep [the number one spot] so there will be a little bit of friendly competition here. We both want to obviously win this team a gold medal."
If that statement tells you anything, you can definitely expect Wedgewood to be playing at his highest level in the pre-tournament games. A New Jersey Devils draft pick, Wedgewood had a great selection camp, and certainly earned his spot.
Mark Visentin will be looking to redeem himself in Alberta, as he'd rather the fans don't instantly think "gold-medal game collapse" whenever they hear his name. He says he'll be taking each day one at a time, and he'll be trying to help this team improve every day in practice. That, he says, is his main focus. Visentin was a first round selection of the Phoenix Coyotes in 2010, and isn't interested in losing the World Junior's two years in a row. If any telltale scars of last year's final remain, they've been well hidden from public view. Mark Visentin is ready to go, and the whole country is ready with him.
There's a nice balance with this year's Team Canada. Multi-purpose forwards, a large defense, and an experienced goalie should give Canada a good shot at winning it all. If everyone plays to their maximum potential, finds chemistry with their linemates and partners, and gives it their best effort, Team Canada could be a force to be reckoned with.
The 2012 World Junior Hockey Championship opens December 26th in Calgary and Edmonton.