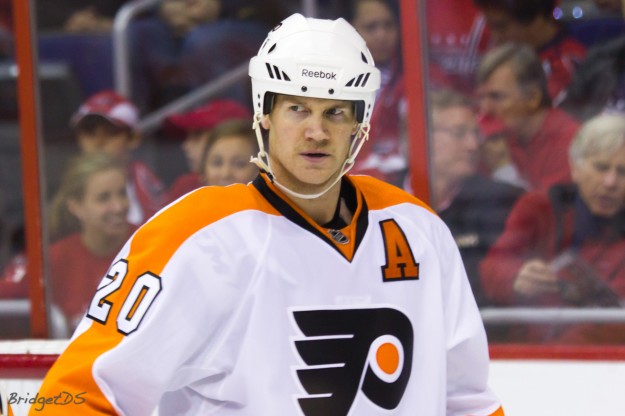 Just one week after Sidney Crosby was shut down due to post concussion syndrome, the NHL has been dealt yet another blow as Philadelphia Flyers captain Chris Pronger will miss the remainder of the regular season and playoffs with a concussion.
The Flyers as a franchise are still reeling from the absence of star forward Claude Giroux. Giroux currently leads the NHL scoring race with 39 points, but he is out indefinitely with a concussion after being accidentally hit by teammate Wayne Simmonds.
The frequency and severity of concussion related problems in the NHL is nothing new, it has become the predominant theme to NHL hockey for the past number of years. The troubling part however is that the list of wounded players continues to grow, and the NHL is suffering for it. Here is a list of the players that are out with concussion related issues.
Injured players:
Milan Michalek OTT 12/13/2011 Concussion
Claude Giroux Phi 12/11/2011 Head
Matt D'Agostini StL 12/11/2011 Upper-body injury
Cody Hodgson Van 12/11/2011 Head
Sergei Gonchar Ott 12/10/2011 Upper-body injury
Daniel Paille Bos 12/9/2011 Mild concussion
Jeff Skinner Car 12/9/2011 Concussion
Robert Bortuzzo Pit 12/9/2011 Concussion-like symptoms
Nathan Gerbe Buf 12/8/2011 Concussion
Jim Vandermeer SJ 12/8/2011 Upper-body injury
Joni Pitkanen Car 12/7/2011 Concussion
Ryan Wilson Col 12/7/2011 Head
Josh Harding Min 12/7/2011 Upper-body injury
Brayden Schenn Phi 12/7/2011 Upper-body injury
Sidney Crosby Pit 12/7/2011 Precautionary reasons
Mike Sauer NYR 12/6/2011 Concussion
Douglas Murray SJ 12/6/2011 Upper-body injury
Mark Cullen Fla 12/5/2011 Upper-body injury
Nino Niederreiter NYI 12/4/2011 Concussion
Eric Fehr Wpg 12/1/2011 Upper-body injury
Blake Geoffrion Nsh 11/29/2011 Upper-body injury
Zbynek Michalek Pit 11/29/2011 Concussion
Kris Letang Pit 11/27/2011 Concussion
Jay Harrison Car 11/25/2011 Upper-body injury
Chris Pronger Phi 11/21/2011 Knee surgery, concussion-like symptoms
Mike Weber Buf 11/17/2011 Upper-body injury
Marcel Goc Fla 11/17/2011 Upper-body injury
Marek Zidlicky Min 11/16/2011 Concussion
Radek Martinek Cls 10/22/2011 Concussion
Peter Mueller Col 10/20/2011 Head
Andy McDonald StL 10/15/2011 Concussion
Mark Olver Col 10/5/2011 Head
Marc Staal NYR Last Season Concussion
Marc Savard BOS Last Season Concussion
Ian Laperriere PHI Injured in April 2010 Concussion
One of the main reasons there are so many concussions is due to the speed of the game. Even if the contact to the head is slight, players are moving so fast today that major injuries can occur. NHL general managers are loathe to create any rules that will diminish the physicality of the game, but with so many superstars out of action, perhaps now is the time.
I have argued in the past that the NHL is no dirtier today than ten years ago, however one thing I do concede is that proper BODY checking is becoming a lost art. When you watch an NHL game today, players throw checks and their sticks are in the air, and often times they lead with their arms or head. What happened to leading with the shoulder and aiming into the opponent's chest?
One of the problems is that players are moving so fast that it's difficult to time a proper hit to the chest, however it is still possible. Dion Phaneuf is widely regarded as one of the best hitters in the NHL, and a big reason why is because he never targets the head, he always hits his opponent in the chest. Perhaps if the NHL outlawed any and all checks to the head, all players would be forced to reevaluate how they hit.
A year or two ago I would have been opposed to eliminating all hits to the head, but at this point it is bordering on necessary. People may feel as though the physicality of the game would be compromised if a "no head checks" rule was implemented, however there are just too many players missing time with concussions. This has evolved into a epidemic that is diminishing the quality of NHL hockey. The fact remains that numerous superstars are missing significant time due to concussions and something needs to change. As a comparative, think back to when New England Patriots quarterback Tom Brady blew out his knee in a game against Kansas City. The NFL protects its superstars and they didn't wait long before instituting a rule disallowing lineman to hit quarterbacks below the knee.
When superstars aren't playing everyone suffers. In fact, watching superstar players excel and compete against one another is one of the main reasons NHL hockey is compelling. The rules of NHL hockey have evolved over the years and at this time, eliminating all checks to the head is a logical step. The game may become less physical but the NHL cannot afford to lose anymore superstars to concussions.
Editor's Note: For Clarity, here is the now famous Rule 48. Tom is suggesting this rule be broadened to account for all checks to the head, not just those deemed 'targeted' or 'principle point of contact'.
48.1 Illegal Check to the Head – A hit resulting in contact with an opponent's head where the head is targeted and the principal point of contact is not permitted. However, in determining whether such a hit should have been permitted, the circumstances of the hit, including whether the opponent put himself in a vulnerable position immediately prior to or simultaneously with the hit or the head contact on an otherwise legal body check was avoidable, can be considered.