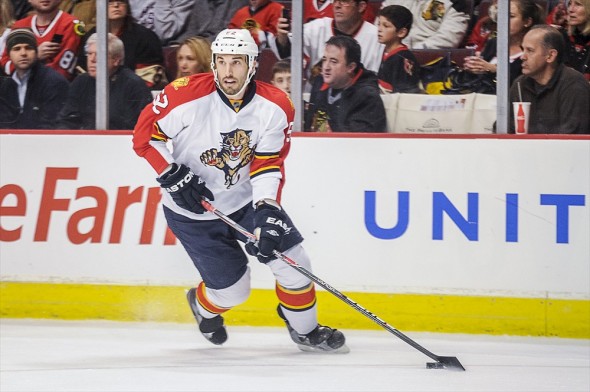 It's been 12 long years since the Florida Panthers last skated in the NHL playoffs.
But for their small yet faithful collection of fans, it's probably felt like an eternity.
With a win on Tuesday against the Winnipeg Jets, the Cats can clinch a postseason berth for the first time since 2000, bringing an end to a streak that has made them an archetype of mediocrity throughout the millennium.
"I'd hope we think it's our destiny," forward Kris Versteeg said, who came to Sunrise this summer as part of the organization's aggressive yet successful overhaul.
According to SportsClubStats.com, the Panthers have a 99.3 percent chance of extending their 2011-12 campaign beyond the guaranteed 82-game schedule, all but sealing their fate amidst the top eight teams in the Eastern Conference.
And with a game in hand, Florida remains three points ahead of Washington for the Southeast Division lead. If the Panthers can stave off Alex Ovechkin and the Capitals, they will raise their first ever division championship banner at the BankAtlantic Center—a significant milestone for a franchise that has fallen short of their goals on so many occasions.
"The ball's in our court," said defenseman Brian Campbell, who won a Stanley Cup in 2010 with the Chicago Blackhawks. "Obviously for our division, it's in our hands. We have the opportunity. We're still looking at that. First you need to clinch a playoff spot and that's something that we're working on. So it'll be an exciting game Tuesday night against a division rival, a must-win game for us."
A lot has happened since the last time the Panthers took part in the postseason, including three presidential campaigns, seven coaching changes for their team, eight Harry Potter films and (at least) 12 major apocalyptic predictions. The week they were eliminated by the New Jersey Devils in the opening round of the 2000 playoffs, 'Nync's "Bye Bye Bye" was among the top 10 songs on the U.S. Billboard charts.
Yes, it's been that long.
"If we get in, and God willing we will get in, then it's a whole new chapter for us," team President Michael Yormark said. "Then we can focus on what kind of run we can make in the Stanley Cup playoffs. But this season has been defined around getting into the postseason. And we can taste it. We can feel it. We can smell it. It's right in front of us. It's in our grasp and now we've just got to go out and take care of business."
Very few major North American professional sports organizations have experience a dry spell as extensive as Florida's—seven, to be exact. In addition to the Panthers, the NFL's Buffalo Bills and the MLB's Baltimore Orioles, Toronto Blue Jays, Kansas City Royals, Washington Nationals and Pittsburgh Pirates have gone 12 or more years without competing in a postseason contest.
Similar to all of the aforementioned teams, Florida is often criticized for their lack of fan support. But those that have stuck with the Panthers through thick and (mostly) thin are about to be rewarded for their loyalty.
"You know what? This community and our fans deserve this, and our players know it," Yormark said Monday. "I've been traveling with the team for the last week and they feel it, they know it. These fans have supported us for so long. We've got a core and this core stuck with us. And so the opportunity to clinch at home in front of hopefully a really good crowd … would be thrilling."
While ending the playoff drought will mean a lot to the organization, general manager Dale Tallon is looking far beyond that. It's no secret that the Panthers odds of winning the Cup this year are slim, but the franchise has put itself in position to experience consistent success over a significant period of time.
"I'm looking at it like we are on the right track," Tallon said. "We are doing the right things. We are moving forward. We are having a winning season. … We have a blueprint and we are just more confident that it is (working)."
Andrew Hirsh is a graduate of Elon University and is entering his fourth year as a credentialed NHL writer. He founded SunbeltHockey.com in 2012 and serves as the site's managing editor. Andrew can be reached via email at ahirsh3@gmail.com.