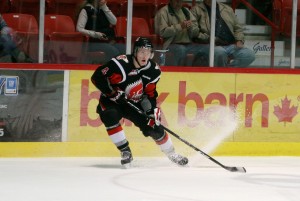 On Friday night, the Toronto Maple Leafs selected Morgan Rielly, a mobile, rushing, offensive-minded defenseman.  Even though, he suffered a terrible ACL injury during the 18th game of the 2011-12 season, Rielly fought hard to make his way back to the playoffs for his club, the Moose Jaw Warriors.
This selection was a bit of a surprise to Leafs Nation who counting on the club to draft a talented forward with the 5th spot.  Make no mistake, Rielly is the real deal.  During his post selection conversation with the media, Brian Burke was emphatic that Rielly was the player that the Leafs wanted all along.
Click here to see Morgan Rielly's #NextOnes profile by Andrew Eide of www.thehockeywriters.com
As I watched the first round of the NHL Entry Draft on Friday night, I couldn't help but notice how eerily similar Rielly's play seems to Jake Gardiner.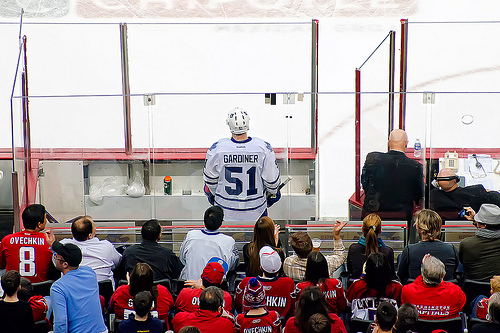 In the highlight videos I've seen, Rielly is almost an mirror image of the young Gardiner who surprised many by making the Toronto Maple Leaf blue line as a rookie out of training camp.  His demeanor, his look, his 'Justin Bieber like' hairstyle are all bang on.
Is Morgan Rielly the Canadian Jake Gardiner?  Well, not exactly. As prospects, Rielly seems slighty ahead of where Gardiner was in his draft year.  Brian Burke as GM of the Anaheim Ducks, took Gardiner with the 17th selection in the 2008 power draft.  They are comparing Rielly to last year's Norris Trophy winner, Erik Karlsson, who was also selected in the 2008 power draft at the #15 spot by Ottawa.  They have even compared Rielly's play to Paul Coffey, the second highest scoring defenseman of all time behind Raymond Bourque.  Coffey lead defenseman in scoring during the playoffs.  He was clinch.
Speaking of Clinch.  Here is Jake Gardiner with his best goal of the 2011-12 season.  He was probably the Leafs best defenseman this season and he also lead the Toronto Marlies to the Calder Cup finals.
So one has to beg the question, does drafting Morgan Rielly with this pick make Jake Gardiner expendable?
A few days ago, the Toronto Maple Leafs only had one 'real' trade chip:  Jake Gardiner.  While I don't agree that there aren't at least a dozen other tradeable assets, I do agree that Gardiner was the king among them.  Does this pick insinuate that Gardiner is on his way out? One has to wonder.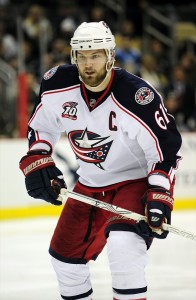 In a perfect world, these two Juggernauts grow up in the  Toronto Maple Leafs system together and eventually lead the 1st and 2nd defense pairings to great success.  Something tells me that just isn't going to happen.
Leafs observers believe both Vancouver and Columbus would want Gardiner to come back in a trade for either Rick Nash and Roberto Luongo.  Putting  2 and 2 together, it's easy see that Gardiner's time in the T-Dot could be limited.   Brian Burke's scouts have enabled him the luxury of trading Gardiner.
As the Toronto Maple Leafs prepare to enter into the remaining 6 rounds of the draft, they can rest knowing that their blue liner of the future looks strong.  You can never have too much defensive depth and with names like Phaneuf, Gardiner, Rielly, Percy, Blacker, Schenn, Franson, Gunnarson and Holzer, the future is bright.
Note: with the 35th selection in the draft, the Toronto Maple Leafs have selected another defenseman, in Matt Finn of the Guelph Storm.  See his #NextOnes profile here.
Twitter: @StonemanStephen | Email: stoneford@yahoo.com | Stephen's archive
For every Maple Leafs article on THW, follow @THW_MapleLeafs  on Twitter