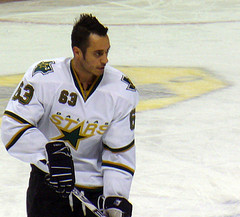 PITTSBURGH — Last night the Washington Capitals traded forward Cody Eakin and a 2nd round pick (54th overall) in this year's entry draft to the Dallas Stars in exchange for forward Mike Ribeiro.
Ribeiro, 32, has played 12 seasons in the National Hockey League with three organizations, compiling 173 goals and 560 points in 737 regular season games. In 74 games in the 2011-12 campaign, he found the back of the net 18 times and added 45 assists.
The Montreal, Quebec native has a cap hit of $5 million for the 2012-13 season in what will be the last year remaining on the initial five-year deal signed with Dallas.
"We wanted to add a little bit of skill to our lineup; I just didn't like the way we played in the playoffs," McPhee said of the trade. "We've got some big gritty forwards and we just wanted to put another skilled guy in the middle of it to see if it helps. I think it makes our team immediately better."
Ribeiro is a versatile forward who gives the Capitals a much needed veteran playmaking option. According to McPhee, the Capitals and Stars discussed a Ribeiro to DC scenario last trade deadline, but the Stars were hesitant to move him off the roster while still in playoff contention.
"They wanted to make a change this summer. I had been after this player for a while, so we got it done," said McPhee, who added that he prefers to bring in new players via trade rather than free agency. "We gave up a real good kid in Cody. He's going to play a real long time in this league, but Ribeiro will come in and play much higher in the lineup right away."
Aside from acquiring Riberio, the Capitals drafted Swedish center Filip Forsberg (11th overall) and winger Thomas Wilson (16th overall).
Forsberg, who is not related to former Avalanche and Flyer Peter Forsberg, was the highest ranked European Skater and one of the more developed skaters in the 2012 draft.
Wilson is known for his rugged style of play, a willingness to agitate opponents and drop the gloves, along with good offensive potential.
"I am a competitive kid and I work hard," Wilson said confidently.  "I am going to make their job difficult to turn me away, but will respect them a lot if they put me back in Plymouth which is a great organization to be a part of."
Next up is the start of free agency on July 1. Stay tuned for the latest news on the Capitals.
Follow me on Twitter @ Darren Coslov