Vancouver Canucks 2012 NHL Draft 1st Selection
26th Overall- C – Brendan Gaunce
Team: Belleville Bulls-OHL
6'1 / 207 pounds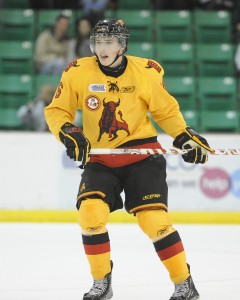 Write-up- https://thehockeywriters.com/brendan-gaunce-the-next-ones-2012-nhl-draft-prospect-profile-built-nhl/
Canucks Forum- http://forum.canucks.com/topic/331645-canucks-draft-brendan-gaunce-at-26th-overall/
In Gaunce, the Canucks drafted a big-bodied, player with leadership skills who  has good hands and is close to being NHL-ready. A club can never have too much depth in the centre of the ice. Gaunce immediately moves up to 2nd on the Canucks prospects depth chart in that position, behind Jordan Schroeder and with Ryan Kesler missing the start of the season, the Sudbury native has a genuine chance at starting the season in a Canucks uniform straight out of camp.
 Canucks 2012 Draft Second Selection
57th Overall- LW – Alexandre Mallet
Team: Rimouski Oceanic- QMJHL
6'1 /195 pounds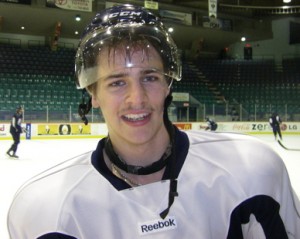 Write-up- https://thehockeywriters.com/the-next-undrafted-gem-alexandre-mallet/
Canucks Forum- http://forum.canucks.com/topic/331677-canucks-draft-alexandre-mallet-57th-overall/
Mallet improved his game greatly in 2011/12, bumping  his points tally up to 81 from the previous season's 19. Another reason for Canucks fans to be excited are Mallet's 123 penalty minutes, indicating that  the prospect has skill, size, and is willing to get physical. With star players such as Crosby, Lecavalier and Richards all starting their careers with Rimouski, the tough winger may well be the next name on this alumni list in years to come.
 More 2012 Draft Selections
147th Overall- D – Ben Hutton
Team: Nepean Raiders- CCHL
6'3 / 195 pounds
Canucks Forum- http://forum.canucks.com/topic/331681-canucks-draft-d-ben-hutton-147th-overall/
Not much was known about Hutton before the draft and the Canucks will see the Ontario native as a work in progress. Below is some information on Hutton written by Nathan Fournier:
Ben Hutton, who was passed over in the 2011 NHL Draft, makes his debut in the 2012 rankings at 200th overall. The 6-3, 195-pound defenseman had 11 goals and 32 assists in 57 games between Kemptville and the Nepean Raiders of the Central Canadian Hockey League. In the postseason, he has two goals and three assists in 11 games.

 
177th Overall- LW – Wesley Myron
Team: Victoria Grizzlies – BCHL
6'1 /182 pounds
Canucks Forum- http://forum.canucks.com/topic/331684-canucks-draft-lw-wesley-myron-177th-overall/
Myron was the only home-grown BC player picked by the Canucks in the 2012 draft and has played for the Victoria Grizzlies on Vancouver Island for the last 3 seasons. Myron registered 42 points in only 26 games last campaign, improving from 41 and 28 the two years before. The player is another long-term prospect and will not be expected to compete for a roster spot next season as he has already committed to Boston University as per Nathan Fournier's extract from this THW article:
Boston University

Wesley Myron F Victoria Grizzles (BCHL)

The Terriers get a veteran player as Myron is a 19-year old who is having a solid season with 8 goals and 15 assists in 13 games. BU has started getting players from one of the best Junior A leagues in Canada, the British Columbia Hockey League. Myron makes the third player from the league.
207th Overall- LW/RW/C – Matthew Beattie
Team: Phillips Exeter – USHS
6'3 /175 pounds
Canucks Forum- http://forum.canucks.com/topic/331690-canucks-draft-matthew-beattie-207th-overall/
Beattie, born in New Jersey, was the first non-Canadian player drafted by the Canucks in 2012. Another forward who adds some size, Beattie has committed to Yale University for next season after scoring an impressive 74 points in 28 games for the Phillips Exeter Academy in the US  High School League. The coach of the Exeter team Dana Barbin said of Beattie:
Matt has been outstanding all year in his post-grad year. He is the leading scorer in New England with 28 goals, 29 assists in 18 games. He's one of my all-time favorites in 25 years here. Matt loves to practice, play, and enjoy the game with his teammates. He's a real competitor when the going gets tough. His skating is outstanding, explosive and he has pretty darn good hands as well. He needs to improve speed of his shot and put on some weight, but Matt has flown under the radar. He could be the real deal.
With four big  forwards and a 6'3 defenceman picked, the Canucks 2012 draft selections are making a clear statement. The club wants to become more physical, an area that has been lacking somewhat in Vancouver and one that will come in useful to ensure long playoff runs in the future where the team's top players aren't being pushed around by bigger and tougher opponents.
While picks 3-5 are forwards in the making for the Canucks, both prospects Brendan Gaunce and Alexandre Mallet have legitimate shots at making the team in the near future if they can impress at rookie and training camps. While the team has stock-piled forward prospects for years to come, the areas of defence and goaltending are looking slightly bare, look for the Canucks to try to persuade highly touted free agent Justin Schultz to move to Vancouver at the start of free agency.