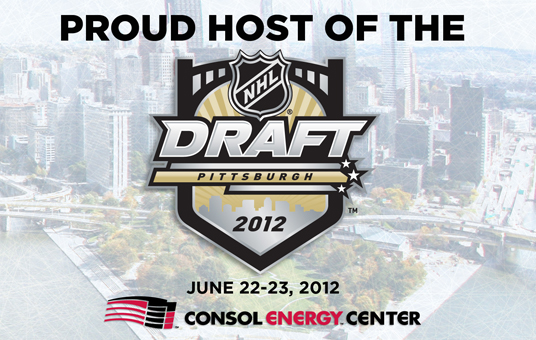 With round-one of the 2012 NHL Draft complete, it's time to give each pick an early grade on value and fit with the team that made the selection.
For the second half of the first-round check-out Part Two.
1.)  Edmonton Oilers – Nail Yakupov, RW, Sarnia Sting (OHL) – Despite constant rumors that they were looking to trade out of first overall or select the better-fitting Ryan Murray with the number-one pick, Steve Tambellini and the Oilers went with the best player available. In choosing Nail Yakupov, Edmonton did exactly what you are supposed to do with a high pick – go for the Best Player Available (BPA). Still, this leaves Edmonton without immediate help on the blue line. This will have to be addressed through trades and free agency unless the Oil are dead-set on a shot at Seth Jones and Nathan MacKinnon in 2013.
Value Grade: (B+); Fit Grade: (C); Overall Grade: (B-)
2.)  Columbus Blue Jackets –  Ryan Murray, D, Everett Silvertips (WHL) – I'm sure analysts will debate until they're blue in the face over the relative upside of Ryan Murray and the value of his intangibles and readiness. However, the Jacket's needed a sure thing, a cornerstone to get the franchise moving in the right direction – and that's what they secured in Ryan Murray. The Jackets' aren't deep at any position as an organization, so 'fit' is a foreign concept.
Value Grade: (B+); Fit Grade: (B); Overall Grade: (B+)
3.)  Montreal Canadiens – Alex Galchenyuk, C, Sarnia Sting (OHL) – With just eight games to his name in 2011-12, Alex Galchenyuk carries some risk (particularly this high in the NHL Draft). Even so, he's a great fit in Montreal (despite not speaking French – one hopes they don't run him out of town) with his size and excellent first-line production. The Habs lack elite forwards and that's just what Gally should become – a great selection for the Canadiens.
Value Grade: (B); Fit Grade: (A-); Overall Grade: (B+)
4.)  New York Islanders – Griffin Reinhart, D, Edmonton Oil Kings (WHL) – After a stellar performance in the Memorial Cup, Oil Kings defenseman Griffin Reinhart received a solid bump in the rankings. He's a strong, mobile, intelligent blueliner with a great offensive skillset and size. Reinhart's 'safe' projectability made him desirable but several others available could be seen to possess equal to or greater potential than the newest Islander. Regardless, he's a good fit for an Islanders franchise with some considerable young talent up-front – but serious questions about the future of their blue line.
Value Grade: (C+); Fit Grade: (A-); Overall Grade: (B-)
5.)  Toronto Maple Leafs – Morgan Rielly, D, Moose Jaw Warriors (WHL) – The Leafs took one of the best players available when they decided that both Filip Forsberg and Mikhail Grigorenko weren't fits for their franchise. Brian Burke selected a slick-skating and offensively-dominant blueliner, Morgan Rielly, knowing that the Leafs needed some size at center and goaltending help. While it doesn't bode well for the Leafs' 2012-13 season, the future is brighter because Burke refused to draft for need at 5.
Value Grade: (B+); Fit Grade: (C+); Overall Grade: (B-)
6.)  Anaheim Ducks – Hampus Lindholm, D, Rögle, (Allsvenskan) – With the first real 'shocker' of round-one, the Anaheim Ducks selected Rögle's Hampus Lindholm. A big, fluid skater with great speed and excellent offensive skills; he was certainly on many teams' wish-lists. Yet, but for Anaheim, Lindholm may have gone much closer to the middle of the first-round. With both Dumba and Trouba (not to mention Forsberg, Grigorenko and Teräväinen) still available, the Ducks could have traded-down for additional assets and still received the player they coveted. However, Lindholm remains a good fit for the Waterfowl. With his impressive upside, this selection may be vindicated in time.
Value Grade: (D); Fit Grade: (B+); Overall Grade: (C-)
7.)  Minnesota Wild – Matt Dumba, D, Red Deer Rebels (WHL) – Nothing much to see here: Matt Dumba was great fit for a Minnesota team in need of blue-chip defensemen. As Dumba may have been the best blueliner on the market since Murray (and some would argue – in the NHL Draft's entirety), the pick was a great value-selection. The Wild's prospect corps just continues to get better and better.
Value Grade: (A-); Fit Grade: (A-); Overall Grade: (A-)
8.)  Pittsburgh Penguins (From CAR) – Derrick Pouliot, D, Portland Winterhawks (WHL) – The trade of Jordan Staal to Carolina netted the Penguins Brandon Sutter, Boston College defenseman Brian Dumoulin and this pick – sending the hometown fans into a frenzy. The Pens quickly utilized their new acquisition to add Portland defenseman, Derrick Pouliot. A top-ten pick seems a bit much considering Pouliot's defensive inadequacies (and the talent available). However, Pouliot is certainly an outstanding attacking blueliner and should be a dominant powerplay quarterback for the foreseeable future.
Value Grade: (C-); Fit Grade: (B); Overall Grade: (C+)
9.)  Winnipeg Jets – Jacob Trouba, D, U.S. NTDP Under-18 – With the ninth selection, the Jets claimed American rearguard Jacob Trouba. A future tent-pole shutdown-type with excellent mobility and toughness, Trouba made sense for an organization with a fairly middling defensive prospect-base. Still, with their similarly-shallow forward corps and the availability of Forsberg, Teräväinen and Grigorenko, I can't help but feel the Jets should have gone in a different direction here.  
Value Grade: (B-); Fit Grade: (B-); Overall Grade: (B-)
10.)  Tampa Bay Lightning – Slater Koekkoek, D, Peterborough Petes (OHL) – The Bolts needed to upgrade at both defense and goalie, so when a defenseman with excellent two-way upside landed in their laps at ten, Slater Koekkoek became the newest member of the Lightning. However, passing up several better available players inside the top-ten to fill an organizational need is a questionable decision for Stevie Y & Company.
Value Grade: (C); Fit Grade: (A-); Overall Grade: (B-)
11.)  Washington Capitals (From COL) – Filip Forsberg, F, Leksands IF. (Allsvenskan) – The Caps emerge as one of the 2012 NHL Draft's early winners simply by selecting a player who – while perhaps not the most perfect fit – was one of the best players available. Filip Forsberg earned top-two consideration in many draft-rankings, so to see him acquired this late is almost laughable. It's a huge pickup for the Capitals that automatically decrees their entire draft a win, period.
Value Grade: (A); Fit Grade: (B+); Overall Grade: (A-)
12.)  Buffalo Sabres – Mikhail Grigorenko, C, Quebec Remparts (QMJHL) – … And just like that we have another winner. The Sabres snagged one of the other big three significantly-dropping forwards with the NHL Draft's twelfth selection. Say what you will about Mikhail Grigorenko's effort, drive and intangibles: The kid has size, wheels, outstanding scoring potential – and you can't find that at twelve in just any draft. Grigorenko could be a point-per-game player at the NHL level. For a team that came into Friday needing a big, strong pivot, he's a perfect fit.
Value Grade: (A-); Fit Grade: (A); Overall Grade: (A-)
13.)  Dallas Stars – Radek Faksa, C, Kitchener Rangers (OHL) – The Stars wanted to up their organizational depth at forward and did so by acquiring Kitchener's big import, Radek Faksa. Faksa's offensive upside isn't elite but he's a strong two-way center with finish. With the departure of Mike Ribeiro to Washington in a draft-day trade, he's just what the doctor ordered.
Value Grade: (B); Fit Grade: (B+); Overall Grade: (B)
14.)  Buffalo Sabres (From CGY) – Zemgus Girgensons, C, Dubuque Fighting Saints (USHL) – The Sabres packaged their second first-rounder and a second-rounder to Calgary for this selection, which they used to add truculent Latvian center Zemgus Girgensons. Girgenson's size, strength and intangibles are all great news for Buffalo – as in the span of two picke, the Sabres jump from among the worst teams in terms of prospect depth at center, to the best.
Value Grade: (B); Fit Grade: (B+); Overall Grade: (B)
15.)  Ottawa Senators – Cody Ceci, D, Ottawa 67s (OHL) – Hometown hero, Cody Ceci gives the Sens a talented blueliner to upgrade their defensive prospect corps which had suffered with the 'graduation' of Jared Cowen and the trade of David Rundblad to Phoenix. It's hard to find fault with taking (arguably) the best defenseman available, but with Teuvo Teräväinen still on the market this late, I can't give them top marks.
Value Grade: (B+); Fit Grade: (A-); Overall Grade: (B+)
Again, for the second half of the first-round check-out Part Two.
For more NHL Draft news, profiles and insight: Head over to THW's Dedicated 2012 Draft Page – The Next Ones 
For even more Boston Bruins 2012 NHL Draft news, follow Bob Mand on Twitter at @HockeyMand