The Carolina Hurricanes held the No. 8 overall pick in the 2012 NHL Entry Draft Friday night. The Pittsburgh Penguins offered C Jordan Staal a 10-year contract, and he turned them down. General manager Jim Rutherford said he would be willing to part with the team's first pick for an NHL-caliber player who would help now. It was the perfect storm, pun totally intended.
Rutherford shipped the No. 8 pick, C Brandon Sutter and D Brian Dumoulin to the Penguins for Jordan Staal, who is the little brother of Canes fan favorite, and face of the franchise, Eric Staal.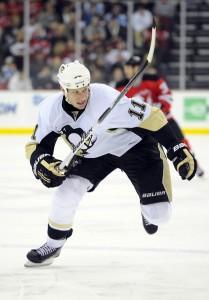 Rather than land a green teenager who is years away from helping at the big league level, the Hurricanes made Penguins GM Ray Shero an offer he couldn't refuse. Sutter is a tremendous get for the Penguins, and the team landed D Derrick Pouliot from Portland of the WHL. It might be one of those situations that is win-win for both sides. Jordan posted 25 goals and a career high 50 points last season with a plus-11 rating in just 62 games. He has posted 21 or more goals four times in six NHL seasons, and he has averaged 44.5 points over the past four years.
Now the task begins for Rutherford to try and get the 24-year-old Jordan Staal signed to a long-term deal. He has one year remaining on his current deal and then he can become an unrestricted free agent. The fact he is playing with his brother in Raleigh might make the financials less important. It might not. That remains to be seen.
The Carolina Hurricanes were 10 points from a playoff berth last season, so they'll need a lot more than Staal to move up the Eastern Conference standings. However, this is a tremendous start, and the move already has fans in the Triangle buzzing with the season still about four months away. So, in a way, the trade is already paying dividends.