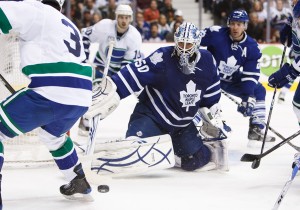 The Toronto Maple Leafs had a rather eventful draft weekend in Pittsburgh. First they selected Morgan Rielly, which was followed up with the selection of Matt Finn and the trade of goaltender Jonas Gustavsson. With multiple transactions having been made, the question now becomes, are the Maple Leafs winners or losers of the 2012 NHL Entry Draft?
It remains to be seen just how well or poorly Rielly, Finn and the remainder of Leaf draft choices turn out in the NHL, but we can immediately analyze the trade that sent Gustavsson to the Winnipeg Jets in the exchange for a conditional seventh round draft pick in 2013.
First, let's recap Gustavsson's time in Toronto. It all began in 2009 when many teams were interested in the young and promising future star NHL netminder. When he signed with the Maple Leafs prior to the 2009-2010 season, Gustavsson was expected to be the next great Maple Leafs goalie. But that never happened.
Gustavsson had many ups and downs during his three-season stint with the Maple Leafs. His rookie season was full of them and he finished the campaign with a 16-15-9 record, a 2.87 goals against average and a .902 save percentage. That wasn't too bad considering it was his first year, but things never got better. In fact, they got worse. Gustavsson struggled for much of the next two seasons and even spent some time with the AHL's Toronto Marlies when James Reimer joined the Leafs and essentially took Gustavsson's job.
Three years after he signed with the Leafs, Gustavsson found himself in an awkward spot. He could either elect to stay with the team, assuming they offered him a new contract, and play a very minor role next season, or go to free agency and see if there was any NHL interest remaining. As it turned out, there was. It was another Canadian team, the Jets.
When the 2012 off-season began, many Leaf fans were left wondering what would happen to Gustavsson. Not many expected him to be in the blue and white of the Leafs next season, meaning the main question concerned how the team would choose to get rid of him.
Considering he hadn't been moved prior to the trade deadline, the Leafs had few options remaining if they planned to let him go. Two, in fact: manage to convince a team he was worth trading for or let him walk as an unrestricted free agent. The latter seemed like the more probable scenario; the amount of interest around the league didn't appear to be great enough to force a trade.
Yet somehow, some way, Leafs general manager Brian Burke was able to send him to another team via trade. While the return, a seventh round draft pick next summer, is minimal, the fact that he didn't allow Gustavsson to walk is crucial.
Now what everyone is wondering is if the Gustavsson trade opens a door to Roberto Luongo, who many expected to join the Leafs as early as this weekend. That didn't happen for various reason. One has to wonder if the abundance of Leaf goalies (James Reimer, Ben Scrivens and Gustavsson) was too much for the Leafs to handle along with Luongo. However, as one should clearly be able to see, that likely isn't the case.
First, you must make note of what was inferred above; the chances of Gustavsson returning to Toronto even if a trade wasn't completed prior to July 1 were minimal at best. What does this mean? Simply put, Gustavsson probably wasn't the main factor in blocking a potential Leafs-Vancouver Canucks trade that would see Luongo go to Toronto.
That's not the only reason the Gustavsson trade is irrelevant to a Luongo swap. Gustavsson's salary and cap hit were very low last season at $1.4 million and $1.35 million respectively. Given the low amount the Leafs paid for Gustavsson's services, the fact that he will likely earn less money next season and the NHL's salary cap now stands at just over $70 million, the Gustavsson trade cannot be viewed as a "salary dump" allowing for more room under the cap. That's something many believe the Leafs would need in order to land Luongo, who comes with a cap hit of roughly $5.3 million.
You must keep in mind that Luongo is not guaranteed to be leaving Vancouver any time soon and if he does find a new team prior to the 2012-2013 season, Toronto isn't the guaranteed destination. It's merely speculation at this point and Gustavsson to the Jets shouldn't contribute to it.
Twitter: @LukasHardonk | Email: lukas.hardonk@gmail.com | Lukas' archive
For every Leafs article on THW, follow @THW_MapleLeafs on Twitter.
Lukas, a student at the University of Ottawa, covers the Toronto Maple Leafs on a part-time basis for The Hockey Writers. Contact Lukas at lukas.hardonk@gmail.com or follow him on Twitter, @LukasHardonk.