When Evander Kane went down last week with a sprained MCL, it was a short-term blow for the Buffalo Sabres. However, that also gave rise to a great opportunity for another member of the team to step up. That Sabre has been Nicolas Deslauriers.
From Grinder to Top Line
For the last few games, D-Lo (as the power forward is affectionately called by his teammates) has been given the opportunity to play alongside Ryan O'Reilly on the top line. As Michael Straw points out, Ryan O'Reilly has been heating up and Deslauriers has been making the best of the opportunity.
The former Los Angeles Kings forward has complimented his gritty, tenacious style with a bit of a scorer's touch. Deslauriers scored in back-to-back games, giving him three on the season, putting him only behind Jack Eichel and O'Reilly for the team lead.
The above video is a prime example of the chemistry O'Reilly and Deslauriers are forging. Not to be overlooked should be Deslauriers' shear look of jubilation. It's easy to tell he's out there not only making the best of his opportunity, but also having a lot of fun and enjoying his success.
An Opportunity Well Deserved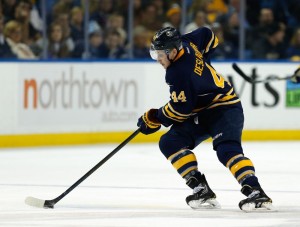 After the Pittsburgh Penguins game, Deslauriers joined Sabres Hockey Hotline to discuss his recent opportunity. "I just try to play my own game. I try to finish my checks every time and [Ennis and O'Reilly] can do their magic with the puck," said Deslauriers. "I don't have the skill to do that. Put myself in front of the net and let them play with the puck."
Even with the promotion to the top line, Deslauriers stays within himself and his game. Here's a player who clearly knows his role, and this is one of the reasons why he's so well received in the locker room.
According to Ennis, Deslauriers is "probably the most liked guy on the team." Ennis went on to boast about his teammate, "He's going to work and he's got a lot more skill than people give him credit for. He's actually a very, very athletic kid. You think, 'Oh, he's just a tough guy.' But no, he skates fast, he's got really good hands.
"He's just kind of in a situation where he's had to play that fourth-line role. But now he's got a good opportunity to show a lot of people what we see in him, and that's some sneaky skills."
In his young career, Deslauriers has already shown he can be a versatile player. Coming up through the Kings' system and throughout his junior hockey career, Deslauriers played defense. Then, while playing for the Manchester Monarchs of the AHL, Deslauriers moved to forward simply just to fill in one of the spots that had been vacated by injury. He showed some scoring ability and flip flopped between defense and offense.
Since being dealt to Buffalo, he's continued his transition nicely into a scrappy forward that brings edge with him from the blue line, sprinkled in with a little bit of scoring ability.