We're finally here. Tonight is Game Seven of an exceptionally tense series. What better way to celebrate undoubtedly the most entertaining of Round Two than with a toast to close scores, shot blocks and lots of O-bench-kin talk?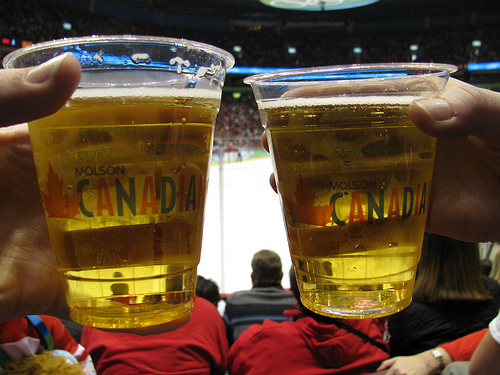 One drink if:
Alex Ovechkin's ice time is mentioned.
The birth of Braden Holtby's child is referenced.
Braden Holtby's mother is shown.
A shot is blocked.
The phrase "1-4" or any other variations of shut-down defense is referenced.
Dale Hunter is seen wearing the same suit and red tie he's worn all playoffs.
Three drinks if:
John Tortorella's reaction to a penalty is shown.
You can lip-read the expletive from Tortorella's lips after a penalty is called.
The impact of triple OT is mentioned.
Ron MacClean compares the Rangers to a national tragedy.
Chug if:
There's a goal and it may be your last.
A shot is blocked and it's not talked about.
Joel Ward's name is mentioned and they don't talk about the 4 minute high sticking call in Game 5 or his game-winning goal in Round One.
It makes it to triple OT. If you black out, make sure to catch the highlights in the morning.
It's sure to be an entertaining game, and who knows? Maybe it will break the script of the previous six games and leave everyone quite thirsty.
Matt Stephen is a writer, not a fighter. He is both a beer and fantasy league veteran and has written about hockey online and in print for The Hockey News. He now covers the spectrum from the White House to Mike Green. He carries a picture of Ovechkin in his wallet.