It's hard to be the Washington Capitals. Why's that? Because win or lose they all feel a little like ties when the Caps keep it as close as they have. The Caps have kept their wins close and their losses closer.
The Caps started the playoffs just as they are playing them now in the second round. Their first game of these playoffs was a 1-0 overtime defeat at the hands of the Boston Bruins. Now, three weeks later and with a new opponent the scores have all looked oddly familiar. The Caps played 60 minutes of hockey on Wednesday night and came out with nothing – it took another 54 minutes and well into the night to find a winner and it wasn't Washington. They're on one of their more impressive Cup runs in recent memory, but they've done it all by the skin of their teeth.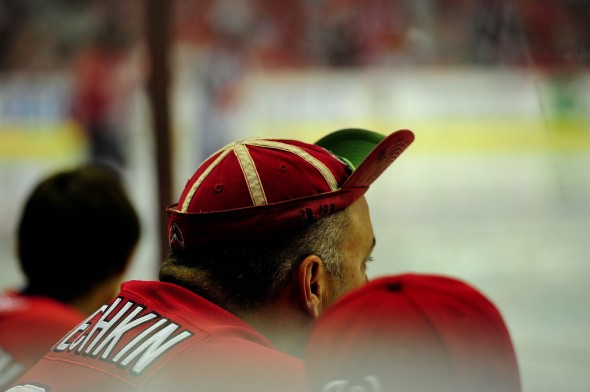 The Capitals have knocked off the defending Stanley Cup champions, but it took seven hard-fought games in which neither team led by more than a goal, the closest playoff series in NHL history. Washington started the regular season with a seven-game winning streak, back when Bruce Boudreau was head coach and Ovechkin was still expected to tally at least a hundred points. They were in for a lot of surprises this year as Boudreau was fired and Ovechkin posted career lows though, finally just squeaking into the playoffs. In other words, adversity is nothing new for these guys and clearly it's not about to stop. Washington is no longer an offensively driven team, nor can they enjoy the home ice advantages and favoured status they've had in other recent Cup runs.  They're scrappy underdogs this time around, and just like in the movies they're pulling their wins at the very last second.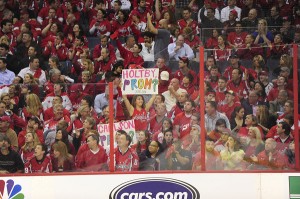 In the 10 playoff games the Caps have played so far only one has been decided by more than one goal, the Rangers' 3-1 victory in Game One. Washington can call overtime home, with half of their playoff matches needing extra periods. Through it all, this team has proven just how defensively sound they are, how responsibly they can handle the puck or a lead, and that Braden Holtby can more than hold his own. Coming into the playoffs as a long-shot, the Caps nonetheless look more consistent and controlled than they have in a post-season in years.
These games of inches aren't just hard on the body with all the extra minutes (really, a whole extra game on Wednesday night), but also tough on the minds and hearts of these players. The question now is whether Washington can continue to push through and show resilience, or if they'll just end up worn down.
They'll need fortitude to bounce back from a 114-minute, six-period, two-day-long game from which Washington ended up with nothing but a series deficit. The Caps now need to battle back and forget the missed opportunities, rung posts and Lundqvist robberies of 3OT and come out with a win on Saturday afternoon. It may be tough for Caps fans to watch their team fight every game to gain and hold a slim lead, or claw their way back into games that are always within reach, but that's playoff hockey. If Washington wants to break their playoff flops of recent years they are going to have to keep winning like they are now – painstakingly.