In hockey, particularly playoff hockey, heroes come in all shapes and sizes, and you never can tell when they'll show up and who the hero exactly will be. Alexei Ponikarovsky had a total of zero goals in the New Jersey Devils ten playoff games this spring, but in overtime of the tenth game he was the hero when he backhanded the rebound of his own shot past Ilya Bryzgalov with 2:39 left in the extra session and sending his team to a 4-3 win and to a 2-1 series lead over the Philadelphia Flyers.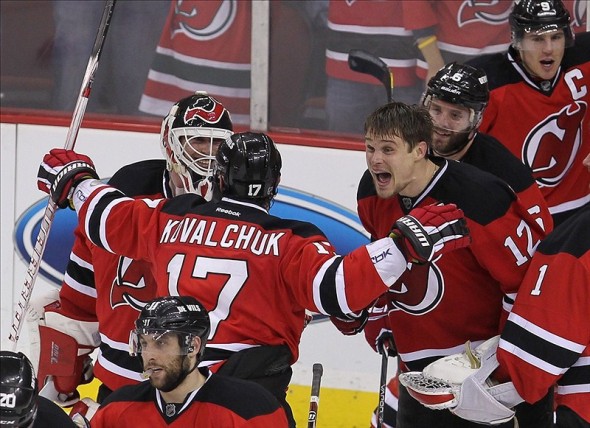 The Devils captain Zach Parise admitted afterwards that his squad was a confident bunch heading into overtime, and why wouldn't they be? Four of their last five games have now gone to overtime, and after Ponikarovsky's winning goal New Jersey is 3-1 in those games with three different heroes. "We're confident going into overtime despite losing Game 1 in OT," said the Parise. "We were generating chances and we've played a lot of overtime hockey so far in this playoffs. I'm sure there's going to be more."
"We need that," said Dainius Zubrus of his team's scoring depth. "We need that, we need everybody to step up and score some big goals." Someone else who stepped up was Ilya Kovalchuk, who sat out Game 2 with a suspected back injury, but he returned in Game 3 and finished with a goal and two assists, including the primary helper on Ponikarovsky's winner.
"I had just come off the bench and I think Kovy had the puck at center ice," said Ponikarovsky describing the winning play. "Their players were going to change and I just tried to find a hole; Kovy made a really good pass (laughs) he sees the ice well, give him credit on that. We had a two-on-one going on but I knew, I just tried to shoot the puck and then good things happen. It's a terrific feeling to get it in overtime to win a game for the team."
Ponikarovsky also had an assist on Kovalchuk's goal, giving him only four points (1g-3a) in these playoffs, but his value isn't always shown on the score-sheet, something that isn't overlooked by his teammates or coach. "He's a big body; those guys make a huge difference in these games," said Kovalchuk. "He made a great play when I scored my goal and we had had a couple of other opportunities during overtime. This guy's a monster, he's huge and his shot is so good. I tell him all the time to shoot the puck more — and he did and scored on the rebound. It's nice to see those kind of guys score the big goals."
Coach Pete DeBoer's assessment of his team's hero of the day was similar to that of Kovalchuk's when asked what Ponikarovsky brings to the team. "He's one of those depth guys in our lineup, he's hard to play against, big-bodied; guys like Ryan Carter, Steve Bernier, Ponikarovsky, David Clarkson. Those guys are tough to play against and they wear on you, it was nice for him to get a goal. I thought he made an even better play on Kovalchuk's goal — by driving the middle lane and drawing people to him to open up a hole for Kovy. He did a lot of good things tonight."
After blowing two, one-goal leads and having to kill off two penalties in overtime, the Cardiac Devils and Ponikarovsky entered an unfamiliar position lately for the franchise — a 2-1 lead in a series with a chance to grab a stranglehold over their rivals if they win Game 4 at Prudential Center on Sunday night.
Dan Rice can be reached via Twitter: @DRdiablo321 and email: drdiablo321@yahoo.com