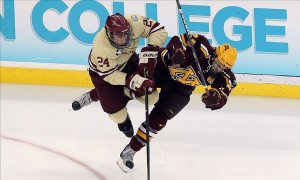 For much of the past several years, the Calgary Flames were criticized by some for their rather narrow focus when it came to prospects. Flames draft picks had a tendency to be large, physical and predominantly Western Canadian. The 2010 draft began a bit of a departure from that model, as the Flames – completely bereft of picks in the first two rounds – seemingly began an experiment.
Nowhere can Calgary's willingness to try out a different drafting philosophy be more evident than on the Boston College Eagles, this year's reigning NCAA Division I Champions.
In 2010, the Flames chose forward Bill Arnold, a youngster from the Boston suburbs committed to Boston College. He performed well with the Eagles, making the conference's All-Rookie Team en route to a conference title. The Flames went to America again the following summer, choosing USHL standout (and 5-8, New Jersey native) Johnny Gaudreau four picks earlier than Arnold the previous year.
Arnold and Gaudreau both attended Calgary's prospect development camp in July. At the time, Gaudreau had de-committed from Northeastern University after a coaching change at the school. A month later, Gaudreau had committed to join Arnold at Boston College.
"I met him up in Calgary and told him some stories about BC," explained Arnold. "Once he de-committed, the coaches asked me to give him the tour around campus when he came to visit. I was able to connect a little bit with him there, so I was definitely happy when he committed here, because obviously he was a major part of our championship run. He's a very special player and we're really lucky to have him on our team."
The prospect of joining a team slated to contend for another conference championship was a bit daunted, as was the notion of suddenly playing against much older, much larger players in the Hockey East conference. Gaudreau admitted that his expectations for the season were rather modest – he hoped to just make the team and go from there.
"There's so many good players at BC, I was just hoping to get into the line-up every game," said Gaudreau. "Coming in, I was a little nervous about playing against bigger guys. I went up to the prospect camp in Calgary and I played against the NHL guys, and it helped me so much before the season. I don't think I would've done half as well as I did this season if I didn't get the chance to play against the bigger guys like I did at Calgary's prospect camp."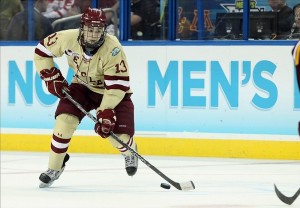 Boston College, was well as Arnold and Gaudreau, appeared to turn a corner following the IIHF World Junior Championship over the winter holidays. Both Arnold and Gaudreau went to USA Hockey's selection camp, with Arnold making the club and Gaudreau being sent home. Both admit that their World Junior experience had a huge impact on how they approached the remainder of the season.
"I think that experience really helped me coming back, because you're playing against the best kids in the world, so it definitely makes you better and you learn things from the coaches and the other guys on the team 'cause they're coming from all different programs. I definitely think the experience helped me for the rest of the season," said Arnold.
Gaudreau's offensive numbers before the selection camp were rather modest, with 14 points in 18 games. Once he returned from the camp, he seemed to figure everything out – going on a tear that saw him notch 30 points in the remaining 26 games.
"Before I went to the World Juniors to try out for the last couple spots, I kind of slowed down my game, how I was playing, and I wasn't playing too well and I guess I kind of got a little too comfortable. Then I got invited to the camp and then I got cut out there, and I came back and I wasn't happy with my game that I was playing, so I decided I needed to change something up," said Gaudreau.
Despite a successful season that saw both players post strong offensive numbers and help their club win the prestigious Beanpot tournament, a Hockey East conference title, an NCAA championship and post a 19-game winning streak to close out the season, both players admit they have room to improve. Arnold explained he hopes to become a better penalty-killer and two-way threat, while Gaudreau points to New York Rangers rookie stand-out Chris Kreider as someone he wishes to emulate.
"My buddy Chris Kreider is extremely fast and I think that's why he's doing so well up there because he's so fast. If I hopefully get a chance to play for the Flames, I need to become a little bit faster and I need to work on my defensive game a lot more," said Gaudreau.
With Arnold facing two more years of NCAA eligibility and Gaudreau another three, both players are looking forward to repeating this season's success – hoping to bring home another national championship next year. Gaudreau noted how beneficial it's been to have a teammate in the same NHL system and looks forward to the future.
"Hopefully we both get a chance to play for the Flames one day, and if we do, hopefully it'll be together." said Gaudreau. "It's really something I'm thankful for, to have another guy on my team drafted to Calgary as well. It's going to help me down the road."