The Seattle Thunderbirds got a much needed shot in the arm Thursday when they selected Mathew Barzal with the first overall pick in the Western Hockey League's Bantam Draft held in Calgary. Barzal had been playing his Bantam hockey in Burnaby, British Columbia with the Burnaby Winter Club Bantam A team last season and put up some dominant numbers.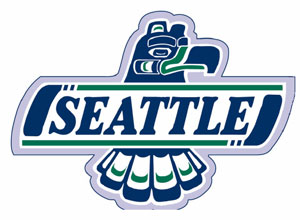 In 35 regular season games last year the dynamic center scored 39 goals and added 68 assists for a staggering 107 points. Barzal was not finished however as he added 16 goals and 30 assists in 17 playoff games. With video game type numbers like that there will be a lot expected of Barzal as the Thunderbirds start the season in October.
The franchise is coming off of a third consecutive season where they missed the playoffs and were unable to compete with the top clubs in their division. Barzal should step into Seattle's top six right away as the Thunderbirds were woeful on offense last season. They had the second worst goal production in the WHL and only averaged 2.40 goals per game.
They only had one player score over 20 goals and 40 points last season which is a killer in an offensive minded league like the WHL.
That could change with the addition of Barzal who has top scorer and league leader written all over him. He will definitely be a player to keep an eye on as a future NHL prospect if all goes well.
In press release earlier today Seattle General Manager Russ Farwell said ""We are very excited to add Mathew Barzal to our team today. Mathew has true star potential and will be a very exciting player for our fans to watch develop. He has a style all his own and plays the game at a pace that is truly fun to watch. He has been a dominant player for a number of years and his package of skill and winning attitude will have a tremendous influence on our team from top to bottom."
For a team that has begun to develop a culture of losing, having that kind of influence could lead them out of the cellar.
The Thunderbirds had another first round pick, number 20, that they picked when they traded Marcel Noebels to the Portland Winterhawks. They used that pick to select right winger Keegan Kolesar from the Winnipeg Hawks Bantam AAA. Kolesar is a big body weighing in at 6'0" and 208 pounds and scored 22 goals last season in 27 games.
Perhaps a Barzal-Kolesar line will help turn the Seattle franchise in the right direction.
For a look at Barzal in action here is a scouting reel of his: