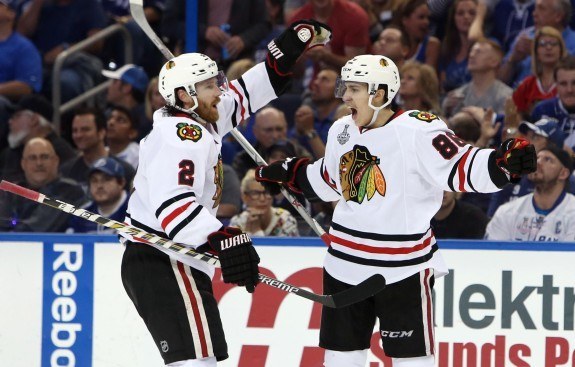 Building an NHL dynasty is one thing.
Building an NHL dynasty within the restricting confines of a league-wide salary cap is an entirely different beast altogether, and one that seems like it should be next to impossible to accomplish.
The Chicago Blackhawks, however, don't care. They don't care about your odds and your probabilities and your "conventional wisdom" because, dammit, they've got hockey games to win.
Sure, the salary cap has done incredible wonders to create parity around the league, affording the small market clubs the chance to compete against the sometimes gargantuan financial advantages of the bigger ones. One could even make the argument that the lengthy 2004-2005 NHL lockout was, despite all the heartache and frustration, worth it, in a weird way, because both the NHL and the NHLPA took the necessary amount of time to get the league's most pressing issues properly dealt with.
Well, mostly. But that's another story for another time.
The Chicago Blackhawks, though? Once again, they don't really care all that much. Salary cap, schmalary cap.
Despite the reasonable rules that exist to help every team in the league find success, the Blackhawks have been steamrolling opposing squads for seven straight years now, and they're not even close to slowing down. With Stanley Cup Championships in 2010 and 2013, two additional appearances in the Western Conference Finals in 2009 and 2014, and the currently ongoing Cup Finals against the Tampa Bay Lightning which they could very well end up winning, the Hawks are nothing short of an organizational hockey Terminator.
Yeah, that's pretty much the Hawks when it comes to winning hockey games.
While some might argue that the word "dynasty" needs to be reserved only for clubs that can match the short-term repeated success of teams like the New York Islanders and Edmonton Oilers in the early 1980s, those times have long since changed. When it comes to a post-salary cap world, the Blackhawks are as close as you're going to get to a legitimate dynasty.
Just how do they do it? What's the secret to their success? No, there's no televangelism or late-night infomercial miracle cures involved, just good ol' fashioned drafting and developing.
Drafting And Developing: Not Just For Basement Teams Any More!
"Surely you jest," you may proclaim. Isn't the strategy of drafting and developing the chosen path for just bottom-feeding teams, organizations that are so bad that they don't have any other reasonable means of discourse?
Well, kind of.
It's no secret that tearing down an entire NHL roster piece by piece, and replacing it all with draft picks and young prospects, can be an incredibly successful long-term course of action. Heck, the Blackhawks would never be in the dominating position that they are currently were it not for years of futility in the early 2000s that allowed them to draft elite talent such as Jonathan Toews, Patrick Kane, Duncan Keith and Brent Seabrook.
But, and this is the crucial thing that most teams don't seem to be entirely cognizant of, why stop there? Why not continue to focus a large portion of your attention on drafting and developing even after you've assembled a core of All-Stars and won multiple championships?
After all, per league rules each NHL team is granted seven draft picks consistently every single year. Those are seven chances to draft and develop seven players that could, in theory, be contributing players to an NHL roster.
Naturally the highest draft choices, which are always awarded to the league's worst teams, will provide the greatest opportunities to acquire elite talent. However, because of the incredibly complex and aloof nature of scouting, there's always a very real chance that you can find a solid NHL player with any given pick in any given round if a team is clever and diligent enough.
Meet The New Team, Same As The Old Team
The Blackhawks are an excellent example of this. After winning the Cup in 2010, many of the team's key players were due for a raise. To keep themselves under the roof of the salary cap, the Hawks shed a large collection of players over the next two years: Antti Niemi, Dustin Byfuglien, Andrew Ladd, Brian Campbell, Troy Brouwer, Kris Versteeg, Tomas Kopecky, John Madden, Adam Burish, Brent Sopel and Colin Fraser.
After having to split ways with so many players, ranging from great talents to serviceable depth pieces, it seemed like Chicago would be in dire straits over the next few seasons.
That turned out to not be the case, as the Hawks stormed right back and won another Stanley Cup in 2013. Despite losing so many players the team was still able to maintain success thanks in large part to their previous years of excellent drafting and developing, with 2010 depth players Dave Bolland, Niklas Hjalmarsson and Bryan Bickell taking on expanded roles and the emergence of other homegrown prospects Corey Crawford, Brandon Saad, Nick Leddy (originally drafted by the Minnesota Wild but primarily developed by Chicago), Andrew Shaw and Marcus Kruger.
Whatever pieces the Hawks lost after 2010 they were able to, more or less, sufficiently replace come 2013 thanks to the diligence and wisdom of general manager Stan Bowman and Chicago's scouting and development staff.
It's the exact same story again this year. Bolland and Leddy, along with Viktor Stalberg, Michael Frolik and Brandon Bollig, all left the team after 2013 due to Chicago not being able to afford them under the salary cap, and yet here are the Hawks, a mere two wins away from another championship. Crawford, Saad, Shaw and Kruger have all grown and developed further and are more important pieces on the team now than they were in 2013.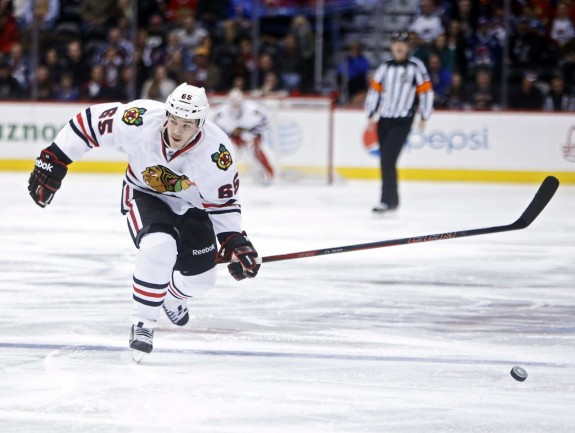 Regardless of how this last playoff series of 2015 ends up being decided, there will be more tough financial questions for Chicago to answer later on this summer as both Toews and Kane have pricey contract extensions that will be kicking in. Guys like Bickell, Seabrook and Crawford could all potentially be moved to keep the team under the salary cap.
The Blackhawks, though? Once again, they don't really care, as they're already more than prepared for that. Rookie Teuvo Teravainen is a superstar in the making, while other young prospects Scott Darling, Antti Raanta, Joakim Nordstrom, Mack McNeill, Ryan Hartman, Trevor van Riemsdyk, Gustav Forsling, Philip Danault, Stephen Johns, Michael Paliotta and others have legitimate NHL futures ahead of them.
No matter what happens to them the Hawks' fierce dedication to smart scouting, drafting and developing has not only allowed them to stay competitive, but to remain a deadly force both now and into the extended, foreseeable future.
Derek Neumeier primarily covers the Dallas Stars, but also other various topics related to the sport of hockey. A Journalism graduate of Mount Royal University, Derek also writes for Defending Big D, and has done previous work with the Edmonton Oilers as a communications intern and Hockey Canada as a freelance writer. You can follow him on Twitter at @Derek_N_NHL