There's no denying that Minnesota Wild goalie Devan Dubnyk was the team's most valuable players during the 2014-15 season. Dubnyk came to the Wild via a trade with the Arizona Coyotes in January for a third-round draft pick.
Midway through January, the Wild and were going nowhere fast and sitting in the bottom of the Western Conference standings. The Wild needed a boost.
Dubnyk gave the Wild that needed boost starting 38 games in a row going (27-8-2, 1.78 GAA, .936 SV%). Without Dubnyk, the Wild's season would have been over on April 11th. Instead, the Wild were playing in the 2015 Stanley Cup Playoffs. Now, after having a career year with the Wild, Dubnyk is an unrestricted free agent and ready to get paid.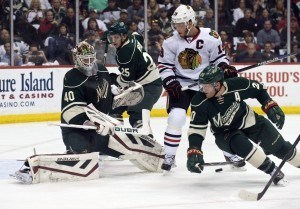 The negotiations between the Wild and Dubnyk appear to be at a standstill. Today's Slapshot blog explained the situation.
"Well, Devan Dubnyk negotiations have been going on a week or two now. There's no deal in place at this point. That's not to suggest that they can't get a deal done, but it's going to be difficult. The Minnesota Wild are a cap-strapped team right now and they want to buy out Niklas Backstrom, their veteran goaltender, but he's just coming off elbow surgery. You can't buy out an injured player, so there's lots of concern on that front that he won't be cleared by team doctors before June 30.

"It may be a case too where Dubnyk is going to be looking for a lot more money than the Wild had planned on paying him. He's unrestricted in the summer. A team like the San Jose Sharks, for example, would be looking for goaltenders. Instead of trading for one, maybe they could sign one as a free agent. A lot of people are watching to see how these negotiations unfold."
This week, Wild beat writer Michael Russo speculated on a Minneapolis radio show that Dubnyk is looking for a multi-year contract worth 5 million dollars a year. Based on the Wild's salary cap situation, this could be a problem for the Wild.
As for Devan Dubnyk, things continue to be slow developing. As I've written and said on the radio, Fletcher will have to chip away at this and multi-task by looking to clear some cap space while also potentially talking goalie trade in case these negotiations go sideways. Dubnyk, a Vezina finalist, is looking for a multi-year deal at serious dollars. I have speculated in the $5 million range on the radio. I obviously have reason to use that figure. As you know, it's not my style to throw stuff against the wall.
Wild need a backup plan
If the Wild are unable to re-sign Dubnyk, they're going to need a backup plan. The Wild were going to buyout Niklas Backstrom's contract in the offseason, but with the elbow injury and offseason elbow surgery they might not be able to buy him out. Because of the surgery, Backstrom would need to be cleared by a team doctor prior to the June 30th deadline to bought out.
The Wild don't have a lot of options. Backup goalie Darcy Kuemper was erratic at best last season, going (14-12-2, 2.60 GAA, .905 SV%). Don't expect Backstrom to be an option for the Wild next season. The 35-year-old veteran had the worst statistics of any goaltender in the NHL Last season.
Backstrom was genuinely awful, at 88.6% he posted the worst 5-on-5 Sv% of any goaltender in the NHL who played at least nine games. He also had the worst high-danger Sv% (Sv%H) in the league at 73.1%. (Dustin Nelson, The Hockey Writers)
However, Minnesota fans don't need to panic just yet. The Wild front office needs to make a commitment to signing Dubnyk or start looking for an alternative plan very soon. The Wild can't go into the season with Backstrom and Kuemper as their starting goaltenders again this year.
Eric is a 1996, 1999 graduate of the University of North Dakota. Eric covers the University of North Dakota Hockey and Division I college hockey. Eric is the Contributing Editor for Inside Hockey.