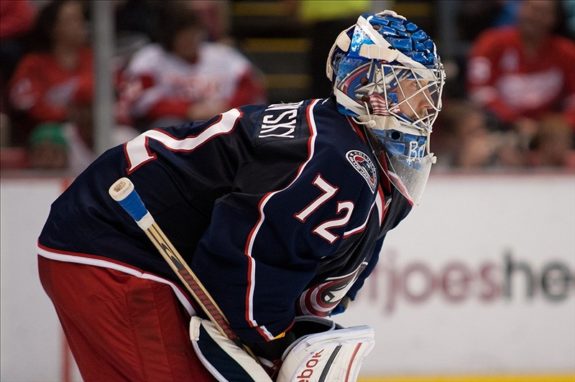 Don't look now, but the laughing stock of the league in August has become the feel-good story of 2013.
The Columbus Blue Jackets, who sported a 29-46-7 record last season (good for last in the NHL) were belittled in the offseason for sporting "an AHL roster". Their forward lines and defensive pairings lacked depth and star power. The goaltending tandem was deemed inexperienced and incredibly inconsistent. Most notably, now-former Columbus general manager Scott Howson was seen by everybody as a serious liability, with the potential to sign off on trades that could only be seen as laughable.
Months later, this team is seen in an entirely different light. Prior to the trade deadline, no forwards were seen as true game breakers, but rather individual parts such as Matt Calvert and Artem Anisimov that out-worked their opponents on every shift. Jack Johnson established himself as a leader on the blueline, while Nikita Nikitin and Fedor Tyutin compensated for Johnson's potential defensive lapses. Most importantly, Sergei Bobrovksy has emerged from the shadow of Ilya Bryzgalov and is amidst a potential Vezina-winning season. Currently, Columbus sits only a few points back of eighth place, still within striking distance of that ticket to the big dance.
In all likelihood, the Blue Jackets will likely not make the playoffs. Starting off the year with a 5-12-3 record is usually too much of a deficit to bounce back from, especially in an extremely competitive Western Conference. Even so, Jackets rookie general manager Jarmo Kekalainen shocked the hockey world on Wednesday by acquiring superstar Marian Gaborik from the New York Rangers. Whether it was via the Internet, television, or another person, the initial reaction was usually the same: it was hard to believe that Columbus not only made a noteworthy trade, but also the biggest deal of the season.
And from this, three conclusions can be drawn. First, Columbus believes that it can contend with playoff teams in the west. Secondly, by trading Brassard, Dorsett, and Moore, the team feels that it has the depth in the roster to sacrifice some of it for an elite scorer.  However, most importantly, it proves that the Blue Jackets organization won't rely on "tanking" to solve their roster deficiencies and will do what it takes to be competitive on a year-to-year basis.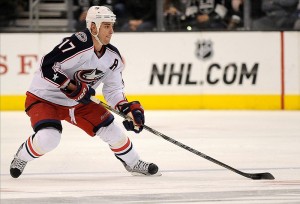 Since the club's inception in 2000, Columbus has only been in four playoff games, all of which they lost to the Detroit Red Wings, the eventual Western Conference champions. It was only that aforementioned 2008-09 season where they managed to earn more than a point per game.
Perhaps some of this futility can be attributed to their incredibly competitive division, but there's no way that their 341-442-33-86 record through 12 seasons can be described as anything but laughable. This does not help a franchise entice their fanbase, especially when they are both new and in a non-traditional market.  As a team in the predicament that Columbus was in prior to the season, there are two options: attempt to be competitive year in and year out (but potentially fall short), or play poorly and acquire top draft picks.
There are two different ways that the latter model can go. One outcome is parallel to Pittsburgh's who drafted Fleury, Malkin, Crosby, and Staal in the top two for four consecutive years. This, along with enticing free agents and sharp trading by Ray Shero, has resulted in one of the best teams in the National Hockey League.
The other outcome of this model is similar to the Florida Panthers. Since 2001, the team has had nine top-10 draft picks, five of which were in the top five. Even with that outstanding draft record, the Panthers have managed to play only three more playoff games than Columbus. It proves that the "tanking" method is potentially successful but not infallible.
Entering this season, the Blue Jackets could have easily opted to copy the "Pittsburgh model" and finish last in the league. The heavy lifting could have been put on the shoulders of young, potential-ridden players such as Ryan Johansen and Tim Erixon, and Columbus would've seen themselves with the best chance of the first overall pick for the second consecutive season. However, after twelve years of consistently poor drafting and no success, Columbus opted not to lay down and die but rather acquire Gaborik and keep pushing towards the playoffs.
The Gaborik acquisition might cost them a higher end pick this year (and in future years as well). But ultimately, it proves to both their fans and the entire National Hockey League that the Columbus Blue Jackets will not sit back and let the fate of the draft determine their future, but rather acquire large pieces that can help them win games today.