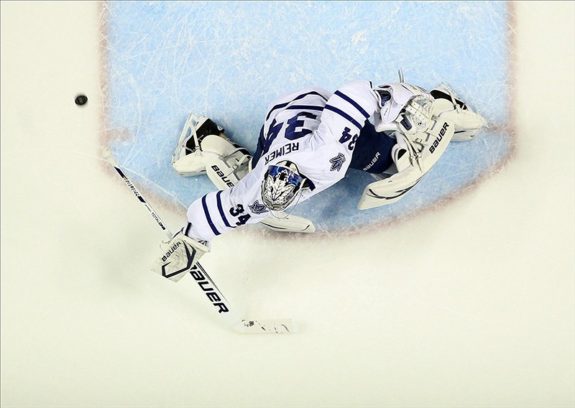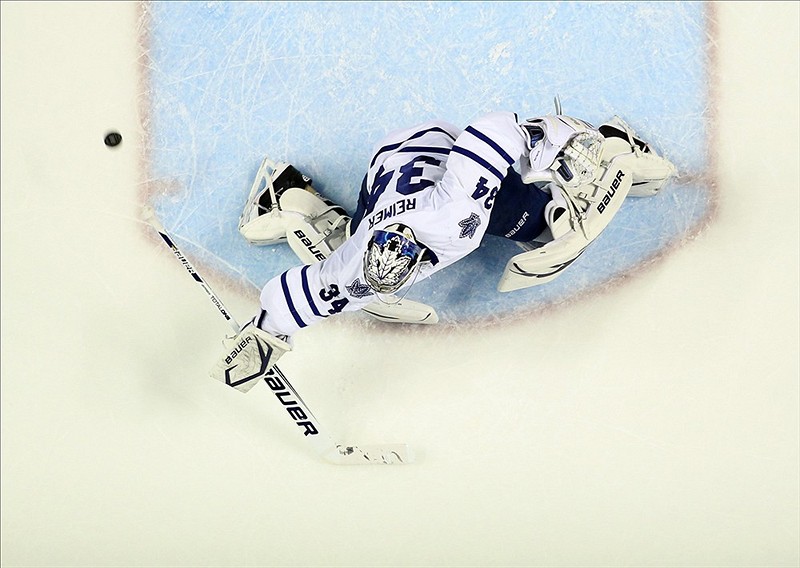 Maple Leafs Panel is a weekly feature that is published every Monday throughout the season here at The Hockey Writers. It's a feature where THW Editor Lukas Hardonk as well as THW Toronto Maple Leafs correspondents Mark Ascione and Stephen Stoneman answer three questions that concern the Maple Leafs each week. To catch up on previous editions, click here.
Question: The trade deadline may be looked at as a failure for Maple Leafs GM Dave Nonis when it comes to not acquiring a veteran goalie. Should he and his staff be confident with James Reimer and Ben Scrivens in net heading into the playoffs?
Lukas Hardonk: Although you certainly could call Nonis' inability to bring in Miikka Kiprusoff or Roberto Luongo a failure, it may be the savior of the Maple Leafs' hopes of getting past the first round of the playoffs. Kiprusoff has struggled mightily this season while no one is entirely sure what to expect from Luongo, especially in a new big-market city like Toronto. That's not to mention their contracts, neither one of which fit their respective performances. That said, there should be no reason to worry about Reimer or Scrivens.
Both goalies have played quite well this season. Reimer is currently on somewhat of a streak and has a .919 save percentage including a .923 percentage at even strength. Scrivens has similar numbers and has caught on to a few hot streaks of his own since his first game. Both have proven to be stellar all season and although there are bound to be issues with young goalies when the pressure heats up, it's nothing to worry about when the team in front of them is playing well.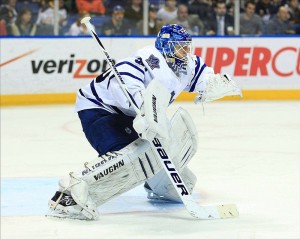 Mark Ascione: I think James Reimer has, for the most part, shown he is ready to be the guy. He's provided some very solid performances evidenced by the bounce-back game he played in New Jersey. Goalie coach Rick St. Croix has helped Reimer get back into his comfort zone. I can't say I wouldn't have liked to see a proven veteran come in, though. Not that Ben Scrivens isn't a decent goalie but his play has been just "okay" and I think a veteran goalie could help the young goalies deal with the pressures of their first NHL playoffs.
Bottom line, yes the team and management should be confident in having Reimer as the number one goalie going into the playoffs. However, no disrespect meant, the Leafs' chances of success drop significantly if they have to go with Scrivens starting backed up by one of the Marlies' goalies.
Stephen Stoneman: The Maple Leafs should be feeling just fine with the goaltending tandem they have as they prepare for a playoff run.  Let's remember expectations were low heading into this season and the Leafs weren't supposed to be among the contenders to even make the playoffs. The success in Toronto hasn't been goaltending alone but the goalies have certainly helped. Reimer in particular has made key saves at key times and has helped his team to more victories.  In his 24 appearances, Reimer has points in all but five of them, sporting a 14-5-4 record.
Although Reimer and Scrivens have not made the playoffs in the NHL, both have gone very far in their previous professional experience.  Scrivens took his Toronto Marlies to the Calder Cup Final a season ago before getting skunked by the Norfolk Admirals in four straight games.  Reimer, on the other hand, was named the MVP of the ECHL Playoffs when his Carolina Sting Rays won the Kelly Cup in 2009.  The other benefit that this tandem has in it's corner is that they are each big supporters of each other; this will bode well for any team in the second season.
Question: The one addition the Maple Leafs made on deadline day was that of defenceman Ryan O'Byrne. How should this change the makeup of the Leafs' blue line?
Lukas Hardonk: O'Byrne has his talents as does any NHL player. He is a stay-at-home defenceman, one who appears to be a Randy Carlyle-type player. It's almost always a positive thing to have players who fit the style of the team's head coach but this may be a case where it's not such a good thing.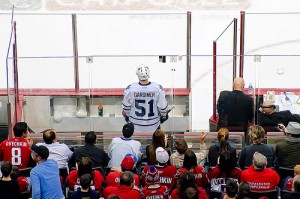 Although it hasn't been an issue thus far, you would have to expect Carlyle to favour O'Byrne over young Jake Gardiner on most nights. This is disappointing considering Gardiner's promising potential, offensive abilities and calmness in all situations. O'Byrne has been said to have his own issues, especially offensively, which is definitely concerning.
Mark Ascione: I don't see drastic changes on the blueline here. I see O'Byrne as pretty much a depth acquisition; a solid, low-cost move for the stretch run and into the playoffs. Looking over some Colorado Avalanche blogs, it seems O'Byrne has fallen off some so it's unlikely Nonis made this move expecting a guy who would play in Carlyle's top-four. Instead, O'Byrne will fit into a 5-7 role.
If the opponent is a bigger team, Carlyle will use him to give some added size. It seems O'Byrne paired well with Liles, so it could be an easy fit, but I see O'Byrne essentially spelling guys like Kostka, Fraser and Gardiner, perhaps even Gunnarsson, and reducing the likelihood that Korbinian Holzer will see a call-up. He'll provide some veteran experience in the case of injury or if some of the less experienced guys need a game out.
Stephen Stoneman: You can never really have enough depth on the blue line.  This is especially true in the playoffs.  I think the acquisition of O'Byrne was a smart one but I don't see the 6'5″ blue-liner making a dent into the top-four defencemen.  He is definitely not going to surprise you with end-to-end rushes but Leafs fans will take solace in the fact that he is also not Mike Komisarek or Jeff Finger.  As they currently sit six points above the ninth place Jets, the Leafs are already entrenched in playoff battle in every game.  Having a big guy who can fight and throw the body will go a long way.
If the season ended today Toronto would be facing their arch nemesis Boston Bruins who have physically manhandled them in recent years.  With Mark Fraser and now O'Byrne on the back-end, power forward Milan Lucic and the like will not be able to patrol the Leafs' zone without paying the price.  Although he hasn't played yet, if I was a betting man, I would expect to see O'Byrne in one of the two upcoming games against the Rangers, who sit four points behind the Buds in the standings.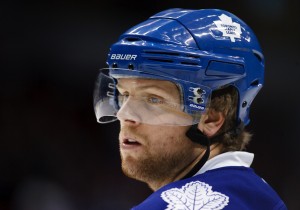 Question: The Maple Leafs are continuing their slow crawl up the Eastern Conference standings. Do they have a chance at catching the Boston Bruins for fourth in the East and home ice advantage?
Lukas Hardonk: Given that a sixth-place finish in the Eastern Conference would put the Maple Leafs into a seven-game series with a weaker Southeast Division opponent, Toronto fans should most definitely not be cheering for their team to catch the Bruins if they want to make it past the first round of the playoffs. That has nothing to do with the goaltending but the simple fact that the Bruins are too good and too strong of a team for the Maple Leafs to catch.
Compare Tyler Seguin to Tyler Bozak, David Krejci to Mikhail Grabovski and Zdeno Chara to Dion Phaneuf. Also add in Milan Lucic and the addition of Jaromir Jagr and you've got yourself a Bruins team that would be impossible for the Maple Leafs to beat in the playoffs. If the Leafs wouldn't be able to beat them in the post-season, how can you expect them to make up six points on the Bruins in the next ten games? Not going to happen.
Mark Ascione: Looking at the standings on April 7 and the schedules of Toronto, Montreal and Boston, I'd say there's no chance the Leafs make the top four in the East. This is still a young team and a franchise trying to just make the playoffs for the first time in years. It's going to be enough of a task to maintain their current position as they're only six points up on ninth spot but the Leafs have what looks to be the tougher schedule compared to the teams immediately in front of them.
The Leafs will play seven of their remaining 10 games against teams currently occupying playoff spots. By contrast, Montreal faces only five playoff teams and Boston sees only four teams in the top eight. Further, the Leafs get a home-and-home with the Rangers and a couple of two games in two nights situations, one being a home and away set, the other in the state of Florida where they often struggle. I think it's just going to be too much to ask the Leafs to gain six more points than Boston (or nine more than Montreal) over 10 games.
Stephen Stoneman: For the Maple Leafs to finish in a top-four position, both Montreal and Boston would have to fall off drastically and I just don't see it happening.  The Bruins have played average hockey of late but I predict they will be the team on top of the Northeast Division when the dust settles, especially so with newly-acquired Jaromir Jagr in the lineup.  The Leafs do play twice more against the Canadiens but even two dominant wins against the Habs doesn't help the Leafs with nine points currently between them; they would need to win the majority of their remaining games and have Montreal lose. That likelihood is also small.
The Leafs have played well against all of their remaining opponents. However, with the exception of the Florida teams, they all are just holding onto a playoff spot and you can never underestimate a desperate team.  The Leafs are currently fifth in the conference but with Ottawa getting healthier and with the Rangers in particular starting to surge, I think it's a safer bet to assume the Leafs will end up sixth or seventh.  If the Leafs truly do want to get that fourth home playoff date, they are going to have to make it to the second round.
Follow the panel on Twitter: Lukas Hardonk, Mark Ascione and Stephen Stoneman.
Visit The Hockey Writers: Maple Leafs Edition, 'Like' it on Facebook and follow on Twitter.