Thursday evening I had the opportunity to attend a Barrie Colts preseason game as they took on the Erie Otters. I had never attended a game as a scout before, and was really looking forward to trying my hand at it. I was fortunate enough that on my first night, the most talked about player in hockey would be showcasing his talents for the road team. Connor McDavid.
I saw McDavid play a charity game a few weeks ago at the Barrie Molson Centre, so I had already noticed a small portion of his skill set in that setting. However, I don't think I really took in how purely talented this player actually is. Unbelievable.
I started off the game wanting to scout a few players. CJ Garcia, Rasumus Andersson and Matthew Kreis from the Colts had been on my radar, as well as McDavid and Daniel Dekoning from the Erie Otters. It was easy to notice all of these players on the ice and I began taking notes.
However, after the first period my focus began to really be taken away by one player. Connor McDavid. He really is head and shoulders better than any player on the ice.
Power Play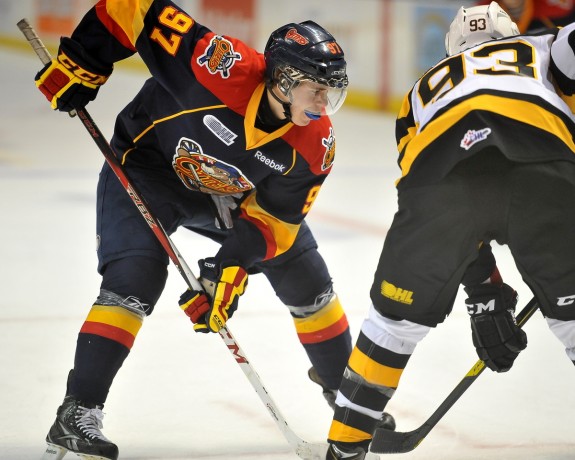 One thing that stood out to me was that Erie had a really good looking power play unit. They moved the puck well as a team, and McDavid is an excellent QB on the ice. He knows exactly where to be and how to get open and available for a pass, regardless of where the puck will be coming from. He managed to draw two players to him in the corner during one power play with some simple and efficient stick work, and then quickly dished the puck off for a scoring chance.
He works very well in all areas of the offensive zone and when he sets up on the right side of the ice he has a world of options. He has the natural ability to place one time passes across the ice with his excellent vision, he has a very quick and accurate shot, but he also has patience. He knows when he has the time to keep the puck and really think about what the best play is. And he makes the right choice nearly every time.
His prowess behind the net rewarded him with a power play goal.
Penalty Kill
McDavid was used a few times on the penalty kill and proved to me that he really isn't a one trick pony. He knows what to do in the defensive zone and he does it well. He gets in lanes and can battle along the boards very well. He never gives up an a play, and it's his relentless efforts that win him battles.
On one of his more impressive plays of the night (which there were many) he was on the penalty kill. He skated towards the defenceman and blocked his slap shot at the point and then just took off. His speed off the line is incredible, nobody on the colts could catch him. He skated from his own blueline, out towards the benches to retrieve the puck, with a colts defenceman (name escapes me) all over him. McDavid drove the net hard with one hand on his stick protecting the puck extremely well at a high seed. He managed to flip the puck over Daniel Gibl's pad for a shorthanded goal.
One of the best goals I have seen scored at this level of hockey.
Even Strength Play
Connor McDavid was the best player on the ice during even strength play. He was never in the neutral zone simply because his transition game is too good. He can skate the puck in using his phenomenal hands but is smart enough to know when he has no room and will dump the puck in. During even strength McDavid know his role very well as a centreman. He helps in his own zone and is always covering his man, never giving him an easy route.
In the offensive zone his hockey IQ is really shown. The amount of times he was in the right place when the Colts tried to cycle it out was ridiculous. It's almost as though he knew what they were thinking on every play, during every scenario.  He is the smartest player I have ever seen live.
His speed scored him another impressive goal, again from his own end. He battled at his blue line to get the puck out and just like that, four strides later and he's gone. Fast break with some very smooth dekes equals a nifty backhand goal.
Yes, if you're keeping track, that's three goals, PP, SH and EV.
To cap it off, He also scored a goal in the shootout
Notes
I thought it would be interesting to track McDavid's zone starts. By my calculation he started a total of seventeen shifts, ten of those were in the offensive zone. 58.8% offensive zone starts.
Smart and Precise passing
Phenomenal speed off the line
Very hard on the puck
Accurate and quick shot
Impressive stick work
Excellent offensive prowess
Only negative was a bad call he took during a powerplay in the offensive zone. However, I think his five points and shootout goal made up for his error in judgement.
Conclusion
All in all Connor McDavid is an absolute phenom and is just incredible at the game of hockey, plain and simple. In my opinion I could easily see this player becoming better than Sidney Crosby (his comparable by most). He could take over the NHL. He is such a pure talent and has all of the abilities that I don't think you can teach. He is what he is and that is one hell of a hockey player.
After all was said and done Thursday evening, the Barrie Colts defeated the Erie Otters 7-6 in a shootout (no overtime). McDavid scored three goals and capped it with two assists plus a shootout goal. Wow.
Avid fan of hockey at all levels. Writing for The Hockey Writers covering the Florida Panthers and Habs Addict covering the Montreal Canadiens. Follow him at @Darrinharmy on twitter.