A day or so later is a good time to look at what we learned from the Carolina Hurricanes Town Hall.  Head Coach Bill Peters was joined by Executive Vice-President/General Manger Ron Francis and President Don Waddell to field questions from fans via Twitter using the hashtag #FanTownHall.  Let's dive right in and find out what we learned.
The Hurricanes are Staying in Raleigh
The statement made by Dan Patrick a few days ago saying that the Hurricanes are moving to Las Vegas in NHL Expansion was debunked as a "poor rumor" by President Don Waddell.  Watch Dan's comments here.  President Waddell went on to say, that "we still have 10 years on our lease with the PNC Arena and a lot of money and commitment here…this team's not going anywhere."  GM Ron Francis agreed that rumors are best ignored and said, "I've spent a lot of time talking with Peter Karmanos over the summer and moving the team is a subject that has never come up.  He's 100% committed to making it work in this market."  I would not be surprised by anything that Peter Karmanos does, but for now it looks like the 'Canes are staying in Raleigh.  There is a great deal of fan support here and I think that is a very good decision.
What to Expect October 10th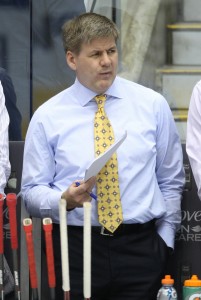 Coach Bill Peters was asked what to expect on October 10th when the Hurricanes open their season against the New York Islanders.  He said that he and the team are "chomping at the bit and ready to go."  He wants to use the preseason games to finalize what he described as "competitions for several jobs" and just "see what he will have on the ice."  Francis reiterated that the competition factor is a big thing and they want to see "who put the time is that was necessary over the course of the summer to commit, and to show Bill and myself they want to take those jobs."  It is good to know that the staff is not sitting back making assumptions as to who will play based on past performance, but is sincerely looking at who is hungry and who wants to play and play well.
Why Will the Hurricanes Make the Playoffs This Year?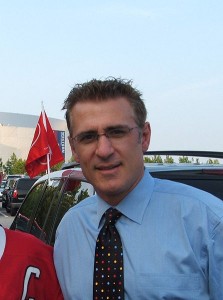 GM Ron Francis answered first when asked why the Hurricanes will make the playoffs this year.  Ron recapped last season by reminding fans that they only missed the playoffs by 10 points.  He pointed to a game versus the Detroit Red Wings that was lost in the last 20 seconds which was a 3 point swing.  He also admitted that several players were not at their peak physically – especially referring to injuries at the goal-tending position.  "We've made some tweaks at the 4th line, hoping to have more size and physicality.  We also made changes in the coaching staff that will change the way we play and we're hoping that our big guys will play at the level they can and that this will close the gap on getting into the playoffs."
Coach Peters said that the young guys are hungry.  "The Lindholms, the Skinners, the Murphys – they're kids and they're going to be better – they're gonna be bigger, faster, stronger when they come back."  You get the sense that Coach Peters really believes that he has a good group to work with and that the team does have a legitimate chance to make the playoffs.  Ron Francis is more pragmatic, saying in essence that the team was close last year and that if not for injuries and some bad breaks, things might have been different.  He says he's not making excuses, and he knows as well as anyone that injuries and breaks are part of the game for every team.  I will continue to say that I believe this team will make the playoffs as I wrote here, and believe that the "young guns" as I call them will be a critical part of this team's success.
There IS a Goal-tending Competition
In response to a #FanTownHall tweet question Coach Bill Peters confirmed that Cam Ward and
Anton Khudobin are competing for the job of starting goal-tender for the Carolina Hurricanes.  I found it interesting that he mentioned Cam Ward as having won the Stanley Cup and the Conn Smythe Trophy.  (Jonathan Quick is the only current active goalie with the pedigree).  I got the distinct impression that Coach Peters is looking hard at having Ward in the pipes, but has not altogether discounted Khudobin who "had
the 5th best save percentage in the NHL last year."
Ron Francis followed up by saying how important it is to have a strong backup goal-tender,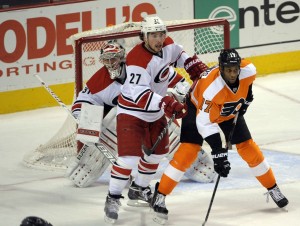 especially late in the season when a team is in playoff contention.  The Hurricanes are in a strong position with the two goal-tenders they currently have on the roster.  Cam Ward has been to the top of the mountain, and Anton Khudobin is fast proving he is a number 1.  I think whoever wins the starting job will do very well, and if not, the 'Canes have a backup who can surely step up to the task.  Picking a starting goalie between these two is not a bad problem to have.
Can the Power Play Get Better?
Another question on everyone's mind when it comes to the Carolina Hurricanes is, "Can the power play get better?"  Coach Peters answered with a very confident "Yes."  He pointed out that former Hurricane great, Rod Brind"Amour is coaching the power play and "he is ready to go."  He said that shot mentality and retrieval are going to be areas that are worked on and he sees improving.  I think that 'Canes fans are collectively groaning, "I hope so."  For far too long the Hurricanes power play has been dismal at best, with the lack of aggressive shooting and puck retrieval glaring as obvious needs for work.  I noticed during the Stanley Cup Playoffs that the teams that were advancing were relentless on the power play.  How many times have I screamed at my TV, "Shoot the puck?"  Hopefully this year it will be a lot less.
The Hurricanes Town Hall Was A Success
Local Hurricanes "Stormfront" radio pre-game and "Aftermath" post-game host, Mike Maniscalco expressed the sentiments admirably:
A special thanks to all the @NHLCanes fans and their interaction on the #FanTownHall today.

— Mike Maniscalco (@mikemaniscalco) September 3, 2014
We learned that the Carolina Hurricanes are staying put in Raleigh.  We learned that the coach and the team and management are all looking forward to the start of the season, and are confident that this team will make the playoffs.  And we learned that several roster spots are being looked at competitively, not the least of which is the position of goalie.  And Coach Peters is looking for much better performance from this team on the power play.  It all sounds good to me.  How about you?  Are you buying into the confidence?  Or are you thinking that this is going to be a replay of last year's Hurricanes.  Let me know how you feel.