There are not too many feel-good stories better than the one of Rich Clune's. Once a dangerous alcoholic, Clune is now four years sober and recovering. He began his dangerous alcohol and drug addiction while playing in the OHL for the Sarnia Sting and it continued into his early professional career. When the Los Angeles Kings announced they drafted Clune 71st overall in 2005, he was drunk. The habits continued and he missed out on an opportunity to be with the Kings during their 2012 Stanley Cup run.
After entering treatment and being placed on waivers, the Nashville Predators acquired the feisty left-winger to finish a two-year contract signed in LA. Nashville provided Clune the opportunity to get his life in gear.
Since then, his sobriety has no end in sight.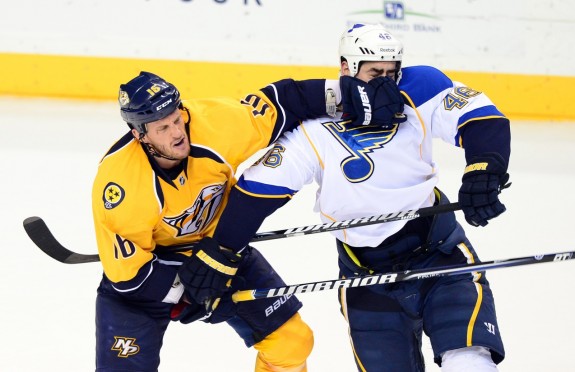 Standing at 5-foot-10, 207 lbs, the native of Toronto can be seen dropping the gloves with fellow enforcers or attempting to get underneath the opposition's skin. Off the ice, his carefree tough-guy persona continues. His brutally honest thoughts on social media and in interviews has made him a fan favorite not just in Nashville, but in the hockey world, as well.
In an interview with NoFilterBlog.com, Clune was asked who his favorite player to fight was? His response could not have been better. "I'd love to get my hands on that little f—— Roussel on Dallas again. I don't hate him, he's just got that face you want to punch. I probably have that too though."
His snarkiness does not end there. Clune's Twitter (@richcluneshow) is one of the more popular player accounts on social media because of his wittiness.
I wasn't going to post this because they were not agreed to by my team. These were my requests for my new contract ok pic.twitter.com/SvpNNcUWkD

— Rich Clune (@richcluneshow) July 19, 2013
Gonna miss being affectionately told to shut up everyday by Dave Legwand. Classy veteran kids. Good luck in Detroit old man.

— Rich Clune (@richcluneshow) March 5, 2014
Although Clune's humor is great for fan entertainment, what does he actually bring to the ice surface?
Clune, 27, enters the season on a new two-year contract extension signed last summer. The $850,000 per year he will make is more than what forwards Gabriel Bourque and Calle Jarnkrok and defenseman Victor Bartley will earn in 2014-15. In 58 games last season, Clune finished 4th in the NHL in penalty minutes (166) and second in fights (16), setting personal NHL records in both categories. He did not do much in the scoring department, unsurprisingly, totaling just three goals and four assists.
Given, Clune is not on the roster for his scoring abilities. Truly, he has hands of stone. He can fight and knock teeth loose, but lacks offensive capabilities and a scoring touch.
With forwards competing for a roster spot in September, where does Clune fit?
One could make the argument that a team should always have an enforcer in the lineup to protect the star players. But that idea is flawed.
According to ESPN.com, last season, Clune's former team and reigning Stanley Cup champions finished tied-for-21st in fighting majors (27). Detroit had the least amount of fighting majors (7) and qualified for the playoffs. Pittsburgh, Minnesota, Dallas, NY Rangers and Chicago also finished in the bottom ten in the League in fighting majors, but saw great success.
Nashville placed 10th with 37 fighting majors.
Surely, Clune would not dress over fringe players who could produce offensively, such as Matt Cullen, Colton Sissons, Filip Forsberg, Gabriel Bourque or Eric Nystrom. Former head coach Barry Trotz gave Clune nightly opportunities, but with up-tempo, offensive-minded Peter Laviolette now behind the bench, Clune's ice time could be in question.