The summer has provided St. Louis Blues fans with some extreme highs. It all started with a titillating draft that saw 10 draft picks and a trade to bring in Carl Gunnarsson, a left-handed defenseman who will likely fill in with Kevin Shattenkirk on the second defensive pairing. Then July 1 struck and the Blues made their biggest splash since signing Paul Kariya in 2007; St. Louisan Paul Stastny was inked to a four-year deal to provide the roster with a much-needed top center. The No. 2 center role was filled by KHL star Jori Lehtera, who also happened to play with Vladimir Tarasenko in the past.
Fellow St. Louis native Chris Butler, defenseman Nate Prosser and forward Peter Mueller highlight a slew of minor signings that equip the Blues with more depth than a season ago. New jerseys, a new book from beat writer Jeremy Rutherford… everything seems to be heading in the right direction. With the exception of losing fan-favorite Vladimir Sobotka to the KHL, this summer has been a joyful one for Blues fans.
The breaks were tapped on Wednesday, though. Rutherford tweeted this out to fans to remind them of a very important task that is still unfinished at the moment:
Wade Arnott, agent for #stlblues Jaden Schwartz, tells Post-Dispatch two sides are "significantly apart" on a contract. More soon @stltoday

— Jeremy Rutherford (@jprutherford) September 3, 2014
Wait a minute, Schwartz hasn't been signed yet?! We are only two weeks from camp!
Schwartz, who is coming off of his three-year entry-level deal, is due for quite the raise this season and beyond. Playing in his third NHL season, first if you exempt the seven games he debuted in his first season and the 45 appearances in the lockout-shortened season, Schwartz was as reliable as they come. The 5-foot-10 forward finished the 2013-14 season third on the team in goals (25) and fourth on the team in points (56). His plus-28 was first on the team and tied for 13th in the entire NHL.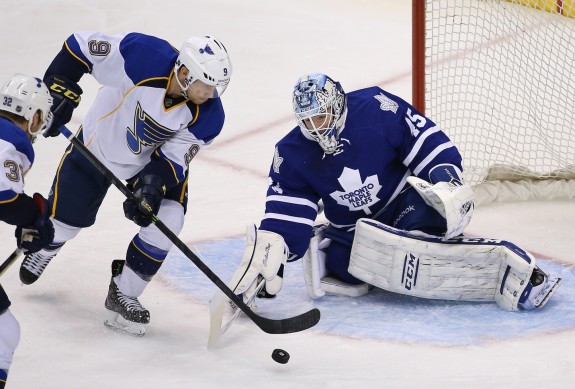 The worries of getting Schwartz locked up were not as prevalent in July, after the Saskatchewan native tweeted a picture of his new jersey number, which mirrors his sister Mandi's No. 17 (changed when it was announced Sobotka was leaving the team). Now, comments from Schwartz's agent, Wade Arnott, have made the contract discussions pressing news across the league.
"We remain significantly apart on our respective positions at this point," Arnott said.
Blues general manager Doug Armstrong explained the situation a little further.
"I understand their position, they understand our position," he said, "and there is a gap in the level of compensation."
This seems to be a much different situation than what the franchise saw one year ago. With No. 1 defenseman Alex Pietrangelo left unsigned to open Day 1 of camp, both sides were looking at options for a long-term contract. Pietrangelo was expecting Drew Doughty-type money (eight years, $56 million) while the Blues were looking at a shorter term and a slightly lower salary — the usual that you hear from contract discussions.
Fortunately, the Blues and Pietrangelo agreed on a deal during camp, ending the summer-long saga. Pietrangelo was signed to a seven-year, $45.5 million extension that will take him three-years into his unrestricted free agent status. It also includes a no-trade clause for the final three years of the deal.
Arnott and Armstrong agree that Schwartz will likely be receiving a bridge deal, which is a short-term extension that focuses on letting a player prove himself rather than paying him for what he has already accomplished.
"Right now we're focusing our efforts on a shorter-term contract," Arnott said on Wednesday. "Traditionally, a lot of these players who have played this limited amount of games have sort of gravitated towards these bridge contracts to get to the next level. We're not opposed to that concept, we just have to come to a meeting of the minds here on what the value is for that type of concept."
"He doesn't have enough of a history in our game right now," added Armstrong. "He's had a shortened lockout season and one (full) season in the NHL. I think there's more data to be given on exactly where he's going to fit in."
Bridge contracts have proven to either be an excellent option or something that plays in the favor of the player. Toronto Maple Leafs center Nazem Kadri signed a two-year bridge contract worth $5.80 million last year and it seemed to work out for Toronto. After Kadri's 18-goal, 44-point season during the 48-game season in 2012-13, he posted similar numbers over 78 games in 2013-14 (20 goals, 50 points).
Inversely, defenseman P.K. Subban and the Montreal Canadiens agreed on a two-year bridge contract in January 2013 worth $5.75 million. He followed that with a Norris Trophy-winning season, recording 38 points in 42 games. In 2013-14, his 53 points tied for fifth among NHL defensemen and his 43 assists led Montreal. He and the Canadiens entered salary arbitration this summer, but finalized a deal while waiting for the arbitrator to return with his decision. It was a hefty eight-year,$72 million extension.
A bridge deal seems imminent when looking at the St. Louis franchise's books, though. After adding Stastny's, Lehtera's and Steve Ott's $12.35 million combined contracts this summer, the Blues currently have just $2.70 million remaining in order to stay under the NHL's $69 million salary cap.
Schwartz will have to believe in the Blues' long-term goals in order to eventually receive the compensation he likely feels he deserves. With a roster that features top forwards Stastny, Tarasenko and David Backes, defensemen Pietrangelo, Jay Bouwmeester and Kevin Shattenkirk and up-and-coming goaltender Jake Allen, the Blues are poised to be a contender for many seasons to come.
The left winger may have to endure a short-term bridge deal, but the payoff in the near future could prove to be handsome. If Schwartz can continue to improve his offensive numbers and remain a vital part to the Blues' success, he will be rewarded with a substantial contract in the future and the gratification of playing on a perennial Stanley Cup contender.