Capitals Captain Alexander Ovechkin is regarded as a star of the Washington Capitals and the NHL in general. He puts up the goals, the flashy plays and has an intense following from hockey fans and the media like very few players in the past decade have. There's another Capitals forward that is one of the best in the league over the past half-decade who doesn't get as much credit, Nicklas Backstrom.
Backstrom, only 26 years old, is a Sweden native who has molded himself as one of the top two way centers in the NHL. He's a strong penalty killer, one of the best passers in the league and a power play marksman. Since the beginning of the 2007-08 season, only 11 players have averaged more points per game than Backstrom, who is ahead of notable NHL forwards including Daniel Sedin, Jason Spezza, Patrick Kane and Jarome Iginla.
He doesn't evoke the recognition he justifies as an elite hockey player, but Backstrom is a valuable asset to Washington and his worth his deal that runs through the 2019-20 campaign. He's not a scorer, but a player maker, albeit one of the greatest in the world. There is no argument in that, the Capitals found two franchise centerpieces in the first round over the course of three seasons in Backstrom (2006)and Ovechkin (2004) and they have set the Capitals a base to stand on as they look to contend for their first Stanley Cup championship.
The Hockey Writers continues their profile of the expected players to compete for the Capitals in the upcoming season, with a preview of Nicklas Backstrom. THW first previewed Captain Alex Ovechkin.
2013-14 Recap
Backstrom had another incredible year in the nation's capital this past season, totaling 79 points in 82 games, his fourth season where he played every regular season contest. Backstrom has took part in 77 games or more in five of his six seasons, excluding the 2012-13 lockout year. His durability is an underrated aspect of his game and it shouldn't go by the wayside when evaluating him as an asset to the Capitals organization.
Backstrom was a stable possession player for Washington last season, posting a 49.3 CF%, which was third on the team for forwards that played over 500 minutes five-on-five. The Capitals had just one forward who posted above a 50% corsi-for percentage, the departed Mikhail Grabovski, now with the New York Islanders.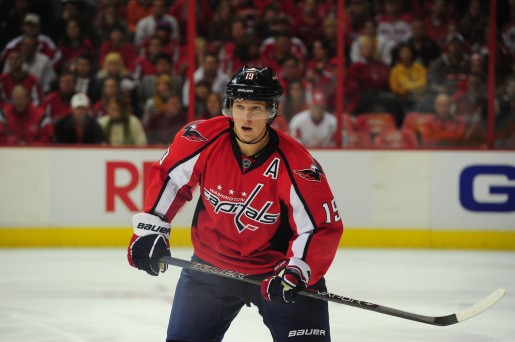 While he did post strong possession numbers which mean a whole lot, Backstrom was a bit unlucky like his line mate Alex Ovechkin in terms of netting goals during even strength play. Backstrom finished ninth out of twelve eligible forwards who played over 500 minutes, scoring 42.3% of the goals when on the ice. When on the ice, Backstrom's teammates posted just a 7.17 shooting percentage, which sat in the bottom half for the team's forwards.
Backstrom's minutes were constrained on the penalty kill, but he was an enormous force on Washington's elite power play. He finished first in the league with 8.91 points per sixty minutes of play during a five-on-four man advantage and he ranked over a shot/60 minutes above the rest of the league's top power play performers. When he was on the ice he had a substantial impact in regard to his teammates, as he was credited with a point on 80.8% of the power play goals the Capitals scored when he was on the ice. Only Jason Spezza, Martin St. Louis, Patrick Sharp, John Tavares and Claude Giroux had a higher individual points percentage (IPP) than Backstrom of forward with over 200 minutes of five-on-four power play time.
Role/Expectations This Season
Backstrom's role will stay undifferentiated once again in the upcoming year, as he'll need to play another complete season and influence both Washington's power play and even strength play. While he's not a pure goal scorer, directing a few more pucks on net this season would be a factor to watch for this season, Ovechkin can't score all the goals during even strength on the Capitals top forward line.
He could play with multiple forwards along with Ovechkin on the first line during five-on-five play this season including Marcus Johansson, Troy Brouwer, Brooks Laich and Tom Wilson. It will be interesting to see which winger newly hired Washington bench boss Barry Trotz employs to optimize Washington's best offensive combination on the roster.
Like Alex Ovechkin, Nicklas Backstrom is a driving force for the Capitals and they will need him to continue to be one of the best players in the league. Washington doesn't have their number two center set in stone, but there's no question of the legitimacy of their best two-way forward on the club.
Related Material
Nicklas Backstrom Rink Wrap [Japers Rink]
Backstrom Finally Receives Olympic Medal [USA Today]
Backstrom is the Capitals Number Two Impact Player [CSN Washington]