There's an old bit of folk wisdom that I learned from my Grandfather years ago. He'd say, You're not a true Wild fan until you've blamed Mikko Koivu for something.
You can probably say the same about Kyle Brodziak.
While I've defended Koivu against Wild fans here before, he's among four Minnesota Wild players that need to have a bounce-back season in order for the Wild to make a deep run into the playoffs.
Mikko Koivu
The Kaptain didn't have a terrible season last year. I'd defend his performance. However, his numbers did take a slight dip and that's with improved support around him.
What was good was what you'd expect. He's a playmaker and the team needs to have the puck and be better with him on the ice. His 56.2% Corsi for and 52.3% goals for at 5-on-5 seems to indicate that he was doing that job well. 43 assists is nothing to scoff at either. That ranked 17th in the NHL last season and he only played 65 games.
What needs to rebound are his goals. He scored only 11 last season, the same number he scored in 47 games the season before. That's his lowest goal total since his rookie year, even though he played fewer games in three of those seven seasons. Part of making that bounce-back happen is taking more shots. He averaged just 2.26 shots per game last season, his lowest total since the 2006-07 campaign. When he was scoring 20+ goals a season, his average was 3.08-2.98. He's a capable forward who provides a lot to his team (including playing the eighth most minutes on average among NHL forwards), but the team he captains has trouble scoring and could use more shots from Koivu.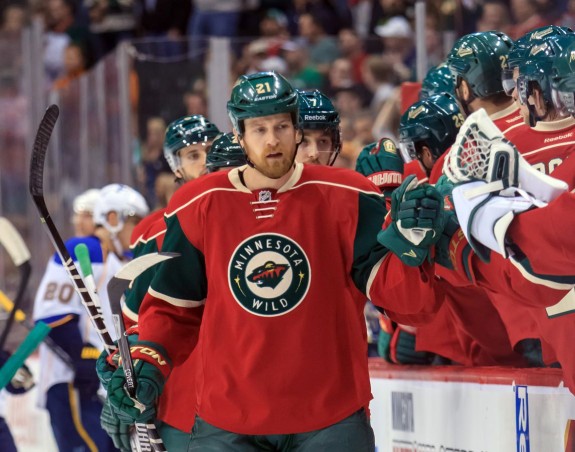 Kyle Brodziak
Poor Kyle Brodziak has been used as a punching bag by far too many Wild fans. He finished last season with just eight goals in 81 games, the same number that he scored in the lockout-shortened season. (Just like Koivu.) Last season was the lowest goals per game rate of Brodziak's career, excluding his first year where he only played ten games and didn't score at all.
A big part of the criticism for Brodziak comes from the fact that he scored 22 goals and 44 points the season before the lockout, showing he can be an impact player. Brodziak has that ability and that makes a slump like the one he suffered last season all the more painful to watch. He went without a goal for 30 games and broke his slump by not getting the puck in the net. Yes. He was tripped while on his way to an empty net and was awarded the goal by the ref. Not exactly how you hope to ice a slump.
Lots of criticism of Brodziak is unfair. His role is no longer to score goals. He was a top six player when he broke 20 goals, largely because the Wild were terrible. Now, he's a shut down forward. His zone starts last season were 32.9%. That ranks 423rd out of 435 players who played at least 62 games last season. He was on the ice for 49.7% of the team's penalty kill time. It's a tough role, but he also had a low shooting percentage of 7% and missed many opportunities where he should have connected. That needs to change. He's probably not a 40+ point player, but he's better than the eight goals he scored last year.
Keith Ballard
Keith Ballard needs a bounce-back year, not to the season before, but to the 2009-10 season and before. He's struggled offensively since leaving the Panthers after that season. In his first five seasons Ballard played four 82-game seasons, scoring 149 points in 397 games for an average of .38 points per game. In the four seasons since then he hasn't once played a full season (much of that is performance related) and has only 25 points in 193 games for an average of .13 points per game.
Ballard could use a renaissance. With the Wild likely to have to lean on at least one rookie defenseman this season (likely either Christian Folin or Mathew Dumba) it would be great if Ballard could get some of that offensive prowess back and be the offensively capable veteran defenseman that Minnesota wasn't able to land through free agency.
Niklas Backstrom
Niklas Backstrom carried the load between the pipes in Minnesota for seven seasons. He's the holder of most Wild career goaltending records including games played, minutes played, wins, losses, ties, shutouts, most shots faced, saves, assists. However, he's in the twilight of his career. He's played through injury the last two seasons and at 36, he may be ceding the net finally. But that doesn't mean he can't be effective.
With the Wild goaltending situation completely up in the air, the team could really benefit from seeing the Backstrom of yore (anything but last season). Even if he doesn't take the starting job back, having him be a reliable back-up option who can steal some wins in relief of Josh Harding or Darcy Kuemper could help the Wild secure a playoff spot in a tight Central Division.
Like Mike Yeo said in an interview at the Minnesota State Fair, the Wild could be a Stanley Cup team, but with how the Central Division is, they could also miss the playoffs. Finding some extra points from a solid second string netminder could make the difference.
Dustin Nelson writes about news and the Minnesota Wild for The Hockey Writers.