After spending year after year at the bottom of the Eastern Conference, something about the New York Islanders seems to indicate they are on the up and up. Maybe it's John Tavares coming into his own as one of the league's best players. Maybe it's that they've finally found a competent starting goalie in Jaroslav Halak. Whatever the case may be, the team is moving in a positive direction. Not only that, they also have some serious firepower coming up through Canadian Junior, Europe, a minors. Here's a quick look at their top five prospects.
Criteria:
Skaters can not have played more than 42 games.
Goalies can not have played more than 25 games.
5. Anders Lee – AHL – Bridgeport Sound Tigers – C
He's big, he's strong, and he can put the puck in the net. Anders Lee is one of the New York Islanders' oldest prospects, but also one of their brightest. It's taken him a while to see NHL action, but he was in 22 games for the Isles last season where he scored 14 points. He's been a point scorer wherever he's played whether it's been high school, Notre Dame, or the pros. Lee's size allows him to protect the puck with ease and wait for opportunities to arise. At close to 230 lbs., Lee excels in the corners and willingly throws his weight around. More of a goal scorer than a set-up man, Lee has a lightning quick shot that fools goalies in their tracks. With a logjam at center for the Isles, it might be difficult to crack their lineup straight out of camp, but he'll certainly get a long look as a call-up during the year.
4. Josh Ho-Sang – OHL – Windsor Spitfires – C/RW
There has been enough controversy surrounding Josh Ho-Sang this whole year. From attitude issues to cockiness to suspensions, this season was a whirlwind for the Spitfires' forward. But you can't deny his skills on the ice. One of the most gifted players in the OHL last season, Ho-Sang notched 32 goals and 85 points during the season in which he led the team. He dazzles with his puckhandling and passing which likely caught the eye of the Islanders when they drafted him 28th overall in the draft. With blazing quick acceleration and agility, Ho-Sang blows by defenders and thrives on crashing the net. Playing with a chip on his shoulder, Ho-Sang will likely return to the Spits this season where he is likely to take his game to the next level offensively.
3. Michael Dal Colle – OHL – Oshawa Generals – C
Lethal in front of the net, Michael Dal Colle has the tools to be a serious threat for the Islanders in due time. Silky smooth hands allow him to dangle through traffic and come out clean on the other side. Blessed with impeccable vision, Dal Colle is a premier playmaker in the OHL. Not only can he thread the needle, but he has a laser of a shot which he used to score the majority of his 39 goals last year. As the year progressed, his defensive game was starting to take shape, but it still needs some work. With a lanky build, heading back to the OHL is the best decision for Dal Colle where he will continue to develop offensively, but also add much needed muscle to his lanky frame.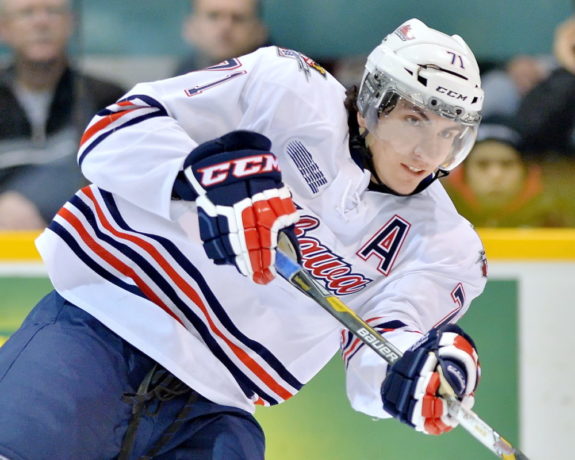 2. Griffin Reinhart – AHL – Bridgeport Sound Tigers – D
The Islanders have had their woes on defense so they've made it a point to try to draft and develop some of the best the CHL has to offer. One of those players is Griffin Reinhart, captain of the Edmonton Oil Kings of the WHL. An established two-way defenseman, Pulock is poised with the puck on his blade and is eager to push the pace up the ice. Arguably one of the most well-rounded blueliners, Reinhart can push the pace of the game, but rarely gets caught out of position. His long reach allows him to be an effective pokechecker and he knows how to clog the lanes to stop passes from reaching their intended target. A leader on and off the ice, Reinhart helped the Oil Kings secure the Memorial Cup Championship this year. With a year or two of AHL hockey, Reinhart is the future cornerstone on defense for the New York Islanders.
1. Ryan Strome – AHL – Bridgeport Sound Tigers – C
Another player who has put in his time is Sound Tigers center and playmaking young gun, Ryan Strome. He has some mind-numbing moves when controlling the puck and is patient at watching plays develop. Rarely does he rush into a situation, allowing him to slow the game down to his pace. Strome split time between the AHL and NHL this season, which likely helped his development instead of rushing him into the NHL full-time a la Nino Niedereitter. One of Strome's attributes that goes somewhat unnoticed his his competitive play and work ethic. It's his will to be one of the best that will ultimately make him a successful player for the Islanders. This season, it's Strome's spot to lose in New York as he can hold his own against the rigors of the NHL. The future is bright on Long Island.