After being drafted by the Pittsburgh Penguins in 2003 Dan Carcillo has played 390 NHL games between stops in Arizona, Philadelphia, Chicago, Los Angeles and New York. Now aged 29, with a Stanley Cup ring from the Chicago Blackhawks in 2013, the Penguins have signed Dan Carcillo to a professional tryout offer.
After having accumulated 1179 penalty minutes, 96 fights and 14 games worth of suspensions Dan Carcillo has developed a poor reputation around the NHL. Once a reputation of his sort is established it makes it difficult to properly assess his impact as a player. Let's take a closer objective look at what value Dan Carcillo can potentially bring to the Pittsburgh Penguins.
Offensive impact
Through his 390 career NHL games Carcillo has averaged 10 minutes and 45 seconds of ice time per game. In those minutes he has contributed 44 goals and 48 assists with seven of his goals being game winners. This gives him 0.24 points per game with 16 percent of his goals being game winners.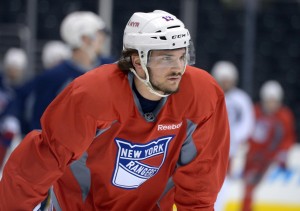 In the NHL playoffs he has racked up 14 points in 45 games with one of his seven goals being a game winner. That's 0.31 points per game to go along with 2.2 penalty minutes per game which is a marked improvement over the 3.1 penalty minutes per game her has during the regular season.
The most productive time of his career was the three years he played in Arizona for the Coyotes. He had 41 points in 129 games for 0.32 points per game. He has steadily dropped in offensive production since that time all the way to 0.10 points per game with the New York Rangers last season.
One caveat to keep in mind comes to light when reviewing Carcillo's assist totals. While he has racked up 0.61 assists per game at five on five play in his NHL career only 0.33 assists per game were first assists. Generally second assists are attributed to "puck luck" and an assist leading directly to a goal is much more valuable. What this tells me is that he is not an effective play maker while on the ice.
In terms of offense he is purely a supporting player that has some ability to score goals from time to time. But when building out your lineup if you bank your hopes on any offensive production from him you would be asking for trouble.
Impact on line mates
Since winning the Stanley Cup with the Chicago Blackhawks in 2013 Dan Carcillo has split his time between the Los Angeles Kings and the New York Rangers. You may be surprised to know that he actually has had a positive effect on his linemates possession statistics during the last couple years.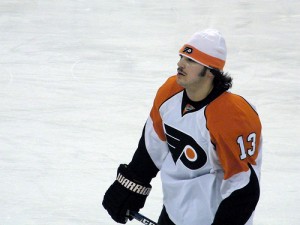 His most common running mates have been Brian Boyle and Dominic Moore, both of whom are well respected NHL players. For Brian Boyle with Dan Carcillo he had a Corsi for of 48.8 percent and without him he was 48.1 percent. A marginal impact but an impact nonetheless. When Carcillo was separated from Boyle he had a Corsi for of 52.8 percent, so by the numbers Carcillo helped to improve Brian Boyle's fortunes.
When we look at Dominic Moore the story is somewhat different. Both players had better Corsi statistics when apart. They were 47.7 percent when together while Carcillo was 53.1 percent when apart and Moore was 48.8 percent when apart. Clearly they did not mesh well when forced to play together. It could have something to do with the skating ability of both players.
Dan Carcillo had a good influence on a "slower" skater in Brian Boyle rather than an above average skater in Dominic Moore. While I would not deem Carcillo to be a poor skater it is clear that he has difficulties when he needs to play at a higher pace.
What role should he play?
The combination of his offensive impact and his impact on different types of line mates indicates to me that in fourth line minutes with the appropriate line mates Carcillo is an effective addition. However that is all he is. He is not the type of player that can move up and down the lineup when injuries occur. His role is simply to not hurt the team defensively and to get the opposition off their game.
This type of role comes with the inherent risk of crossing the line and being suspended. While Matt Cooke was able to transform his game I do not believe that Dan Carcillo will be capable of this. While not of popular belief, Matt Cooke was a more skilled player and could contribute to a team in many different ways than Carcillo.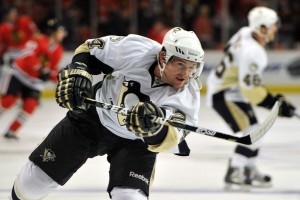 While Dan Carcillo is what he is, a replacement level fourth line NHL player. The only thing that sets him apart is his ability to get under an opponent's skin. If he tries to dilute his greatest talent then he might as well be prepared to ride the buses in the American Hockey League for the remainder of his professional career.
Would I sign him?
When you consider that the Pittsburgh Penguins already have a potential bottom six group of forwards that includes Blake Comeau, Craig Adams, Brandon Sutter, Nick Spaling, Marcel Goc and Steve Downie I do not believe that the Penguins need a player of Carcillo's ilk.
However if he would agree to a two-way contract I believe he could have value to fill in on the fourth line in the event of injuries requiring one of the aforementioned bottom six grouping to move up in the lineup.
Regardless it will be interesting to see how his professional tryout plays out during training camp. It is clear between Steve Downie and Dan Carcillo that the Penguins are trying to add more of an edge to their team.