Alex Ovechkin had his greatest season points wise since his 85 point 2010-11 season last year and there's potential for amplified production this upcoming campaign. Washington's first overall pick from the 2004 NHL Entry Draft is signed through the 2020-21 season and has continued to confirm why he's one of the best hockey players in the entire world year in and year out.
He took home the "Maurice Richard Trophy" for most goals scored last season (51), along with being named to the NHL's Second All-Star team. He finished the year eighth in points (79), first in shots on goal (379) and power play goals (24). There was endless chatter about his -35 plus-minus rating, but his defensive game has never been a strong part of his game and his line mates struggled historically at finding the back of the net during even strength play.
2013-14 Recap
Ovechkin played predominantly with center Nicklas Backstrom (806:00) and forward Marcus Johansson (600:11) on the Capitals top forward line last season, alongside forwards Mikhail Grabovski (235:19), Martin Erat (149:29) and Brooks Laich (125:49) during five-on-five play. Grabovski (signed with New York Islanders) and Erat (traded to Arizona) have since moved on and Laich hopes to manage his health and make an impact on the Capitals roster in the coming season.
There were some unlucky numbers Ovechkin dealt with during even strength play, including a 5.84% team shooting percentage when the Capitals Captain was on the ice during five-on-five play last season. Only Jay Beagle had an inferior shooting percentage clip when on the ice during five-on-five, at 4.56%.He scored just 35.5% of the goals during the same situation, but posted a 49.3 CF%. Ovechkin's even strength numbers should normalize during the upcoming season, leading to the potential for more production from the Washington winger.
Role/Expectations This Season
"The Great Eight" will once again be relied upon to be a near point per game producer if the Capitals aspire to make the playoffs out of a foreseeable competitive Metropolitan Division. Ovechkin finished ninth in points per sixty minutes during five-on-four power plays last season and will be unquestionably trusted in that situation again with the loss of Mikhail Grabovski in that situation. He'll have line mate Nicklas Backstrom beside him to feed him the puck on the man advantage once again in what has been an amazing duo. Backstrom finished first in the NHL with 8.91 points/60 during the five-on-four power play last season.
http://youtu.be/gYJ0ET5xQZA
Ovechkin's role won't change this season or long-term, players who get paid the most will be expected to produce the most and he isn't numb from that statement. His even strength numbers must and likely will be considerably improved, potentially with a rotating winger along with Backstrom on Washington's top line. The voidof a sure fire second line center at the moment and the shortage of secondary scoring as a group will put additional pressure on the Capitals Captain to put up bigger numbers.
It will be intriguing to see what kind of impression new head coach Barry Trotz has on Ovechkin. There's a possibility Trotz could try to mold Washington's best player into a more capable player outside of the offensive zone, seeing if Ovechkin can become better without the puck on his stick. Ovechkin had a solid relationship with former Washington head coach and player Adam Oates and hoped he would return. Oates helped Ovechkin get back to the form of years past after a 65 point season prior to his arrival.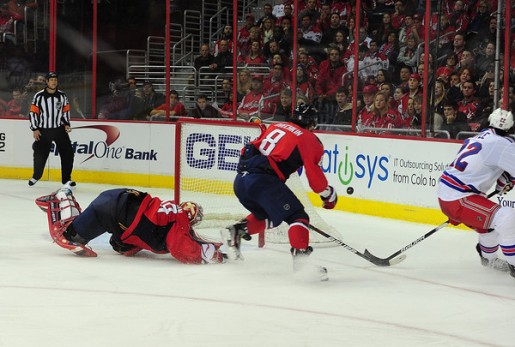 Alex Ovechkin is just one of the voluminous pieces Washington must utilize to return to the playoffs in the upcoming year. An 80 point season will be essentially mandatory if the Capitals want to play deep into the summer. He'll need to put up similar numbers to keep Washington's power play near the top of the league, along with helping progress Capitals young players, including Evgeny Kuznetsov and Andre Burakovsky, who is not a lock to make the roster out of training camp.
What are your expectations for Alex Ovechkin in the 2014-15 season?