Even as September brings the summer to a close, we still seem to be moving towards the start of the new season at a snail's pace. While most people get maudlin at the end of the summer, as holidays end and people get back to the grind, the hockey fan perks up. Labour day means that there are only around two weeks left until training camp opens, and just over three until the first game of the pre-season.
While the Leafs are being predicted by the annual hockey publications to miss the playoffs yet again, we must remember that they invariably just project off last years standings and that no one ever gets it right. This is an article about positives things to look for in the Maple Leafs this year and the first one you can find is that they actually have to play the 82 game season – projections don't mean a thing.
There are a lot of things to like about this team. While many fans and experts lament the lack of movement this summer, where the Leafs signed mostly depth players and have not – as of yet – made a trade of consequence. Some people fear the core of this team is just not good enough to win. Some fear the coaching is the worst in hockey. Others don't like Phaneuf, Bozak, Clarkson or Kadri. There is so much negativity surrounding this team that when Kyle Dubas was announced as the teams assistant GM in July, you would have been forgiven for thinking that Jesus had finally returned, Aliens had landed or Elvis turned out to actually have been alive.
This is not to say that the hiring of Dubas wasn't a smart, potentially brilliant move, but rather just to point out that regardless of the Leafs stature in this city, it still speaks volumes about the team and it's state of perpetual negativity (whether it be journalists like Simmons or Feschuck who seem to revel in worst case scenarios – or fans who just seem resigned to being the Chicago Cubs of the NHL) when the hiring of an assistant GMis greeted with so much fanfare. 
It is in that light that I bring you some reasons you can actually look forward to this season. Some things that – even if the team doesn't make the playoffs (I think they will, but I am an optimistic guy) you can enjoy.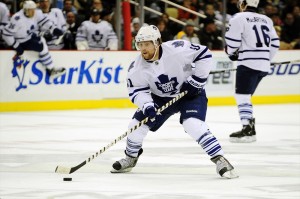 Phil Kessel 
As Phil Kessel enters his sixth season as a Leaf, we can look back and say that his career with the Leafs so far has been bitter sweet. Kessel has been everything the Leafs wanted when they traded for him and much more. Slagged originally for being a one-dimensional player who could only score goals (as if scoring goals wasn't the very thing necessary to win hockey games) Kessel has turned into a complete player: As well as being a scoring threat every time he is on the ice, he has great vision and passing skills, and puts in a solid defensive effort, even if he will never be compared to Datsyuk. Sadly, the first six years in which Kessel has played for Toronto – six of the best individual years in team history – have been marred by the teams single playoff appearance in that time.
Team success aside, Kessel is a revelation. Exciting to watch every second he's on the ice, he is already one of the best players to ever play for Toronto. His consistency is rivaled only by the franchise player he succeeded – Mats Sundin. Going back to his last season in Boston and prorating the  lockout shortened season of 2013, Kessel has six straight 30 goal seasons. During Sundin's time in Toronto, he was only a top ten scorer twice, a feat Kessel has now accomplished three straight seasons.
Beyond these numbers lies the fact that – to the consternation of much of the team's fans – Kessel has done most of this with Tyler Bozak as his centre. What, they ask, would the numbers look like with a truly elite centre feeding him the puck? For the answer to that question, we may have to wait for Kadri or Nylander to develop into such a player.
In the meantime, I have a different theory: What if the only thing standing between Kessel and 50 plus goals is not an elite centre, but rather the secondary scoring of the Leafs? Because of the dominance of the Kessel line and the lack of scoring anywhere else in the lineup, coaches facing the Leafs do not have to have to make any hard decisions – they just put their best defenders out against Kessel and hope that stops him.  However, if the Leafs could get a second line going that demands attention, even if is only sometimes, then Kessel may be able to exploit secondary defenders. Just look at what James Neal was able to do skating on a line with Malkin behind Crosby and Kunitz.
With Lupul, Kadri, a hopefully improved Clarkson, Santorelli, Kontiola and Booth,or even talk of splitting up Kessel and JVR, the Leafs look  poised to increase their secondary scoring and this should have a positive impact on Kessel. Whether or not the Leafs are successful this year as a team, the chance to watch Phil Kessel makes watching any Leaf game a worthwhile experience.
Gardiner and Rielly
It's hard to know in Toronto, where overrating prospects is an industry unto itself, just how excited we should be about these two young defenseman. They are both fast, young, exciting and fun to watch – But how good can they be?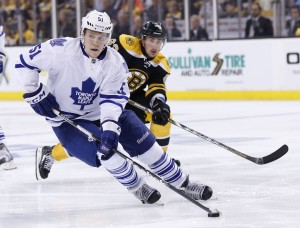 Gardiner,24 and entering his fourth season (though he played just 12 games during the lockout)  has oft been mentioned as trade bait and has clashed with the head coach. Fans of advanced stats note that he is a player who drives possession and who, since he is so fast, can compensate for his occasional defensive shortcomings by keeping the puck in the other teams end.
Similar to Gardiner, Rielly is another offensive defenseman who's skating and creativity make him invaluable. He has higher potential than Gardiner and is thought to be more sound in his own end, but since Gardiner is several years older, it seems foolish to even try to compare them at this point. They both offer roughly the same skill-set and a similarly high ceiling.
How good can these two players be? 70 point super-stars? 50 point all-stars? Can they be the centerpieces of one of the league's best defense groups? Win Norris Trophies?  As you can see, it's easy to get excited and start to take the analysis into fantasy land. It's impossible to objectively say how these guys might turn out, but watching them grow is half the fun. If your a Leaf fan, you get to watch two of the best young defenseman in hockey develop. They are already exciting to watch but half the thrill is seeing how that potential is realized.
James Van Riemsdyk
JVR is 25 this season and will start his sixth NHL season. Last year was a breakout year for JVR as he scored 30 goals and tantalized with his potential. The 6'3 left winger is just scratching the surface of what he can do in the NHL. With size and an ability to take a ton of abuse down-low, JVR should score even more this year, after coming out last season as a legitimate star forward.
Taken second overall by the Flyers in 2007, last season saw Van Riemsdyk selected to the USA Olympic team and was really the first year he showed the promise of his high draft selection. With room to improve, it is scary what a forward group of him, Kessel, Kadri and Nylander, might one day be able to accomplish. Along with Kessel and the two previously mentioned defenseman, JVR is a Toronto player alone is worth the cost of admission or the time it takes to watch a game.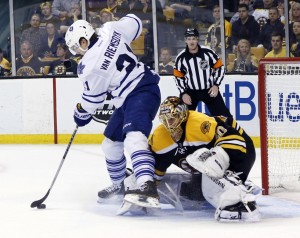 I think it's easy to get caught up in the fact that the Leafs didn't add or make any changes to their core this summer, but I also think that on the other hand, the management group deserves some credit for being patient and giving these guys a chance to grow together. With JVR, Rielly, Kadri, Gardiner, Phaneuf, Kessel. Bozak. Lupul and an assortment of hungry players looking for redemption, with a more balanced defense and a coaching staff hopefully more in tune with the way the game is changing, there is a lot for the Leafs and their fans to look forward to this season. Worst case scenarios aside, this team should easily be in competition for the playoffs and can look to the game seven loss to the Bruins and last years ten game slide from a surefire playoff spot as learning experiences – because, by the time they move from rebuild into contender status, they will have perhaps gone through a few unique experiences that will eventually pay dividends, as hard as they were to take at the time.
In closing, I think the two collapses that permeate all discussions about this iteration of the Toronto Maple Leafs cloud the fact that they have a solid roster made up of relatively young players who were high drafts picks.  There is no reason to be pessimistic about the upcoming season and there are a lot of reasons to think this may be a team that surprises a lot of people.
Thanks for reading.