The Minnesota Wild tried out a couple of different configurations for their top defensive pairing last season, but which was the most successful, and which should they use to start 2014/15? All is revealed in my first article for The Hockey Writers.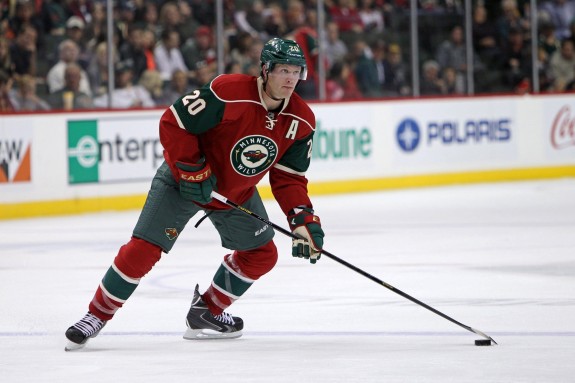 We're still at the part of the offseason where it's hard to make any assumptions about what the new season might bring because of all the upheaval of training camp and preseason but I think, barring anything catastrophic happening, one can assume that the Minnesota Wild's top-4 defencemen will be Ryan Suter, Jared Spurgeon, Marco Scandella and Jonas Brodin. Something to keep an eye on as we get closer to October is how Mike Yeo configures his top two pairings. Going into 2013/14 it was set in stone that Suter and Brodin would be paired together after playing so well in the previous campaign, but Brodin's often poor play last season led to Yeo changing things up and moving Spurgeon into his place on the 1st pairing down the stretch and in the playoffs. Right now it's unclear what pairings Yeo will go with come October. A lot could depend on training camp and preseason.
I think a major issue with the Wild last season was their inability to get the best out of Ryan Suter. He played a lot of minutes, but his puck possession and even strength scoring numbers weren't that of a Norris-worthy defenceman, which is what the Wild need to be getting from Suter at this early stage of his lengthy and expensive contract. I think Suter's defensive game was fine last year, but where he failed was in leading the rush and carrying the puck through the neutral zone with speed. My theory is that, due to his colossal ice time, he was often trying to conserve energy by being less active offensively, while still playing sound defence. This tactic is flawed because, by not driving play offensively, the other team are going to have the puck more and thus will create a heavier workload for him defensively. The negative shot differentials with Suter on the ice at 5v5 show the evidence of this.
Pairing Suter with Brodin could have exacerbated the problem as Brodin isn't the kind of player who will pick up the slack offensively and carry the puck out of the zone consistently. He was much better in his rookie year, but last season he struggled to make outlet passes and looked nervous with the puck on his stick. When Suter was paired with Spurgeon, the Wild's most effective defenceman in terms of neutral and offensive zone play, his results improved dramatically.
| | | | |
| --- | --- | --- | --- |
| 2012-14 | TOI | Goals For% | Corsi For% |
| Suter w/Brodin | 1631:25 | 49.4% | 48.1% |
| Suter w/Spurgeon | 752:43 | 61.4% | 52.5% |
That GF% probably isn't sustainable, but Suter and Spurgeon's 52.5% CF% together shows that they are an effective duo and make the Wild better as a whole when they play together. I'd be interested to see if they could maintain or improve upon this performance if they were paired over a larger sample of minutes.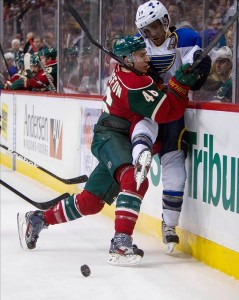 Assuming that Suter/Spurgeon is the smart choice for the 1st pairing, that leaves the question of what to do with Brodin. The obvious situation is that he plays with Marco Scandella on the 2nd pairing. After a rough start to his career, Scandella came to life in 2013/14 and had a phenomenal regular season and playoffs. He and Brodin played together at times last season with Brodin, as he does with Suter, playing on his off-hand. While this doesn't seem like a pair that makes much sense on paper, you have to remember that Scandella is a lot better offensively than he is given credit for. He was the Wild's 2nd best d-man in EV P/60 in 2013/14, despite being one of the most buried defencemen in the league in terms of zone starts (3rd lowest Offensive Zone Start% Rel). I imagine, with more neutral usage, he would continue to produce well and would get more chances to use that impressive slap shot of his. Brodin hasn't shown any significant offensive ability yet, but he is still young and could take a step in that regard next season, giving that pairing a good mix of defensive smarts and scoring potential.
| | | | |
| --- | --- | --- | --- |
| 2013/14 | TOI | Goals For% | Corsi For% |
| Scandella w/Brodin | 302:30 | 45.5% | 48.8% |
| Scandella w/Spurgeon | 398:28 | 68.0% | 52.5% |
There is one more potential configuration that is far less likely to happen but, to me, makes a lot of sense. Matt Dumba got a 13 game "cup of coffee" with the Wild last season before getting sent back to juniors and, although it was a small sample size, I thought he looked very good despite being stuck beside Clayton Stoner. He still has a lot to learn defensively, but his ability to carry the puck up the ice and make plays in the offensive zone far outweighs the negatives. The best thing for his development next season is probably to play top minutes in Iowa rather than a 3rd pairing role in Minnesota, but what if he was used in a top-4 role instead similar to how Brodin was used in his rookie year? Pairing him with a veteran like Suter might do him a lot of good and, with a 2nd pairing as good as Spurgeon and Scandella there to pick up the tougher deployments and eat up more minutes, it would be possible to keep Dumba out of the firing line to some degree and not lean on him the way the Wild have leaned on Brodin.
With this in mind, here's what the defence would look like:
Suter-Dumba
Scandella-Spurgeon
Brodin-Folin
(Ballard/Blum)
What that gives you is three pairings of defencemen playing on their natural side, with good enough depth that the minutes could be shared around fairly evenly so that one pairing isn't carrying an extremely heavy workload. It's so crazy it just might work. Of course the chances of this actually happening are close to nil so it's a moot point.
Leave a comment or drop me a line on Twitter and tell me what your take on this is.