The Edmonton Oilers are in a position they haven't been for a long time, and that's a playoff spot in January. As we approach the All-Star Break, the Oilers find themselves comfortably in third place in the Pacific Division. They're nine points up on the fourth place Calgary Flames (who are in a tailspin), and three back of the Anaheim Ducks with a game in hand. The question is, should they be looking to bolster their lineup at the March 1 trade deadline, or stand pat?
Are the Oilers Contenders?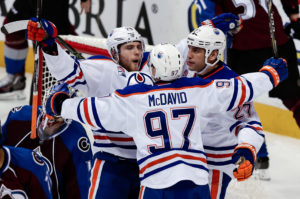 There are a lot of teams in the league who consider themselves Stanley Cup contenders, because as the saying goes, once you reach the playoffs anything can happen. But the reality is that there are only a handful of real contenders, and the rest are in a second tier. The challenge for general managers is to accurately gauge their team heading into the trade deadline. Should they put all their cards on the table, or just look to make some tweaks?
Last year, the Ottawa Senators added big-money defenseman Dion Phaneuf in hopes that he would push them over the top. They didn't even qualify for the postseason. Many times, that big splash doesn't result in a championship. In 2013, the Pittsburgh Penguins added Jarome Iginla, Brenden Morrow and Douglas Murray and they bowed out meekly in the Conference Finals.
Sometimes, a team is so close that adding one or two players really does make a difference. But every trade comes with a risk, and often times those last-minute deals don't yield the desired fruit. The Oilers are firmly in a playoff spot. Thanks to their weak division, it would really take a monumental collapse to miss out. Stranger things have happened, but if they continue at their current pace, there will be playoff hockey in Edmonton.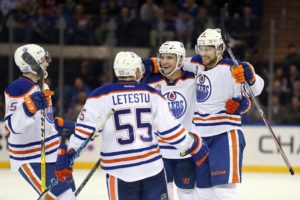 Sixteen teams make the playoffs. Not all 16 are actual contenders. Where do the Oilers fall? The team is in an interesting spot. They have been awful for so long, they've been rebuilding for a decade, and now they look primed to finally be a playoff team. Whether or not they do any real damage once they get there? That remains to be seen.
This is a team that often gets scoring droughts from their secondary players. When the defence tightens up in the postseason, do they have the guys to take the heat off the top line? If the Oilers add a couple pieces at the deadline, does that push them over the top, or do they have more than a couple of holes to fill?
What Do the Oilers Need?
The Oilers blue line is most certainly improved, and they should be getting Darnell Nurse back for the playoff push. But is their current group as constituted good enough? Picking up another defenceman would be great, but pretty much every other team in the league would like to do the same. TSN's Darren Dreger had this to say regarding the Oilers deadline needs:
"I don't project that Chiarelli is going to be doing any big game hunting. That's not to say he's not listening, and if another defenseman was thrown into the market that the Oilers wouldn't try and acquire that piece – or perhaps some depth on the wing, or maybe a little bit of insurance at center ice as well. They seem okay with Caggiula as a third-line center in Edmonton, but most I think view him as being more comfortable on the wing."
What constitutes "big game hunting"? Everyone seems to be available from the Colorado Avalanche, but it comes at a price. Could you imagine a guy like Matt Duchene or Gabriel Landeskog on the Oilers? The asking price for those guys will be astronomical, and the Oilers would be best not to sell the farm at this point.
Teams like the Minnesota Wild, Chicago Blackhawks or even the Columbus Blue Jackets might look at their current window of opportunity and decide it's worth the cost for a big-name player. But the Oilers aren't there yet. In fact, is their nucleus even one that they feel comfortable moving forward with?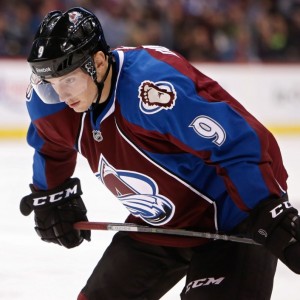 The sense is that the Oilers still have some big tweaking to do. They have to make decisions on guys like Jordan Eberle and Ryan Nugent-Hopkins. And, like we saw in the offseason, Peter Chiarelli isn't afraid of big moves. But there's a difference between building your team for the long haul and trying to make a Stanley Cup run. Yes, trading Taylor Hall was a big deal, but it wasn't for a rental.
Which is why the odds that the Oilers go for a guy like Kevin Shattenkirk are slim to none. He almost assuredly won't re-sign in Edmonton, and if you give up assets for him, you're essentially saying that it's for this year only to try and win a championship.
Here's the reality in Edmonton: they will win a Stanley Cup one day. Maybe even one day soon. Connor McDavid is the kind of player that brings you a championship.
The task now is to properly surround him so that he doesn't have to do it alone, and there is enough balance throughout the lineup. Going all-in at the trade deadline will not accomplish that. It's exciting to see the Oilers in this position. They are finally taking the next step. Is it possible that they could add some depth at the deadline? Certainly, because teams will be looking to sell.
If the asking prices are reasonable, it makes sense to add some pieces who can help next year and perhaps beyond. But the Oilers aren't there yet in terms of being a true contender. Chiarelli knows that. It's hard to preach patience regarding this team anymore, but they're truly on the right track. The aim now is to stay the course and not get tempted to push for something that isn't quite there.