Welcome to the first installment of the Fantasy Hockey Panel at The Hockey Writers. Every two weeks, three of THW's correspondents will be weighing in on issues that can have a significant impact on one's fantasy lineup. This week, Monica McAlister, Fred Poulin, and myself, Anatoliy Metter, will be answering some questions that could possibly help owners who are on the cusp of the fantasy playoff bubble.
Which sparsely owned player (Yahoo! format), could have the biggest fantasy impact for the remainder of the season?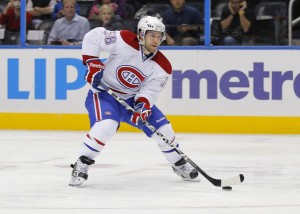 Monica McAlister: Though he is a little more than sparsely owned I have to go with Detroit Red Wings Valtteri Filppula. On a team where he is over shadowed by stars like Pavel Datsyuk, Henrik Zetterberg, and Johan Franzen just to name a few his 39 points in 49 games this season is four more than Zetterberg's. The dual position Left Winger and Center is owned by 58% of the Yahoo! Sports fantasy leagues; and could be a sleeper for those that utilize the fact he can play either position for your team. Filppula is 45th in the NHL in shooting percentage with 18.5% which is higher than Chicago Blackhawks captain Jonathan Toews.
Fred Poulin: The diminutive center David Desharnais is on a roll for the Montreal Canadiens. Only owned by 15% of owners in Yahoo leagues, DD is now the Habs' first line center, playing alongside Max Pacioretty and Erik Cole. In his last 12 games, he has recorded 4 goals and 10 assists for 14 points to go with a +9 rating, 18 shots on goal and 5 points on the power play. Desharnais has dominated at every level he played and has now found a niche on the Canadiens' 1st line.
Anatoliy Metter: I believe that David Perron fits this profile perfectly. While Perron missed a total of 97 games before coming back this season, he has quietly worked his way back to the St. Louis Blues' top line. Perron has recorded 4 points in his last 6 games and he has put up 20 shots on goal in that span. The left winger is only owned by 17% of owners in Yahoo! fantasy leagues and could be a huge difference-maker for the rest of the fantasy season, especially with talented line-mates such as T.J Oshie and David Backes. With the tutelage of Ken Hitchcock and the Blues being one of the most improved teams in the Western Conference, owners should look to add and deploy Perron in most fantasy formats as he will remain a key cog of the St. Louis offense for the rest of the season.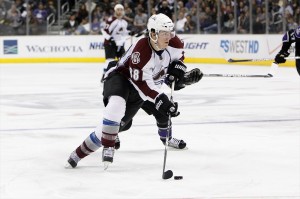 With 5 points in 10 games played, is it safe add and insert Peter Mueller into your fantasy lineup?
Monica McAlister: I would add Peter Mueller to my fantasy team if he was available due to the fact that a large chunk of my team is injured; better to have an active player than an inactive one. If your team is going steady and you do not have a player that has gone on LTIR nor been sent to the minors I would keep going steady, until you feel you need to make a change.
Fred Poulin: Another NHL player who suffered multiple concussions over the past few years, Mueller is a very good player when healthy. However, since he missed a big chunk of this season and all of last year, I would adopt a wait-and-see approach with Mueller as he's one hit away from hitting the injury reserve once again. There are better fantasy options on the Yahoo waiver wire.
Anatoliy Metter: I'd keep Mueller on the watch-list for now. There's no doubt that the Colorado forward has come back with a vengeance as he has recorded 29 shots on goals since January 12th as well as 4 goals and 1 assist. However, I'd take a wait and see approach with Mueller for now as he might be too streaky for owners looking for consistent production at the C/LW position.
Does Nathan Horton's injury have a significant impact on Rich Peverley's fantasy value?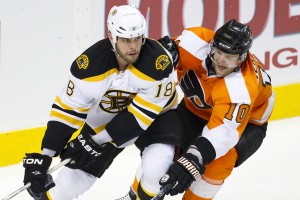 Monica McAlister: When any player hits the injured list it opens up a door for another player to steep in no matter the role. With Nathan Horton out of the lineup it is Rich Peverly's time to step up his
game; and having five points in his last five games he is attempting just that. Given the additional minutes and the change in line mates it is possible, even probable, that Peverly will continue to add to
his production lead over Horton; which will make Horton have to re earn his spot on the top line once he returns.
Fred Poulin: Horton's injury will not have a significant impact on Peverley's value as the versatile forward was already producing well despite playing on the Bruins' 3rd line with Benoit Pouliot and Chris Kelly. Horton's injury will simply give more power play time to Peverley and should mainly increase his production with the man advantage. If Peverley is still available in your league, he's worth grabbing until Horton's return.
Anatoliy Metter: Horton is owned in 71% of Yahoo! Leagues and is considered to be day-to-day with a head injury. Horton has not performed up to the standards that many owners might have expected and Rich Peverley's recent production might boot Horton from top line minutes. In his last 5 games, Peverley has recorded 5 points (1 Goal, 4 Assists) and was recently promoted to the David Krejci line. With 34 points in 42 games this season, Peverley has surpassed Horton's total of 32 points and might have earned himself more playing time on Boston's top line. If Peverley keeps up his strong play and Horton returns from his injury with more lackluster performances, then the latter may have their ice time reduced.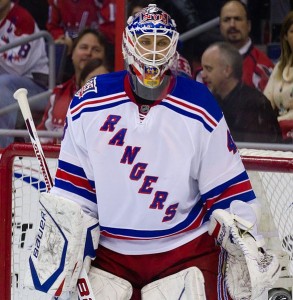 Who is the better pickup for fantasy owners looking for help in goal, Al Montoya or Martin Biron?
Monica McAlister: Martin Biron. The Rangers backup netminder to All-Star Henrik Lundqvist will be getting more ice time this season as the idea for this season is to rest King Hank throughout the season so that he still has some gas left in the tank for the playoffs. More game time will lead to higher stats for fantasy leaders as the Rangers sit just shy of the Detroit Red Wings for top of the NHL right now.
Fred Poulin: If you're looking for a third-string goalie to improve your goalie fantasy numbers, Biron is one the few reliable goalies available on the waiver wire. Biron has very good all around numbers and he won't harm your categories such as GAA and save percentage. Montoya has been inconsistent to say the least for the lowly New York Islanders allowing 4 goals or more in 6 of his 18 appearances this season. Other options that are worth considering are Jean-Sebastien Giguere of the Colorado Avalanche and Tuuka Rask. Giggy has posted great numbers in front of a very young team: a 12-8-1 record to go with a very good 2.15 GAA and serviceable .921 save percentage. Giguere is only owned in 38% of the Yahoo leagues. As for Rask he has even better numbers for the defending Stanley Cup champions, with a sparkling record of 11-5-2 to go with an exceptional save percentage of .938 and a stellar 1.85 GAA. What's even more surprising is that Rask is owned by only 31% of owners in Yahoo! fantasy leagues. I own him in both of my leagues!
Anatoliy Metter: I'd have to go with Martin Biron in this situation. Since the Ranger's netminder is only 14% owned, I'd give him a strong look for the stretch run. Most fantasy formats require a minimum of 1 or 2 goalie appearances per week and Biron offers help with categories such as GAA and Save Percentage. In addition, Biron and Henrik Lundqvist are in the running for the William M. Jennings Trophy and are keeping the Rangers at the top of the Eastern Conference thus far. If your league requires you to have minimal goalie appearances per week (1 or 2), Biron should be a solid option.
Henrik Lundqvist has started and played in an exorbitant amount of games since becoming the starting goalie for the Rangers and having a reliable backup goalie such as Biron is extremely important to Lundqvist and the Rangers. If you're willing to sacrifice the wins category and possibly the shutout category, then Biron can be a steal. If he makes one appearance a week, he can fulfill the minimum games started for the goalie position and keep your GAA and Save Percentage low. You might trail your opponent by week's end in the wins category, but your opponent could also be rotating more goalies, which could make him susceptible to losing categories such as GAA and Save Percentage.
Given that Biron does get a start and performs to his stats thus far in the season (1.87 GAA, .927 Save Percentage), you could put your opponent on the rocks if Biron delivers a solid performance. Backup goalies are undervalued and starters are at a premium, but more starts from your starters leaves you open to taking more losses and having constantly fluctuating GAA and Save Percentage numbers. If your league hogs up starters, look for Biron as a possible pickup since he can provide quality starts as opposed to the quantity that most owners expect from their starters.
In his third year with The Hockey Writers, Toli covers all things related to the New York Islanders. Focusing on the Islanders, the NHL Draft & draft-eligible prospect goalies, and hockey history, Toli can be contacted on Facebook by searching/messaging Toli Metter and on twitter by searching @ToliMetterTHW.