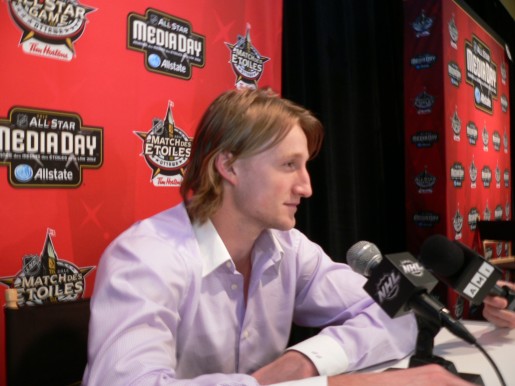 It's a well-known fact that having an amazing flow can take any hockey player's game to unparalleled levels.  By flow, of course I am referring to a great head of hair.  There are certain features that can make or break a man's flow.  Most importantly it has to look brilliant while emanating out of your helmet as you speed up and down the ice.  It can't be too long and it can't be too short.  It's a science that many hockey players have mastered over the years.  Unlike other sports, there has always been something about hockey players and wild, crazy hair.  From Ron Duguay, to Jaromir Jagr and Al Iafrate, the sport has seen a variety of unique styles.  However, there is one thing that is certain in today's game,  a sweet flow can transcend any good player to a great one.   And of course off the ice, it drives the ladies crazy!
With that, let's take a look at the top 10 flows currently in the NHL (which is dominated by Canadians and Swedes,  so to all the Americans, Finns and Russians in the NHL, step your game up!)
10. Matt Moulson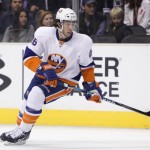 Matt Moulson has quite the mop on him.  You can usually spot him on the ice by the dark locks shooting out from under his helmet.  His scruffy, un-shaven face  also gives him that gritty hockey player look.   If you saw Matt on the streets, you might think he was a character from the movie Dazed and Confused.  Nope, Matt Moulson is a hockey player and a damn good one at that.  As an Islanders fan, I hope to see that disheveled dark flow scoring goals on the ice for many years to come.
9. Henrik Zetterberg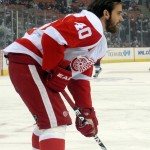 If Hollywood ever needed to cast a guy to play a Swedish spy or assassin in a movie, they should call Zetterberg.  Just classy enough with his slicked back Euro-threads, yet mean enough with his semi-viking playoff beard.  For the Red Wings, Hank is certainly an assassin on the ice.  Off the ice, Zetterberg used his spectacular flow/beard combination to lure in and marry Swedish model and TV personality Emma Andersson.  No big deal.
8. Taylor Hall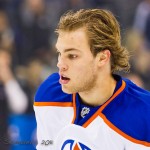 Taylor Hall has been rocking a new flow this season, which could be one of the reasons for his 17 goals.  The young budding superstar hasn't gone overboard with his look either.  A perfect combination of pizzazz and grit that makes you think "hmm, this kid is definitely a stud hockey player from Western Canada."   Hall and "wingman" Jordan Eberle are all about looking good these days too.  And as the immortal Ricky Henderson once said, if you look good, you feel good.  If you feel good, you play good.  And if you play good, you win.
7. Claude Giroux
The man they call "G" has become one of the most feared offensive playmakers in the NHL this season.  Is it a coincidence that he has gone with the shaggy flow look this season?  I think not.  His new look may not be as flashy as some others, but the kid is certainly bringing the heat with his curls.  He's also our first French Canadian on the list too, showing us that Canada's flow "game" is nationwide.
6. Ryan Smyth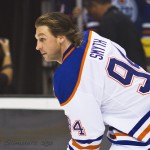 Smyth has been absolutely dominating the mullet game since he entered the league.  Someone had to carry the torch from guys like Jagr in the early 90's and Smyth was just the guy for the job.  Get a look at this guy.  Just oozing confidence because he knows he's a legend in Edmonton.  A true role model for a guy like Taylor Hall (#8 on the list) to look up to.  Whenever Smyth decides to retire, we as fans will have to look long and hard to find a replacement for him.  Mullets like his don't grow on trees these days.
5. Erik Karlsson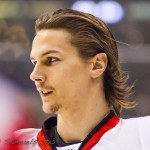 Erik Karlsson is having a breakout season and is the top scoring defenseman in the NHL.  And if you look up the term "flow" in the dictionary you may very well find a picture of Karlsson there.  The young Swede's silky smooth mane is just as silky smooth as his game on the ice.  Karlsson is arguably one of the fastest skaters in the NHL and opposing players all over the league are left chasing  his streaking flow as he blows by them to set up one of his teammates.
4. Kris Letang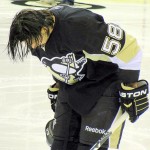 Letang is our second French Canadian to make the illustrious list.  Letang and Giroux couldn't differ any more either.  Where as Giroux is rocking the shaggy laid back look, Letang is straight up business.  Just slicked back jet black hair in your face all day.  Letang is one of the best defensemen in the NHL and much like his game on the ice, his flow is smooth with a bit of attitude to it.  If you do a quick Google Image search of "Kris Letang Girlfriend" you'll see the Penguins d-man is knocking them out of the park off the ice as well.  Just another score for the Flow.
3. Scott Hartnell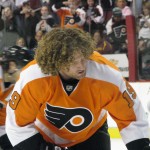 This guy is an absolute animal.  He drives opponents crazy and loves to get under their skin.  But that's only half the story.  His crazy Carrot Top super flow is genuinely one of a kind.  Have you ever seen anything like this?  Hartnell wears this look with pride and he loves it.  I'm not sure if he uses regular gel or Soul Glo for that bad boy, but I think it's safe to say the thought of what type of product he uses is one of the world's eternal questions.  Hartsy (and his hair) is a character that the we would all like to see more of in this league.
2. Henrik Lundqvist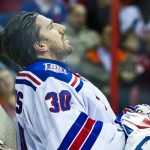 Three words: Swag for days.  Is Lundqvist serious?  His flow is so damn sophisticated and elegant it's not even funny.  It's like he wakes up in the morning and brushes his teeth with swag.  And he knows it too.  When he's not busy being the best goalie on the planet, the King is off playing guitar with John McEnroe and catching Knicks games court side with Justin Bieber.  How intimated must Bieber have been when Lundqvist sat down next to him?  It just totally put Bieber's hair to shame.  For a man who strives for perfection in his own crease, he's also close to achieving perfection with his flow.  The class of the Swedes for sure.
1. Steven Stamkos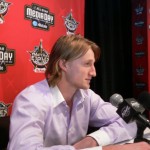 Ladies and gentleman, our 2011 Flow Champion.  Stamkos entered the season by announcing his presence with authority.  And not just the fact that he is leading the NHL in goals.  I'm talking about his long golden locks of hair that have been streaking all over NHL rinks across North America this season.  I'm not sure if he was trying to go for the Villain-From-Die-Hard look or what, but it's certainly working for him.  Instead of trying to blow up Nakatomi Plaza with Hans Gruber, Stamkos is blowing up goalies with his lethal one-timer.   This past weekend's NHL Skills Competition in Ottawa was the perfect platform for Stamkos to strut his stuff and become the poster boy for "flow" in the NHL.  The blonde bomber is playing chess while everyone else is playing checkers.
Honorable Mentions: Jamie Benn, Nicklas Backstrom, Mathieu Perreault, Matt Martin