After winning six games in a row, the Detroit Red Wings are winless in the past five games. Plagued by poor defensive decisions and an inability to hold a lead, there have not been many bright spots during the slide.
Several Red Wings struggled early in the season, but are beginning to show glimpses of returning to form again. While the team has bigger problems, getting everyone contributing the way they can is a step in the right direction.
In this week's edition of The Grind Line, we look at some slow starters in Detroit, and offer our take on which Red Wings could break out in the near future.
Brandon Peleshok: Dylan Larkin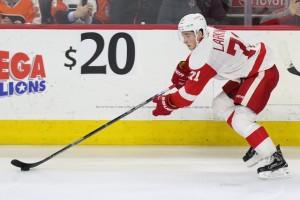 Regardless of how you feel about the idea of a "sophomore slump", Dylan Larkin has struggled during his second season with the Red Wings. While it is difficult to pinpoint why he started slow this year, it is possible the team expected too much of him early on.
Heading into the 2016-17 season, Detroit's coaching staff planned for the 20-year-old forward to play at center, hoping to ease him into his new role on one of the top lines. However, head coach Jeff Blashill moved Larkin back to the wing after just four games.
Through his first six contests, the speedy forward had just one assist and 17 shots on goal, while playing an average of 15:24 per game. He has looked better since then. Larkin has notched four goals over his last seven games while leading all Wings with 24 shots on goal. His ice time has also increased to 17:32 per game played.
Certainly, Larkin does not look as if he has lost a step. He has buzzed around the opposition's net just as fast and as often as he did last season. The shift back to the wing appeared to instill some confidence in the 20-year-old. If Larkin continues to play the way he has, the points are sure to follow.
Tom Mitsos: Brendan Smith
While Brendan Smith has been one of the Red Wings' better defensemen, he isn't close to the numbers he put up last year, when he lead the team with a 56.80 score-adjusted five on five Corsi-for percentage. As of Sunday morning, he had a 47.13 SACF%, which is worse than Jonathan Ericsson (52.99), Alexey Marchenko (48.94) and Mike Green (48.39) for all Red Wings defensemen who have played at least 100 minutes, according to Corsica.
The Red Wings as a whole are struggling to sustain offense, but Smith's -1.43 Corsi-for relative percentage indicates he is below average in regards to the rest of his teammates. He also isn't individually contributing to as much offense, with an 8.21 individual Corsi-for per 60 minutes this year, compared to 9.58 last season.
He is getting about two minutes less of five-on-five ice time per game this season, which could be a factor in his inability to dig himself out of the Corsi hole. He's also made some questionable decisions on the defensive side, which he appeared to shore up last year. Watch as he attempts to pinch at the offensive blue line during the Oct. 30 game against Florida, which leads to a two-on-one the other way and, eventually, a goal against.
He also hasn't recorded a single point at five-on-five, scoring a goal and two assists on the power play. Smith will rebound, as we have seen in the past, and be a solid offensive contributor, which will ease the defensive burden.
Tony Wolak: Tomas Tatar
Through Detroit's first 13 games, it's safe to say that Tomas Tatar has had a rough season so far. He's only managed one goal and five points thus far after a spectacular World Cup of Hockey tournament with Team Europe.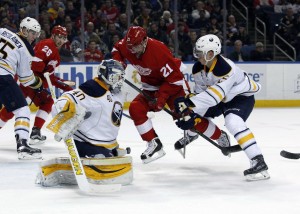 Despite the slow start, there is a sense of optimism regarding Tatar's game. He's shooting the puck — Tatar has accumulated 36 shots on goal through the 13 games. Additionally, Tatar has averaged nearly 18 minutes of ice time during the past three games, while also playing on Detroit's top power play unit. And while it would be nice to see Tatar playing along Dylan Larkin, his current line with Henrik Zetterberg and Justin Abdelkader is producing. The trio has combined for three even-strength goals in the past three games — two for Zetterberg and one for the newly-engaged Justin Abdelkader.
What's to make of all of this? Tatar has been unlucky thus far. He's playing great hockey, but hasn't shown up on the scoresheet much.
That's why I believe Tatar will rebound soon. He's a talented, offensively gifted hockey player that's capable of succeeding playing first-line minutes. And when he gets a couple of clean looks, Tatar will bury a couple of shots blocker side and get on a roll. It's inevitable.
Jacob Messing: Riley Sheahan
After a strong end to the 2015-16 season, Sheahan hasn't been able to pick up where he left off. In the last 22 games of last year's campaign, Sheahan tallied seven goals and 12 points.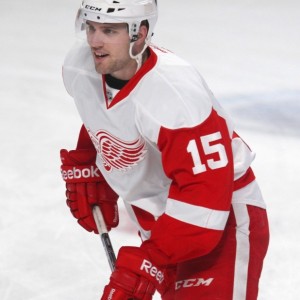 Originally drafted 21st overall in the 2010 draft as a strong two-way player, being taken that high usually comes with expectations of an offensive upside. The 6-foot-3, 226-pound center shifted to the wing this season in hopes to spark a more offensive game.
Still young — he turns 25 next month — it's not too late for Sheahan to show he's a late bloomer. In 13 games this season, Sheahan has just three assists and is third-worst on the team with a minus-6 rating.
Sheahan is one of those players who means more to his team than a scoresheet reflects, but it is hard to not notice the glaring zero in the goals column. With two of his three assists having come in the past four games, he could be turning a corner.
His career year came in 2014-15 when he recorded 13 goals and 36 points in 79 games. Last season, however, Sheahan broke his career-high by tallying 14 goals but just 25 points.
When Sheahan manages to get the monkey off his back, his confidence will grow and he could have a third consecutive season with a new career-high in goals.